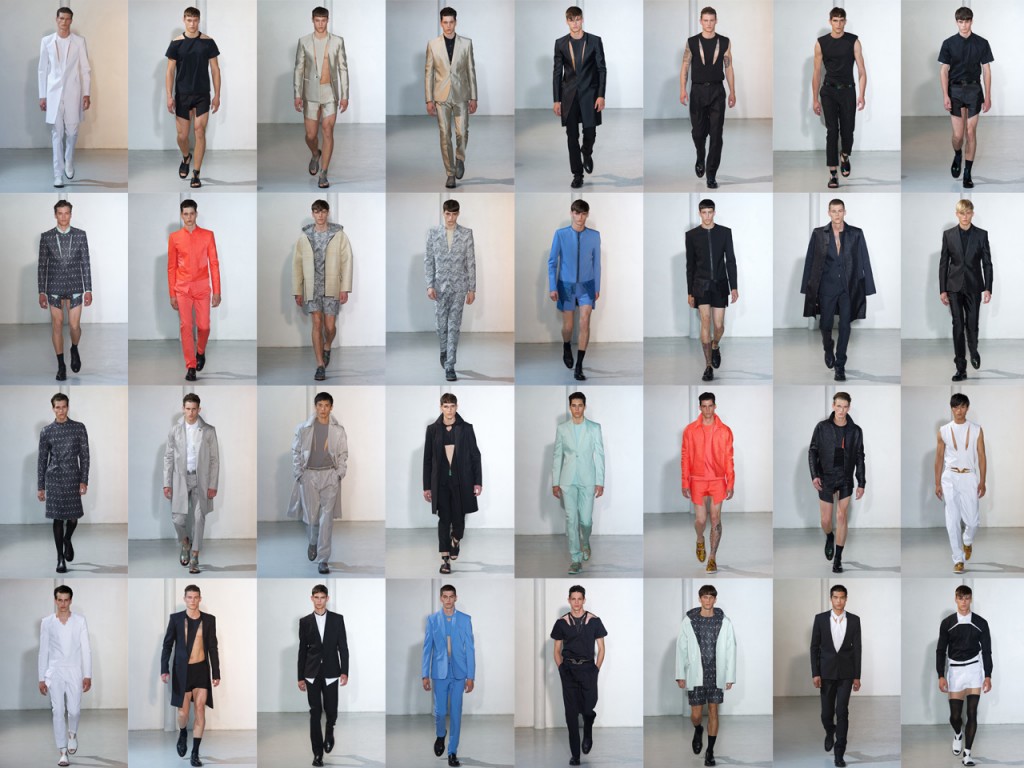 2013 in Men's Fashion
Resignations, unlikely duos, and ethnic face-face-face: no this isn't an episode of Scandal, it's our 2013 men's fashion in review! So slide on that bucket hat, put Beyoncé on pause (we're sorry B), and get ready to say goodbye to one wild year in menswear.
Apart from his SS14 runway show this past September (perhaps the most talked about RTW presentation in a long time), in which Rick Owens sent a cast of multiracial and multi-sized step dancers down the Parisian catwalk, fashion's dark sheep designer had a pretty big year. From the surprise announcement of a sneaker collaboration with adidas—initially conceived as a way for Owens to stay in shape ("I'm in my fifties now, and I need to do something for my heart and lungs," he told WWD in June, "I thought to myself, 'What shoes am I going to wear running?' I can't wear my big chunky basketball shoes–I'd look like a dinosaur running through the Tuileries")—to an online e-commerce "evolution," hints of an LA outpost , and even some love for his family (long live fashion icon Michele Lamy). With all of these seeds planted, 2014 is looking like a very bright dark year. Just how he likes it. 

Image courtesy of Huffington Post.

Marc Jacobs proclaimed in 2007 that "Fashion is not art," but we'll have to check back in with him in a few years from now, when he's proposing his own showcase. That's right: we're calling it now! We, on the other hand, believe in the preservation of couture, be it in an overpriced department store, or the cold stillness of a museum. This year we were delighted to see three major exhibitions that spotlighted highlights in men's fashion including; the avant-garde in Jean Paul Gauliter's retrospective at the Brooklyn Museum in New York,  the whimsy in Paul Smith's show at the London Design Museum, and the genre-crossing in Punk: Chaos to Couture which featured Givenchy by Riccardo Tisci, Alexander McQueen, Comme Des Garcons, and more. 

Image courtesy of CR Fashion Book, London Design Museum, Metropolitan Museum.


Baz Luhrmann, Miuccia Prada, Leo and Jay-Z reminded us what 1920's fashion looked like in The Great Gatsby, and why we no longer dress like that today. 

Image courtesy of Warner Brothers Pictures. 

Okay, it's not menswear, but when a duo of men emerge as unlikely as Oscar de la Renta and former Dior designer John Galliano, it does make news. After a recent rough few years, Galliano received an invitation in early 2013 via Anna Wintour for a temporary residence at ODR to consult on the brand's FW 13 RTW show. After a favorable presentation, and surprisingly amiable working relationship, rumor has it that a permanent post at the American fashion house may soon be extended to the disenfranchised designer. 

Image courtesy of The Independent.


In November of 2012, after 15 years with the Spanish-designed French fashion house, Nicholas Ghesquire left Balenciaga. Fast forward to System Magazine's debut issue in April of this year, in which the designer cited that many of his issues came from the brand's overpowering parent company, Kering. Next, this past November year, almost 12 months exactly after his departure, Ghesquire was appointed Creative Director at Louis Vuitton Malletier, the biggest fashion brand for luxury conglomerate LVMH Moët Hennessy. While it's not completely clear if jumping into a larger sea after having trouble with the tides in ocean is the best move, Paris eagerly awaits Ghesquire's inaugural runway show. 

Image courtesy of NY Mag.


After putting his two-collection fashion line on hiatus, Yeezus collaborated with french outfitters APC this summer amidst about as much criticism  from the streets as from the fashion elite. We mean, really, a white tee for $120? Well you can run, but you can't hide 2013, because here's the kicker: the collab is coming back again next year. 

Image courtesy of APC.

Fashion designer Jeremy Scott was appointed Creative Director of Moschino, a brand he once interned at decades ago, in October of this year. Will this prove to be an outlet for sportswear in the luxury circuit, or is adidas' hype boy #1 finally growing up? 

Image courtesy of Collectivedit.


In October blogger and style icon Susie Bubble wrote in Because Magazine, "We are approaching the logo with a new attitude. Rather than being slaves to a brand, we take ownership." And with this year's most popular items: retro snapbacks with K-E-N-Z-O spelt out in bold threads, Opening Ceremony's revival of Donna Karen's four famous letters, and all Brian Lichtenberg everything, the statement seems hard to deny. Will next year allow us to be more subtle, or should we invest in more old school Gucci loafers? It's hard to tell, but in the meantime we're still reeling our favorite 2013 name brand shout out: Will Fry's Raf Tee.


Image courtesy of Wil Fry.


In November, Ann Demeulemeester of the influential Antwerp Six published a heart-breaking letter announcing her departure from her own namesake. 

Image courtesy of The Source.


Just days ago, William Morris Endeavor and Silver Lake Partners acquired IMG Worldwide Holdings Inc in an estimated $2.3 billion deal. What this means for all of us, is that Mercedes Benz New York Fashion Week is now under different management, and with the program's contract with Lincoln Center expiring in 2015, the future for NYFW seems as grey as Viktor & Rolf's new boutique. 

Image courtesy of NYC Prowler.
Image courtesy of Style.com.