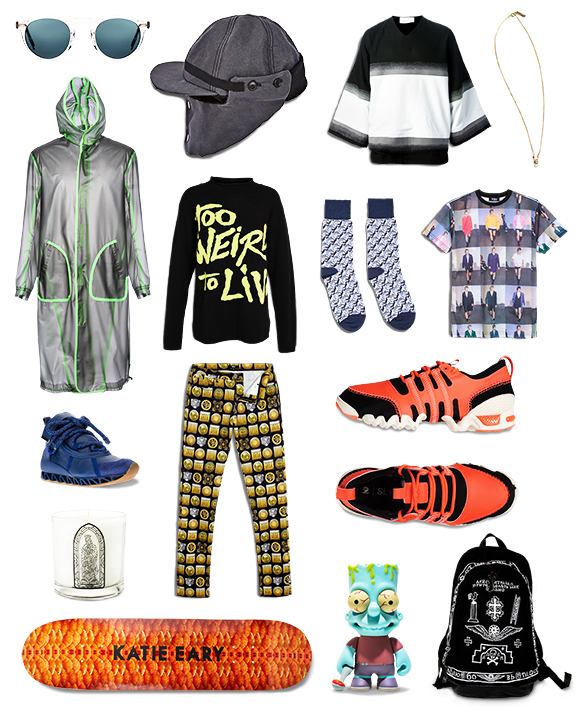 For the Guy: Young and Restless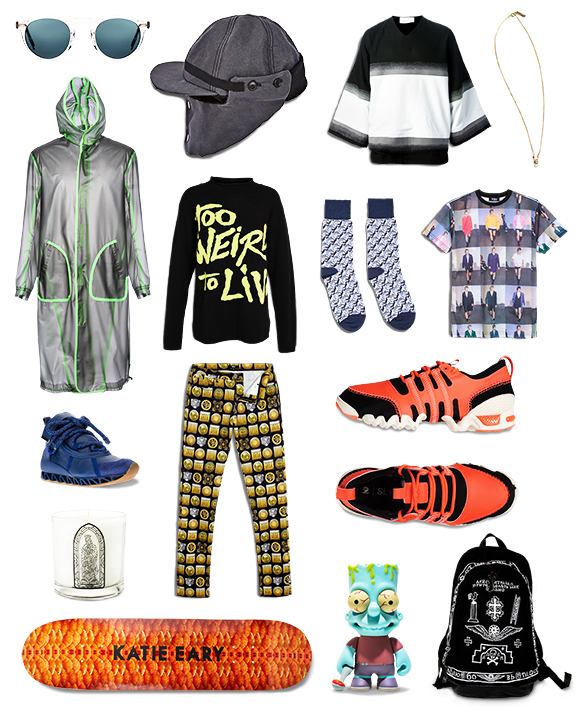 Attention fashion fuccbois and trend enthusiasts: it's almost gift giving time IRL, so we've compiled a list of #hot ticket items we know you and the homies will love. Read the list below and then get off your computers, throw on a pair of Pyrex, grab a Ginger Bread Latte at SBux (it is the Happy Holidays after all) and get hustling before everything is sold—or worse, played—out.
Oliver Peoples Gregory Peck Sunglasses ($410): Crystal with indigo photochromic glass, these sunnies will have people asking more than just 'How to Kill a Mockingbird.' Available for purchase at Oliver Peoples boutiques and select retailers.
Alexander Wang Cap ($150): This structured glazed nylon cap includes a detachable faceguard with black wool fleecing to protect yourself from the wind or just talking to the wrong person. Available for purchase at Alexander Wang boutiques and select retailers.
Shaun Samson Felted Hockey Tunic ($1254): Perfect for the street or hockey field, this sports-inspired, gradient-dyed tunic blends warm wool with cool leather. Available for purchase online at FarFetch.com.
Punk Magazine Metal Salute Pendant ($100): Designed by John Holmstrom of 'Punk Magazine' in 2010, this gold pendant keeps your wild streaks close to the heart. Available for purchase online at Boo-Hooray.com.
Wil Fry Raf T-Shirt ($200): Fashion mash-up artist Wil Fry brings Style.com to menswear with the best of Raf Simons on Polyester and Spandex. Available for purchase at VFILES' boutique and online at VFILES.com.
Adidas Slvr Low Tops ($150): These soft leather, techno fabric low-tops are a futuristic blast of blood orange for your feet. Available for purchase at select Adidas Slvr retailers and online at Adidas.com.
KTZ Church Embroidered Back Pack ($323): This black and white cotton embroidered bag features classic theologic imagery to keep your possessions nice and safe. Available for purchase at KTZ retailers and online at KokonToZai.com.
The Simpsons x Kid Robot Zombie Bart ($74): Tell your co-workers off every day ("yeah, well you can eat my living dead shorts!") with this 6 inch limited edition zombie version of Bart Simpson. Available for purchase at Colette.fr.
Katie Eary Printed Skateboard ($443): Ride in style with this snakeskin printed Canadian maple, high-concave deck, just don't get too distracted by the pattern. Available for purchase online at HarveyNichols.com.
Supreme x Kumba Virgin Mary Candle ($48): Bless your house with this limited edition holy scent, which features notes of citrus, basil, lemon, and more. Available for purchase at Supreme retailers and online at SupremeNewYork.com.
Bernhard Willhelm Lace Up Trainers ($301): These 100% leather trainers with contrast deep-blue suede paneling takes Bernhard Willhelm's iconic rounded footwear to another, oceanic dimension. Available for purchase at select Bernhard Willhelm retailers and online at BernhardWillhelmShop.com.
Y-3 TPU Coat ($368): A rainy day is no longer a bad thing with this sheer raincoat with peeks of neon trim, tie cords, and a matte rubber finish. Available for purchase at Y-3 boutiques and online at Y-3.com.
Jeremy Scott Roll Neck Sweater ($395): This long-sleeve knit sweater is an ode to suffering teenage angst, with the words "TOO WEIRD TO LIVE TOO RARE TO DIE" sprawled on the front and back in green neon text. Available for purchase online at JeremyScott.com.
Kenzo Navy Blue Tiger Print Socks ($21): Out of the jungle and onto your feet, these tiger print woven socks are just as stretchy as they are ferocious. Available for purchase online at SSense.com.
M.I.A. x Versus Versace Printed Denim Jeans ($425): Recording artist M.I.A. gave the golden touch to these mid-rise, straight leg denim jeans, covering every inch in a rich ethic print and exciting electro urban theme. Available for purchase online at Versace.com.
To alleviate some of the stress of holiday shopping—or even just to help kill time at work, For The Guy is a new weekly column where we'll be sharing our most favorite gift ideas for every possible guy you know. With products ranging from designer ready-to-wear to high-tech ready-to-plug-in devices, we hope you and your love ones enjoy these as much as we know we will! Hint, hint. 
Images courtesy of their respective brands.