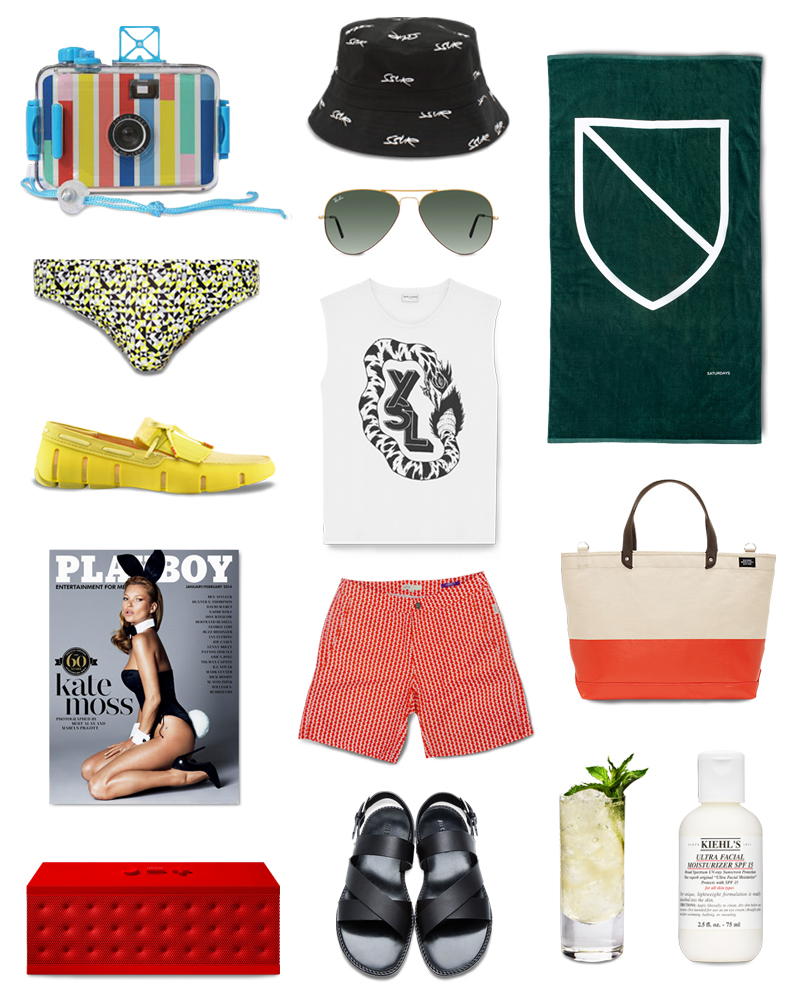 For the Guy: Feeling Hot Hot Hot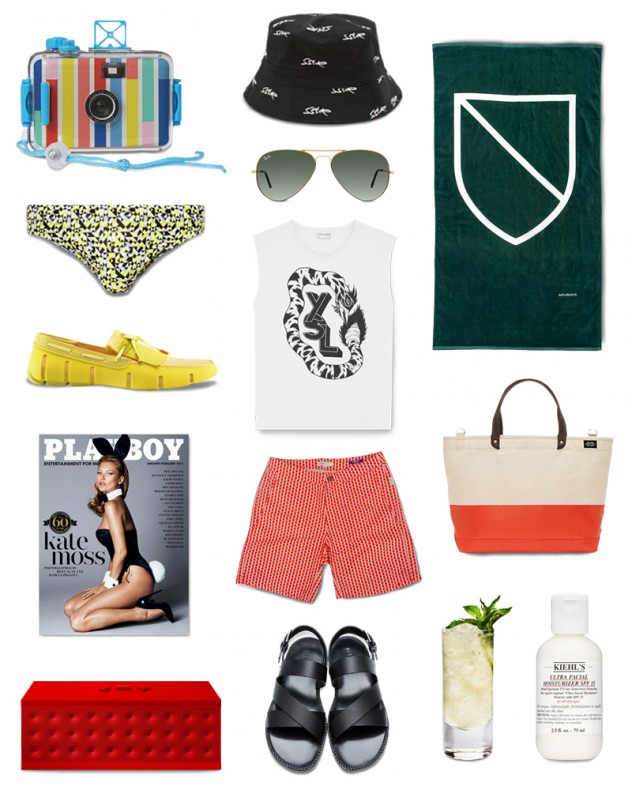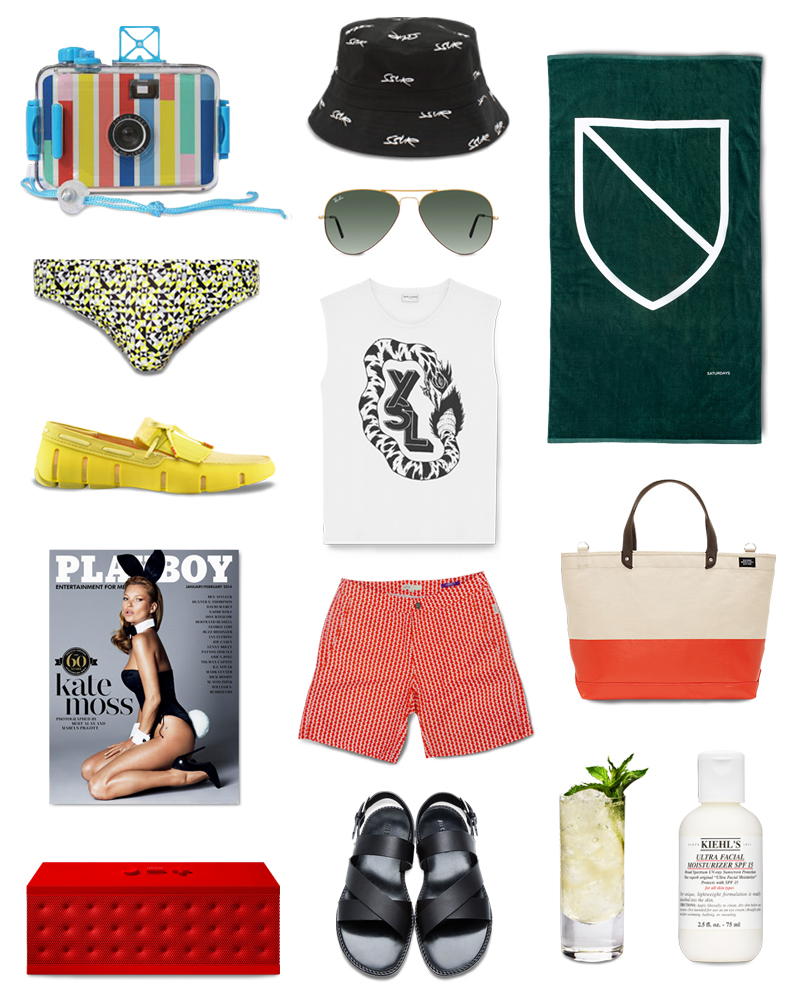 Jet-setting to a tropical getaway this time of year? Or just warm-weather-wishing at home? Either way, these hot beachside gift ideas will certainly add some heat to your love ones' holiday season.
SunnyLife Underwater Camera ($24.95): Record the depths of the unknown—or just, like, yourself—with this colorful and easy-to-use 35mm camera. Available for purchase online at SunnyLife.Com.Au.
SSUR x Futura Bucket Hat ($45): Taking Xmas off the grid? This limited-edition collaboration hat from graffiti artist Futura and street wear brand SSUR will keep your scalp safe and—better yet—on trend. Available for purchase at VFILES' boutique and online at VFILES.com.
Saturdays Surf NYC Shield Towel ($55): Put your mind at ease, catch some z's, and bring some green to the beach, as you lay out on this oversized pineneedle green towel. So lawn trimming chic. Available for purchase at select Saturdays Surf NYC retailers and online at SaturdaysNYC.com.
Jack Spade Dipped Coal Bag ($195.00): Forget that old ratty GWP tote you've been using for the beach, and throw all your goodies into this heavyweight 24-once bag. Dipped in industrial canvas coal and embellished with custom steel hardware, nothing is getting out. Available for purchase at select Jack Spade retailers and online at JackSpade.com.
Kiehl's Active Sun Screen SPF 15 ($348): Vacation Rule #1: have fun in the sun, but protect the moneymaker. Fortunately, Kiehl's ultra-light, silicone-free SPF 15 is specially designed for facial skin. Available for purchase at select Kiehl's retailers and online at Kiehls.com.
DEWAR'S Smash Cocktail Using DEWAR'S White Label Blended Scotch ($19.99): Ignore those post-vacation blue and bring the tropics home with DEWAR'S and this signature cocktail. To make a Smash: muddle two wedges of lemon, 3-4 sprigs of fresh mint leave, and 1-2 mixing spoons of sugar in the bottom of a mixing glass. Add DEWAR'S White Label, shake and strain into a collins glass filled with crushed ice. Top with seltzer and garnish with fresh mint leaves. Available for purchase at your local liquor store.
Jil Sander Leather Strap Sandals ($398): If you have wear shoes during the break (we refuse), you're going to want a pair that require the least amount of effort to put on: like these flat-matte leather sandals that hook around the ankle. The bonus comes with their chic minimalistic style. Available online at Ssense.com.
Jawbone Big Jam Box ($299.99): Keep the party going with this portable and stylish speaker that connects to any music device or phone with Bluetooth. With crystal clear audio quality, it has up to ten hours of battery life and even a built-in mic for hands free conference calls—although hopefully you won't be doing too much work. Available for purchase online at JawBone.com
Liberty Art Fabric x Onia Jonathan Trunks ($195): Celebrate the holidays in the red (not that kind) in these playful swim trunks. With a snap front closure, comfortable mesh lining, and iconic print, you're sure to look as fun as the time you'll be having! Available for purchase exclusively at Barneys New York.
Playboy January/December 14 Issue ($12.99): This vacation the temperature won't be the only thing getting warmer. Catch up on your 'reading' and see Kate Moss in all her glory. You know you want to. Available for purchase at select newsstands.
SWIMS Wave Loafer Sour ($159): Deciding between taking the boat to sea or cozying by the hotel bar for the indoor comfort? No problem! These versatile rubber loafers have multiple ventilation gills to ensure comfort in any scenario. Available for purchase online at SWIMS.com.
Dan Ward Print Swim Trunks ($160): You'll have everyone looking at you...r swimsuit in this pair by Dan Ward with bold printed cubes of chartreuses, blacks, whites, and grays. Available for purchase online at MrPorter.com.
Ray-Ban Aviator Classic ($145): Soak up the sun, but protect your eyes in these iconic sunglasses with gold frames from the maker of the original aviator. Available for purchase at select Ray-Ban retailers and online at Ray-Ban.com.
Saint Laurent Grimes YSL Project 2 Sleeveless T-Shirt ($189): The three most famous letters in fashion, re-visualized by musician Grimes and printed on a beach-ready fluid cotton muscle tee. Available for purchase at select Saint Laurent retailers and online at YSL.com.
To alleviate some of the stress of holiday shopping—or even just to help kill time at work, For The Guy is a new weekly column where we'll be sharing our most favorite gift ideas for every possible guy you know. With products ranging from designer ready-to-wear to high-tech ready-to-plug-in devices, we hope you and your love ones enjoy these as much as we know we will! Hint, hint. 
Images courtesy of their respective brands.