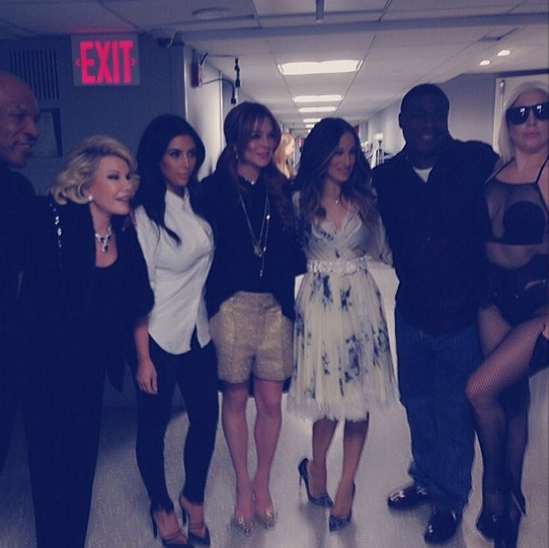 The Celebrity Roll Call on 'Fallon' Last Night Stole the Show
The Late Tonight Show Starring Jimmy Fallon premiered last night (er..this morning?) at midnight. The hour was chocked full of memorable moments — with guests Will Smith and U2 — but it was what happened a bit earlier in the evening, that got the internet talking. "To my buddy who said that I'd never be the host of The Tonight Show, and you know who you are, you owe me a hundred bucks," said the happy host before unleashing a celebrity roll call from the gates of hell (Hollywood).
What resulted next wasn't just one buddy, but a bunch of buddies, the likes of whom make up a roster even more diverse than a Garry Marshall "blockbuster."
Roll call:
Robert De Niro -> Tiny Fey (in leather pants!) -> "Broadway Joe" Namath -> Rudy Giuliani ("Thanks for bringing it back to New York")  -> Mariah Carey (with fingerless gloves; with the bill tucked in her bra; with diva poise) -> Tracy Morgan -> Joan Rivers -> Kim Kardashian (in a simple white button down) -> Seth Rogen -> Lindsay Lohan -> Sarah Jessica Parker -> Mike Tyson (who whispered something — maybe nothing) -> Lady GaGa (Fallon: "Be careful in those shoes") -> Stephen Colbert (pouring $100 in pennies on the new host).
"WELCOME TO 11:30, BITCH"
Image courtesy of Instagram.