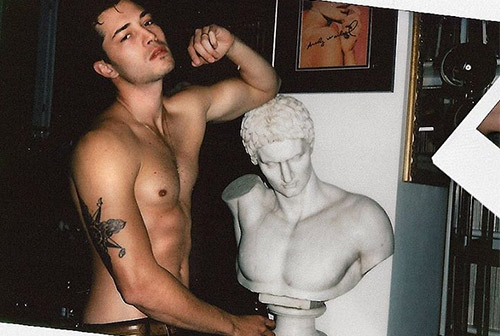 Weekly Instagram Roundup: Plein Sport, Loewe, and More
This week's complete social snapshot, distilled for your pleasure.
From the hottest celebrity parties to the regretful morning-after shots, ESSENTIAL HOMME's Weekly Instagram Roundup brings all of the hottest designer, model, and trendsetting pics from the week directly to you. After all, no one has time to scroll through anything but the best.
Plein Sport
Taking the stage at NYC's Vision Expo—the celebration for visionaries in spectacle education, fashion, and technology—sportswear brand Plein Sport, an off-shoot of the envelope-pushing Philipp Plein, brought its line of athletic, multi-colored eyewear to the masses. Having premiered its warrior-driven Autumn/Winter 2017 runway at Milan Fashion Week, the brand continues its streak of combining athletic-wear with unapologetic design in this classroom-inspired getup.
Loewe
Loewe Creative Director J.W.Anderson has kept himself very busy. From an upcoming Pitti Uomo presentation to a just announced Uniqlo collection, the designer is poised to experience his grand second coming. Following his most recent museum curative project, Anderson brings Loewe's Spanish sensibilities to Salone del Mobile—the largest global furniture fair held in Milan—to showcase its sleek home goods line, a brazen mix of cultural inspirations and artistic expression.
Giovanni Squatriti
Fashion photographer and frequent ESSENTIAL HOMME collaborator Giovanni Squatriti expanded his polaroid portfolio with the help of model Francisco Lachowski. Posing next to an Hermes bust, the insta-ready images continue a lucrative partnership between the pair, one that first reared its head within the EH family in April/May 2014.
John Elliott
John Elliott's popular Watching Water series receives a casual update alongside retail shop United Arrows & Sons with a selection of exclusive tees based on the same oceanic principles. Featuring roiling imagery of power and tranquility, the pieces are a more relaxed iteration of the thematic elements in the brand's NYFWM Spring/Summer 2017 runway—where vibrant palettes and watery tones took center stage.
Armani
Milan's premiere shopping center ups its street credibility with the addition of Armani/Casa, the latest from the Italian brand's brick-and-mortar locations. Featuring the iconically modular collection known to the house's furniture offerings, the new flagship will see architecture rub elbows with interior decor as minimalist home goods pair with a state-of-the-art interior design service, aiming to integrate living spaces with conceptual progression.
Follow ESSENTIAL HOMME on Instagram at @EssentialHomme.