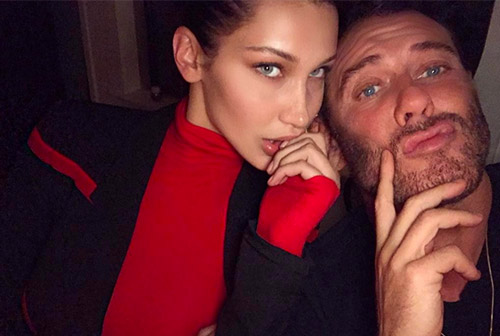 Weekly Instagram Roundup: Gucci, Kris Van Assche, and More
This week's complete social snapshot, distilled for your pleasure.
From the hottest celebrity parties to the regretful morning-after shots, ESSENTIAL HOMME's Weekly Instagram Roundup brings all of the hottest designer, model, and trendsetting pics from the week directly to you. After all, no one has time to scroll through anything but the best.
Gucci
After reinventing its watch campaign for a millennial eye, Gucci takes to technology once again in this first look at Alessandro Michele's upcoming exhibition. Traveling to Hong Kong for a three part installation, the event features the works highlighted in his recent limited edition print run, while adding new pieces from a range of female photographers—as well as the coveted Joshua Tree portraits of director Gia Coppola.
Kris Van Assche
Creative Director Kris Van Assche snapped a quick selfie to celebrate his first decade at the helm of Dior Homme. Wearing a celebratory shirt graffitied by his team, the photo offers a glimpse at the Rue de Marignan headquarters of the French brand's design hub. In Van Assche's 10 years, the fashion house has seen a gothic reinvention—classic styles reinterpreted with a serrated edge, as seen in its most recent Autumn/Winter 2017 runway, all while staying true to the clean cuts that have become a Dior staple.
Bella Hadid
Two icons pouting in one quick snapshot, fashion's it-girl Bella Hadid shared an intimate moment with photographer Mert Alas for a thirsty Thursday treat. Dining at Omar's La Ranita, the member's only Manhattan hotspot, the pair celebrated their recent joint cover gig and Alas' Fashion Los Angeles Awards win for his pet project, "Angels of Concrete," shot in Berlin and London and featuring the new kids of street culture.
Lanvin
After celebrating its 10th anniversary just last year, Lanvin unveils a new look at its Spring/Summer 2017 in a video by photographer Jean-Christophe Moine. The French couture label showcases its fascinating mix of dejected grays and popping color that walked the Paris runways last year. A brain child of Creative Director Lucas Ossendrijver, the slow-moving video highlights the printed and embellished outerwear that had audiences clamoring.
Unqilo
Japanese retail giant Uniqlo descended upon New York City this week to unveil its latest LifeWear iterations. Showing in Spring Studios, the first time the event has been held within the U.S., the brand's mass-market clothing line received a luxe touch through collaborations with high-fashion powerhouses, such as model and designer Ines de la Fressange and the upcoming Pitti Uomo participant J.W.Anderson.
Follow ESSENTIAL HOMME on Instagram at @EssentialHomme.