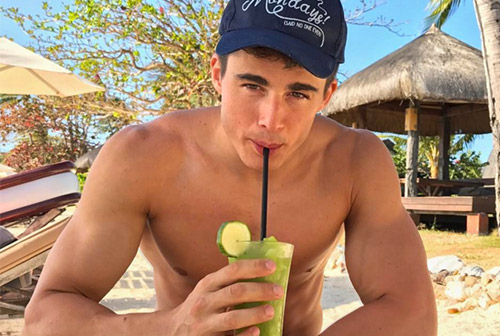 Weekly Instagram Roundup: John Elliott, Rick Owens, and More
This week's complete social snapshot, distilled for your pleasure.
From the hottest celebrity parties to the regretful morning-after shots, ESSENTIAL HOMME's Weekly Instagram Roundup brings all of the hottest designer, model, and trendsetting pics from the week directly to you. After all, no one has time to scroll through anything but the best.
Rick Owens
Perennial adidas favorite Rick Owens embraces his manic, otherworldly design ethics to celebrate the 5th anniversary of Dover Street Market Ginza. The limited edition tee joins the ranks of other designers—Thom Browne, Sibling, Off-White, Dries Van Noten—who have all contributed prints to honor the Japanese luxury hotspot. Owens' contribution features the familiar logo reworked in a precarious toppling pyramid and includes a small look at the Cali-born visionary's Spring/Summer 2017 Walrus collection, a theatrical production of stern tailoring and playful proportions.
Jeremy Chardy
French tennis superstar Jeremy Chardy shared a fun-filled image of his recent Lacoste shoot, following his win at this year's Miami Open. A fervent fan of the brand—you'd be hard-pressed to find a picture of the player wearing anything but the croc—Chardy is a prime example of Lacoste's well-groomed ideal. Pictured here with his fiancée and model Susan Gossage, the image brings Lacoste back to its sportswear best, a slight departure from the street-ready edge found in the brand's recent Supreme collaboration.
Future
ESSENTIAL HOMME August/September 2015 cover star Future shared a behind-the-scenes look at his latest video shoot, alongside the Weeknd, for their song "Comin Out Strong." Filming in Toronto, the "Wicked" rapper rocked out in an embroidered Spring/Summer 2017 Gucci coat, the "Starboy" himself kicking it in some Vetements x Dr. Martens boots, to create a hyperreal interpretation of his HNDRXX rising hit, released just last month.
John Elliott
After celebrating its 10th anniversary during New York Fashion Week: Men's for Autumn/Winter 2017, John Elliott takes a step backwards to fill out its Spring/Summer 2017 Watching Waters collection. Pictured below are a pair of pale pink Lows, released to join the ranks of its unfussy summer line and compliment the easygoing, pastel purity. A much lighter fare than previous brand releases—the recent Loopwheel collection a furrowed brow of hardened energy—the footwear pairs perfectly with the summer rider's jacket at night or oversized sweats for daytime. As with any John Elliott piece, wardrobing is key.
Pietro Boselli
Former math professor turned male model Pietro Boselli showed how to vacation the fashion-conscious way while lounging beachside and sipping on a zucchini shake. Most recently seen walking the Milan Autumn/Winter 2017 runway for Plein Sport, where he showed off the graphic jogging trousers from the young brand's ferocious line, the fitness guru took to the Philippines to spend some time at the Two Seasons Coron, following a philanthropic visit to a local school.
Follow ESSENTIAL HOMME on Instagram at @EssentialHomme.