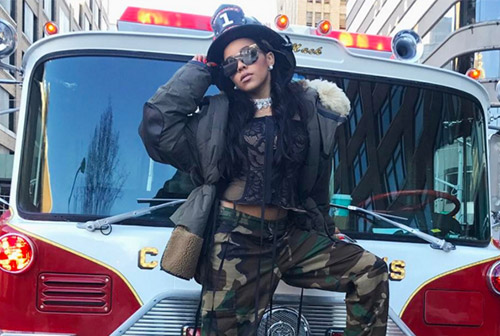 Weekly Instagram Roundup: Christopher Raeburn, Tinashe, and More
This week's complete social snapshot, distilled for your pleasure.
From the hottest celebrity parties to the regretful morning-after shots, ESSENTIAL HOMME's Weekly Instagram Roundup brings all of the hottest designer, model, and trendsetting pics from the week directly to you. After all, no one has time to scroll through anything but the best.
Christopher Raeburn
British designer Christopher Raeburn took time away from his sporty Autumn/Winter pursuits this week to address concerns of sustainability and global welfare within the fashion industry. Speaking to up-and-coming student talent at the Centre for Fashion Enterprise in London, whose classrooms have held such designer successes as Craig Green, the Royal College of Art graduate stuck true to the four R's of his brand philosophy—"reduce, reuse, recycle, Raeburn"—in a community-building production workshop.
Tinashe
ESSENTIAL HOMME October/November 2015 cover star Tinashe celebrated the release of her latest single, "Flame"—a pumped up, rhythmic force—by overtaking a New York City firetruck, decked out in pieces from Coach and Alexander Wang. Declaring it a "pop emergency," the singer's latest sound is a sharp departure from her previous mixes, choosing to join the masses vying to be crowned the next princess of the genre.
Ted Baker
After introducing us to the Bakers, a picture perfect couple from Tailor Lane, Ted Baker unveiled the latest iteration of its Stepford Spring/Summer 2017 suburbia. A completely digital shopping experience, the brand invites you to step out from behind your living room curtain and put that wandering gaze to the test—allowing customers a 360-degree peek into the lives of the family everyone loves to hate. See something you like? A quick click allows you to steal looks from both Mr. and Mrs. Baker, a one-stop shop for summer's breeziest wears.
Ermenegildo Zegna
The "Defining Moments" touting brand Ermenegildo Zegna unveiled its first ever couture bespoke atelier with a look at its new Milano view. Promising it as the definitive, top-tier destination for the company, the services available—personalization to the heart's content, tailoring, professional fittings—supplement the all-handmade pieces that grace the polished wood shelves. Designed to recall thoughts of a personal apartment, the homey shop is the brand's answer to an industry that keeps out-classing itself and is always looking for the next distinguishing trend.
Givenchy
Familiarize yourself with Clare Waight Keller, Riccardo Tisci's replacement as Givenchy's artistic director, as her modern, clean cut vision is here to stay. Having worked previously under Chloé, the designer—only the second woman to take creative lead under an LVMH house—has a fashion rap sheet that would make most designers turn green, having brought her work to Calvin Klein, Ralph Lauren, Gucci, and more. Fans can expect her inaugural release to show in Paris this October for Spring/Summer 2018.
Follow ESSENTIAL HOMME on Instagram at @EssentialHomme.