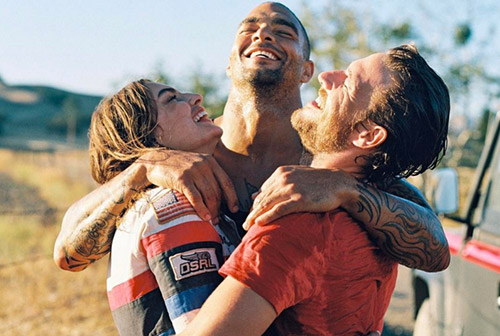 Weekly Instagram Roundup: Dolce&Gabbana, Saturdays NYC, and More
This week's complete social snapshot, distilled for your pleasure.
From the hottest celebrity parties to the regretful morning-after shots, ESSENTIAL HOMME's Weekly Instagram Roundup brings all of the hottest designer, model, and trendsetting pics from the week directly to you. After all, no one has time to scroll through anything but the best.
Dolce&Gabbana
Dolce&Gabbana continued its exploration of youth with the Italian house's latest eyewear campaign. Featuring Presley Gerber, the rising model and son of fashion icon Cindy Crawford, among other young talents, including internet sensation Cameron Dallas, the prints speak to the Millennial-centric Spring/Summer 2017 campaign released earlier this year. Here featuring the Jazz eyewear collection, the #DGCapri still is the latest in a string of all-in-the-family imagery that reinvented the label as an all-encompassing, familiar staple.
adidas Y-3
Yohji Yamamoto's adidas off-shoot Y-3 jumped to new heights in this first look at the upcoming Spring/Summer 2017 sport collection. Featuring the all-black aesthetic familiar to the brand, this athleisure take reinvents the shoe sole for a buoyant, lightweight design, highlighted by stylized knee-length socks. Though don't expect the logo-centric look to stick around, come Autumn/Winter 2017 the marketed approach will take a backseat to the brand's more reserved take.
Saturdays NYC
Though the team at Saturdays NYC may be busy—the brand having just released its first grooming line and is currently in the process of expanding its physical sale presence across the globe—the surf-ready label still has time for a little fun. Stopping by the Flower Shop, New York's recently opened pub and eatery, the team met up with the restauranteurs for a quick bite and a little chat on what makes the space the city's latest must-see destination. The owners, friends of the brand, are pictured here wearing the Clay Ditch hooded sweatshirt and Sanders long-sleeve terry polo, as seen in the label's latest lookbook.
Bruce Weber
Iconic fashion photographer Bruce Weber has kept himself busy—shooting ads for David Yurman, Louis Vuitton, and, of course, Versace. His next project, a Ralph Lauren campaign highlighting its Polo Red Extreme fragrance, saw Weber return to film with a bold extended director's cut of his cinematic creation. Featuring actor Luke Bracey and models Kenneth Guidroz and Alyssa Miller, the shared image is a behind-the-scenes shot of the dirt road, red pickup truck energy of Weber's modern/western visual landscape.
Follow ESSENTIAL HOMME on Instagram at @EssentialHomme.