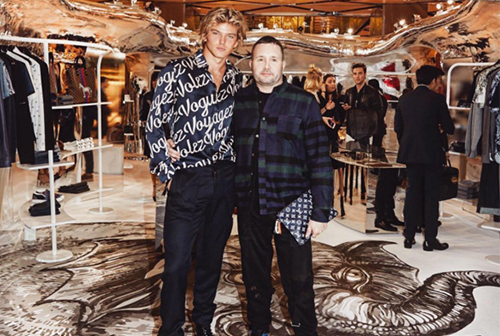 Weekly Instagram Roundup: Prada, Opening Ceremony, and more
This week's complete social snapshot, distilled for your pleasure.
From the hottest celebrity parties to the regretful morning-after shots, ESSENTIAL HOMME's Weekly Instagram Roundup brings all of the hottest designer, model, and trendsetting pics from the week directly to you. After all, no one has time to scroll through anything but the best.
Prada
Prada's latest video campaign, "Past Forward," a celeb-studded starrer by director David O. Russell, assembles an all-star cast of elegant women ostensibly running through an airport, before stopping in their tracks at the sight of their masculine counterparts—an homage to long lost loves of old.
Opening Ceremony
Victor Solomon, an artist who creates bejeweled, stained glass basketball backboards, once again collaborated with Opening Ceremony to release a new design, Mono Flow. The luxe backboard will be auctioned off with 100% of proceeds going to Planned Parenthood.
DSQUARED2
On DSQUARED2's 2017 agenda is a blaze of glitter and color, as shown in its Spring/Summer 2017 menswear pre-collection. This week the brand teased with this glam rock leather jacket, boasting purples that evoke Prince, but a style that suggests Bowie or Mercury.
Jordan Barrett
Nineteen-year-old Aussie male model Jordan Barrett returned to his homeland this week at the Louis Vuitton pop-up store opening in Sydney. Wearing a "Volez Vouguez Voyagez" shirt from the brand's Autumn/Winter 2016 collection, he rubbed shoulders with Kim Jones, Louis Vuitton's men's artistic director.
Public School
Public School debuted a capsule collection of glutinous popularity, dubbed PSNY Pizza. The range is a light-hearted departure from the brand's more ostentatiously brooding Spring/Summer 2016 campaign.
Dolce&Gabbana
It was a big week for Dolce & Gabbana, celebrating Stefano Gabbana's 54th birthday and launching a new winter campaign for its Light Blue fragrance. Brand-favorite David Gandy reprised his role as the face of the campaign, this time posing in the Italian Alps.
Follow ESSENTIAL HOMME on Instagram at @EssentialHomme.