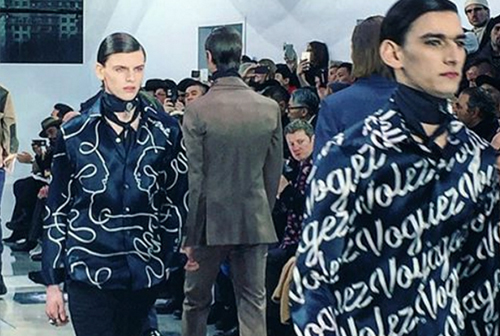 From Our View: PFW AW16 Part I
The front row in the fast lane.
From first looks backstage to post-show details, Fashion Month is a rampant, non-stop race from runway to retail. As we continue to bring you our favorite snaps in media res on Instagram, here we back away and take pause to present a curated look at the best moments of the season.
Off-White c/o Virgil Abloh
A car wash gone high-concept, Off-White's Autumn/Winter 2016 revealed a decidedly Parisian-inspired assortment of historic-esque clothes with streetwear finishes.
Issey Miyake
Fluid fabrics and warm tones starred in Issey Miyake's tribal yet technical Neo-nomad Autumn/Winter 2016 collection.
Louis Vuitton
Paris—both old and new—inspired Kim Jones for Louis Vuitton's "Future Heritage" collection, a sartorial spectrum that converses of the present and the past 162 years of the French fashion house.
Valentino
Evening wear aided by studded cameos, western prints, and ombre dyes attended Valentino's elegant runway show.
Raf Simons
A mysterious release from the decorated designer, Raf Simons homaged David Lynch—whose birthday coincided with the show—in an Autumn/Winter 2016 collection that devoured the oversized.
Follow ESSENTIAL HOMME on Instagram at @EssentialHomme.