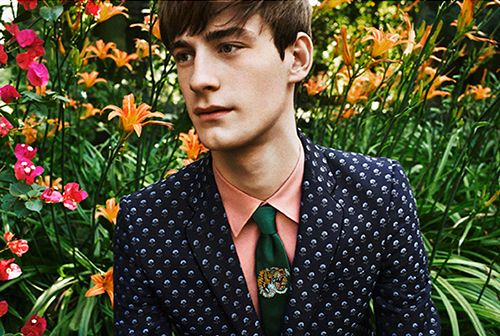 Gucci Gift Giving 2016 Campaign

Video: Gucci.
The dreamlike, luminous, and zoological aesthetic of Gucci under Creative Director Alessandro Michele comes alive in the brand's Gift Giving 2016 campaign film, created by artist and director Floria Sigismondi. The film depicts Gucci models exploring the lush gardens and pristine rivers of the Edenic "Gucci Garden," showcasing the accessory-heavy collection as women pick apples from trees and pass them to men laying among snakes, honey bees, and tigers. The models' accessories demand attention, a range that includes leather goods with Michele's signature kingsnake design, and backpacks, phone cases, and wallets with similar tropes and the insignia of Gucci. Wearing the Gucci Cruise 2017 collection and featuring bright intarsia wool sweaters, the models inherit the intricately-detailed line with a gorgeous, hyper-saturated sense of self. The visuals beautify the exotic animals and wonderland aesthetic, the film presenting a portrait of Michele's complete artistic vision.
The Gucci Gift Giving 2016 collection is available online now.