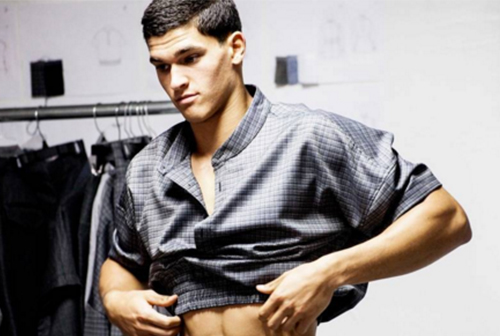 Weekly Instagram Roundup: Issey Miyake, Drake, and more
This week's complete social snapshot, distilled for your pleasure.
From the hottest celebrity parties to the regretful morning-after shots, ESSENTIAL HOMME's Weekly Instagram Roundup brings all of the hottest designer, model, and trendsetting pics from the week directly to you. After all, no one has time to scroll through anything but the best.
Issey Miyake
Issey Miyake revealed images from its upcoming Shunga collection, first seen in ESSENTIAL HOMME October/November 2016, that features the brand's erotic portrayal of sexuality and design through the use of textiles and silhouettes, honoring one of Japan's time-honored artistic movements.
Drake
Drake, the champagnepapi himself, challenged Taylor Swift's previous Apple Music ad with one of his own, rocking out to "Bad Blood" while hitting the gym hard. Could this be the start of the next great Apple collab following the brand's recent work with the iconic Paul Smith?
Cadet
Trevor Signorino certainly has had a busy week. Pictured here trying out Cadet's new Spring/Summer 2017 collection—the roman legion-inspired hardened collection—the it-model also jet-set to open the new Palazzo Versace hotel in Dubai on the arm of Donatella herself.
Bruce Pask
Bergdorf Goodman's Men's Fashion Director Bruce Pask shared a sneak peek into the retailer's upcoming holiday pop-up shop with these resin craft pieces, hand selected by Paul Smith himself. The beaded beauties interestingly feature the same wild color palette as the designer's latest Spring/Summer 2017 collection.
Canali 1934
Don't settle for anything less than magical when it comes to your accessories this season. Canali's latest campaign film, teased on Instagram this week, is an enchanting look at the brand's upcoming pieces, which would appear to pair perfectly with its latest headphones release.
Wilhelmina Models
The premier modeling service Wilhelmina offered congrats to Francisco Lachowski for the birth of his new son, Laslo—his new job as dad a far cry from his devious motorcycling days in this year's H&M Summer 2016 campaign or his dark, smoldering role in Balmain's Spring/Summer 2016 campaign.
Follow ESSENTIAL HOMME on Instagram at @EssentialHomme.