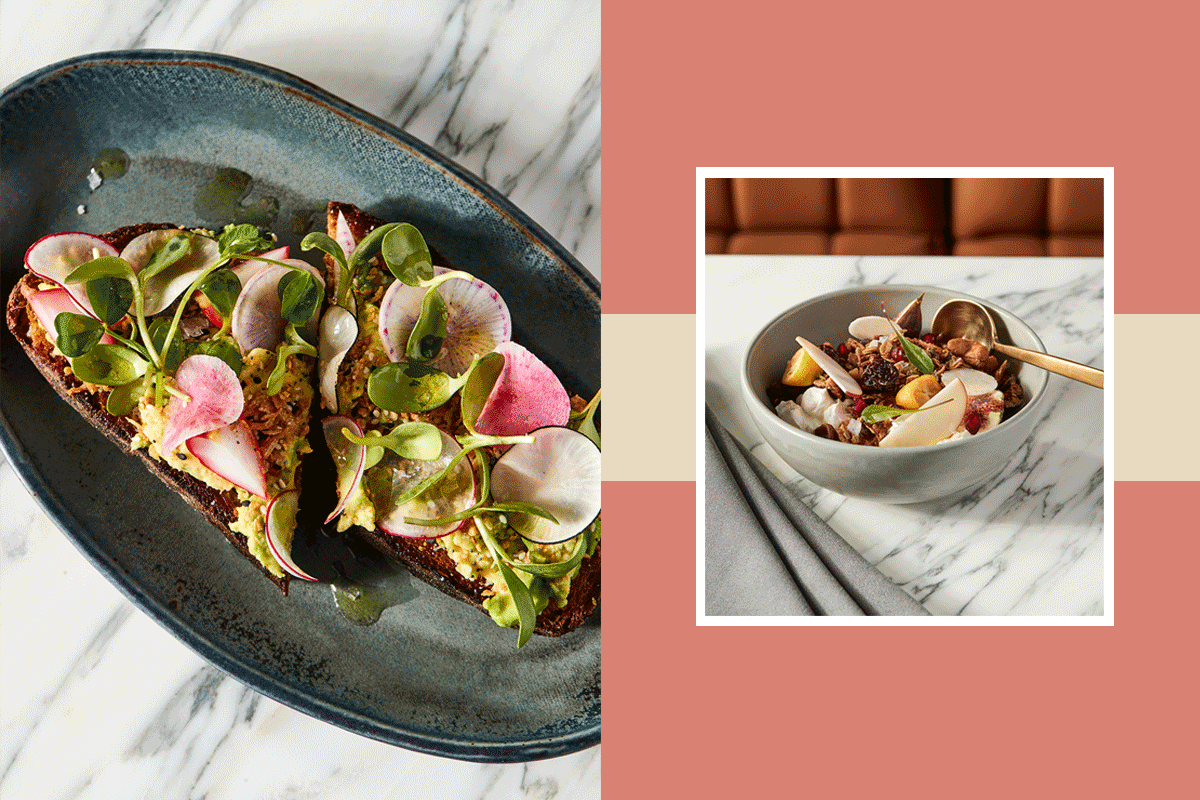 Goodman's Bar Revives the European Cafe in NYC
The newly opened Goodman's Bar hides on the second floor of Bergdorf Goodman's Men's Store offering the best of European bar and cafe fare by Chef Austin Johnson. "This store has not smelled food in a very long time," says Johnson. Indeed, the sultry Art Deco-inspired bistro housed in the iconic New York department store is one of those unexpected secrets you'd like to keep for yourself — what better treat after some shopping than gruyere gougères and wine?
Swanky in-store dining feeds into a particular kind of nostalgia, and with last year's L'Avenue opening at Saks Fifth Avenue, the neighboring store has to up its game. Goodman's Bar, however, is a hushed newcomer that prefers to keep it that way. The cozy space features small table-sets against deep blue walls and leather cushioning. A hand-painted mural of Central Park frames the bar with wingback chairs by Tom Dixon and lighting by Apparatus. And so in one cozy space meets the good ol' New York and the modern design on, both united by a passion for boozy French cuisine and chatty evenings.
The Michelin-starred chef of Paris' Le Frenchie is joined by Eleven Madison Avenue's former wine director Dustin Wilson. The duo presents an array of traditional French cuisine (think: foie gras and steak tartare) accompanied with an extensive list of wine all available by the glass. We spoke with the team about the inspirations behind the bar and all the in-betweens.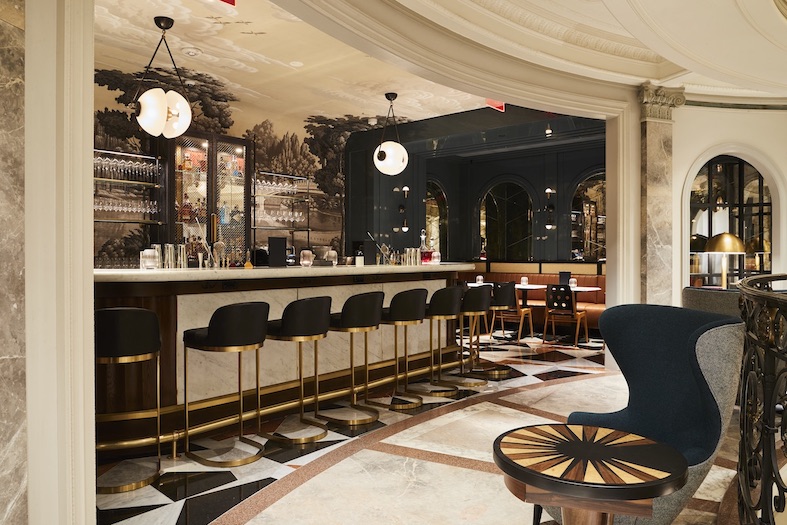 EH: Why is the bar-resto in the men's section of the store? What was the interior design inspired by?
Goodman's Bar: We have been wanting to incorporate a café/bar into the men's store for many years as a destination in and of itself and as a service to our shoppers and customers. The culture and interest surrounding food and wine and restaurants have increased vastly in the past few years and we wanted to make sure an entry we had in that field was the absolute best in class, exceeding all expectations. The concept itself, as well as the environment and interior, was inspired by the likes of the timeless bars and cafés you see in Paris, Vienna, and Milan. Those special neighborhood in-the-know spots where you can enjoy the best coffee and a paper, stop in with coworkers or for a lunch meeting and your favorite tagliatelle, and then after work aperitivi and wine from an obscure, exciting vintner.
How do the kitchen and the store work symbiotically? Does this affect the way you've created the menu as well?
Chef Austin Johnson: I've had a great time cooking here.  The idea we are cooking on this floor of Bergdorf's is a pleasure.  This store has not smelled food in a very long time. So again when we develop our dishes we think not just about taste but how will this smell on the retail floor.  Or will this generate unnecessary smoke?  It has been a fun challenge.
What have you learned from your previous experiences that prompted the kind of cooking that you practice now? What did you want to make sure to include/avoid at Goodman's?
Chef Austin Johnson: I have been extremely lucky to work with amazing chefs.   My goal was always to work at the best restaurants in the world and absorb as much knowledge as I could in my early cooking days.  I want Goodman's Bar to feel like technically sound cuisine whether that is a soup or salad for lunch or a higher-end experience in the evening.  This menu allows you to do both.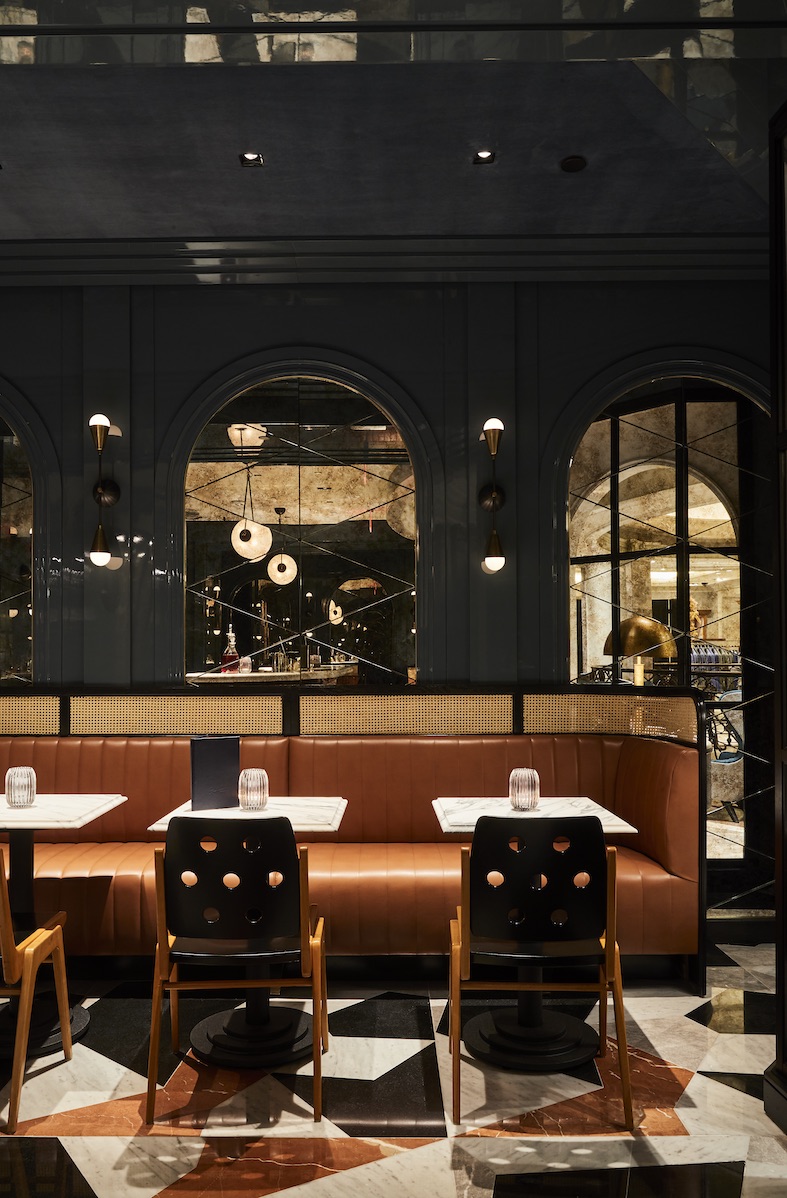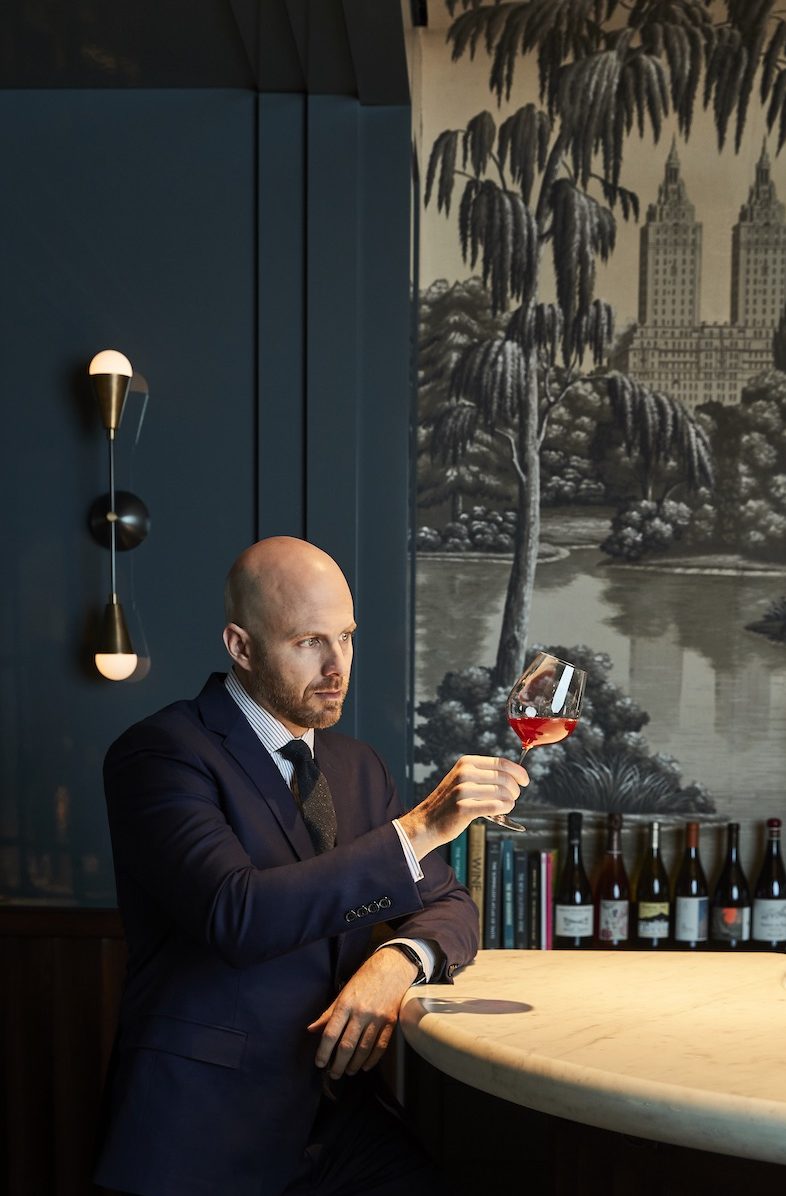 What elements did you focus on for the menu? Tell me a bit about the behind-the-behind the scenes of creating the menu. What was the train of thought that brought it to where it is now?
Chef Austin Johnson: We had to be creative with our kitchen space.  We have more refrigeration than firepower back there.  So we focus a lot on raw techniques such as our Crudo, tartare or oysters.  Execution is the most important so when designing the menu you have to create something that is possible for the team to execute on an extremely consistent basis.
How do you curate your wine list? What were some of the points you made sure to follow?
Master Sommelier Dustin Wilson: I made sure to pick wines that are very food-friendly and would work well with Chef Austin's cuisine. I also made choices that I felt would resonate with the guests that we expect to see coming by in this space – guests who are well-traveled and have great taste. I wanted to also fold in some unexpected choices that I love personally that will hopefully allow guests to explore and be a little adventurous with their drinking in this bar.