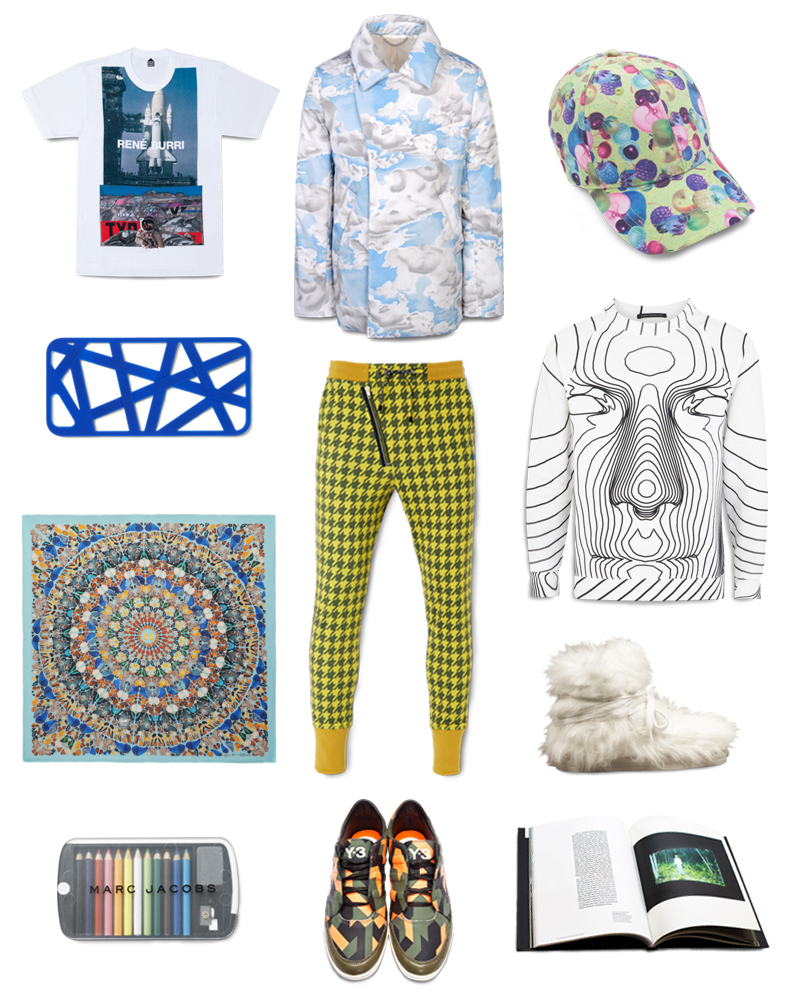 For the Guy: Artful Style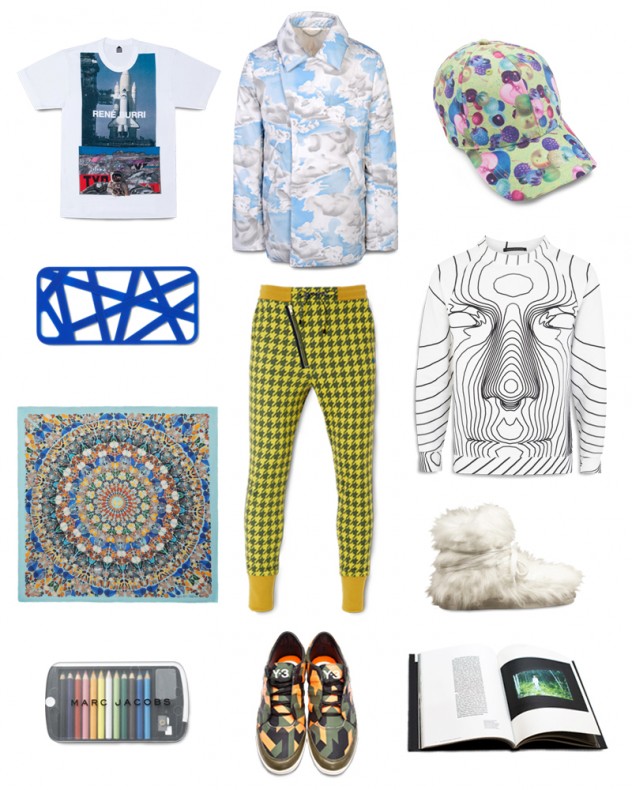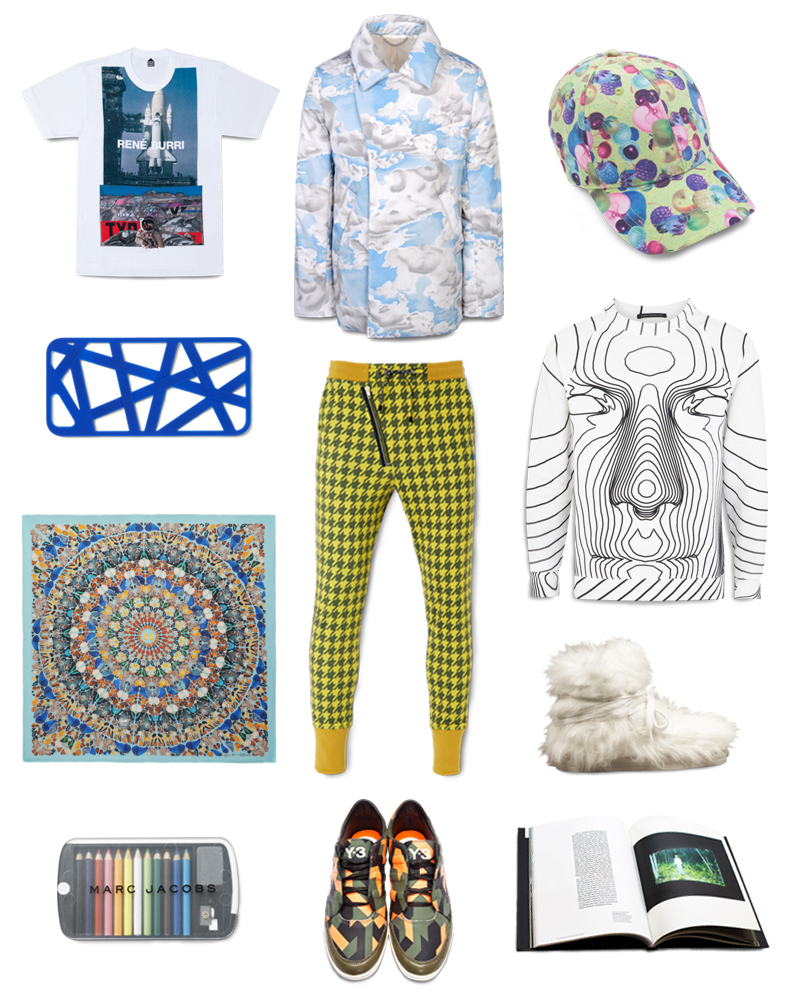 Art Basel might be over, but who said our way of dress should reflect that? We're *creative* people, right? Well, we know creative people. So put on that black turtle neck, uncork that bottle of Trader Joes Merlot, and get ready, because here are our most favorite art-inspired pieces on the retail scene. We'll take two of each please.
Comme Des Garcons x René Burri T-Shirt ($145): This 100% cotton tee from CDG is out of this world, featuring a rocket-print from legendary photographer Burri, famous for his portrayal of other equally-great artists including Pablo Picasso, Andy Warhol, and more! Available for purchase online at DoverStreetMarket.com.
Kenzo Paris Day Clouds Puffy Jacket ($954.51): Body can't keep with your mind? Bring the rest of your self up to the clouds with this surreal jacket in 100% polyester with a hook closing and side pockets. Available for purchase at select Kenzo Paris retailers and online at Kenzo.com.
Kit Neale AppleBerry Medley Baseball Cap ($65.16): This tropical-colored cap is as fresh as its name might imply. Forget the club, we'll see you at the juice bar. Available for purchase at select Kit Neale retailers and online at KitNeale.com.
Christopher Kane Face Printed Sweatshirt ($488.70): Give a whole lot of face in this electro-wave outlined printed black and white sweatshirt with raglan sleeves and ribbed trimms. Available for purchase online at HarveyNichols.com.
Terence Koh x Opening Ceremony x Forfex Furry Sneaker ($250): Contemporary artist Koh gives his legendary all-white treatment to these faux fur winter high tops. With wrap-around laces and and a mini flat-form sole, you'll be sure to stand out in the snow. Available for purchase online at OpeningCeremony.com.
"Shadow Fux" by Harmony Korine and Rita Ackerman ($40): An exclusive 124-page hardcover book that documents filmmaker Harmony Korine and artist Rita Ackerman's famous 2010 exhibition at New York's Swiss Institute. Available for purchase at select agnés b. retailers and online at agnesb.com.
Y-3 Honja Low Sneakers ($189): It's not the mild leather or the suede trim that will catch your eyes, but rather, the allover orange, black and olive geometric print. Available for purchase at select Y-3 retailers and online at Y-3.com.
Marc Jacobs Mini Pencil Set ($9): Give your writing some color, with this cute set of 12 mini pencils. The case also includes a sharpener and eraser, because why would you want to sharpen your designer pencils with anything else? Available for purchase at select Marc Jacobs retailers and online at MarcJacobs.com.
Damien Hirst x Alexander McQueen ($1,175): For the 10th anniversary of their skull scarf—perhaps the world's most famous piece of neckwear—Alexander McQueen collaborated with artist Damien Hirst on an exclusive collection of 30 kaleidoscopic printed scarves that are truly pieces of art (and for that price, they better be!). Available for purchase at select Alexander McQueen retailers and online at AlexanderMcQueen.com.
ASOS Signature Matrix iPhone 5 Case ($27.22): Give your phone the Piet Mondriaan-effect with these tangential lines in bold blue or solemn black. Available for purchase online at ASOS.com.
Vivienne Westwood Dogtooth Neoprene Pants ($905): Are they trousers, or are they sweatpants? These hybrid pants take Westwood's most famous pattern into a heavier debate with a slim fit, elastic ribbed detailing and an asymmetrical zipper. Available for purchase at select Vivienne Westwood retailers and online at VivienneWestwood.com.
To alleviate some of the stress of holiday shopping—or even just to help kill time at work, For The Guy is a new weekly column where we'll be sharing our most favorite gift ideas for every possible guy you know. With products ranging from designer ready-to-wear to high-tech ready-to-plug-in devices, we hope you and your love ones enjoy these as much as we know we will! Hint, hint. 
Images courtesy of their respective brands.