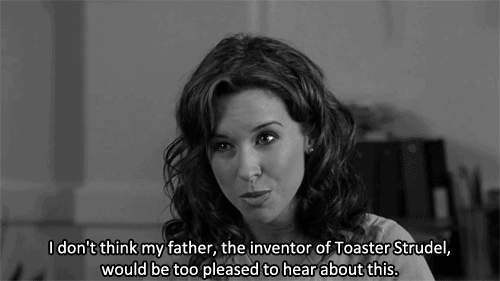 Toaster Strudel Gives Ultimate 'Mean Girls' Anniversary Gift
On April 30, 2004, an unrelenting cultural phenomenon hit cinemas across the country with little-to-no pre-released hype. The film, Mean Girls, starred Lindsay Lohan (fresh off her Freaky Friday resurgence) and a slew of relative unknowns including Lizzy Caplan, Rachel McAdams, and Amanda Seyfried, and was written by SNL head writer Tina Fey. With a budget of just under $17 million, the film rallied forth to gross $129 million, and, more importantly, left an even farther-extending mark in the lexicon of chick flicks, high school comedies, and adolescent humor.
A decade later, the film hasn't lost its magic. Tumblr users have created more than 10,000 posts and 477,000 notes related to the world of the Plastics in the last month alone. This is no surprise seeing as Mean Girls has yet to outstay its "door's always open" welcome in popular culture. There was the intern that recited the entire script in 30 minutes, the time Obama's team Tweeted a picture of Bo from inside the Oval Office with the caption: "Bo, stop trying to make fetch happen," a fan created "Disney Mean Girls" trailer which has clocked nearly 12 million views, even it-girl Jennifer Lawrence referenced the film when accepting her People's Choice Award.
So how does one celebrate the ten year anniversary of a film so often celebrated? If you're Toaster Strudel, you send your fictional heir apparent Gretchen Wieners (played by Lacey Chabert) a box of strawberry Toaster Strudels and, in doing so, win the internet. Take a look: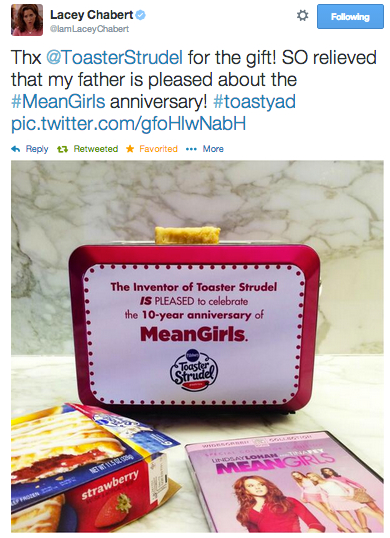 Images courtesy of Paramount Pictures and Twitter.