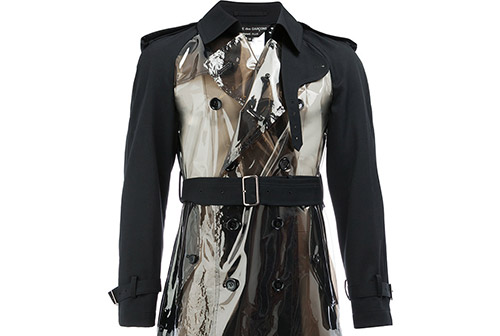 Stay Dry with Spring's Leading Rainwear
Don't get caught in the times of downpour without this season's untamable must—the rain jacket. A light layering piece emboldened by its adaptability, the see-through staple proves when it rains, it pours.
3. Comme des Garçons

Image: Comme des Garçons.
Choose something a bit more bold with this neutral-toned masterpiece from COMME des GARÇONS. The oaky finish adds a unique hue that drops to the floor, taking all eyes with it.
Black trench with PVC sheer paneling, $1,930, COMME DES GARÇONS HOMME PLUS. Available at Comme Des Garçons NYC, Dover Street Market NYC, and NewYork.DoverStreetMarket.com.