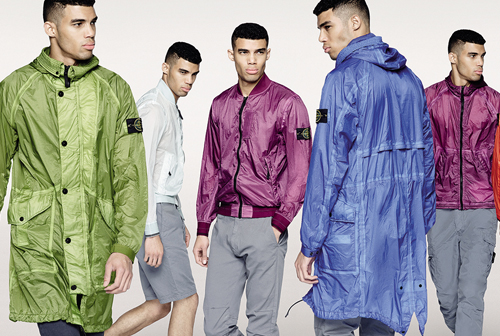 See Stone Island's New Jacket in Video Teaser
Video: Stone Island.
Stone Island, the sportswear brand that has been researching and experimenting with textiles since 1982, has just dropped a video teaser featuring its latest hooded jacket. The Hyper Light Membrana TC is a packable garment with two-layer performance fabric made from a nylon weighing only 22 grams per meter squared. The fabric has also been laminated to a breathable, water and wind resistant membrane and the brand's innovative dying technique has given the jacket an eye-popping color as well as an added special agent to the dye formula that makes the garment anti-drop. Other features include an elastic at the cuffs, a drawstring bottom hem and diagonal pockets with a hidden zip fastening to make sure everything on your person stays intact. This new jacket is showcased in all its glory in an intense video highlighting the garment's lightness and the way the flexible fabric moves to a pulsing bass beat. Styled with gray jeans and sneakers, the membrana certainly stands out with its modern bold color options.
The Hyper Light Membrana is now available online.