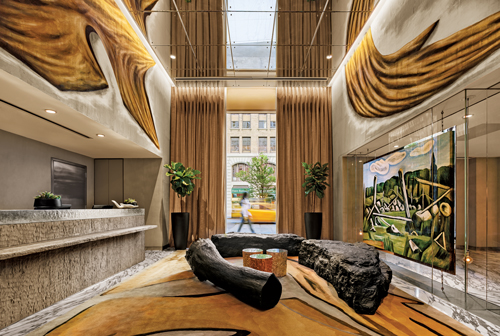 Park Avenue Boogie Woogie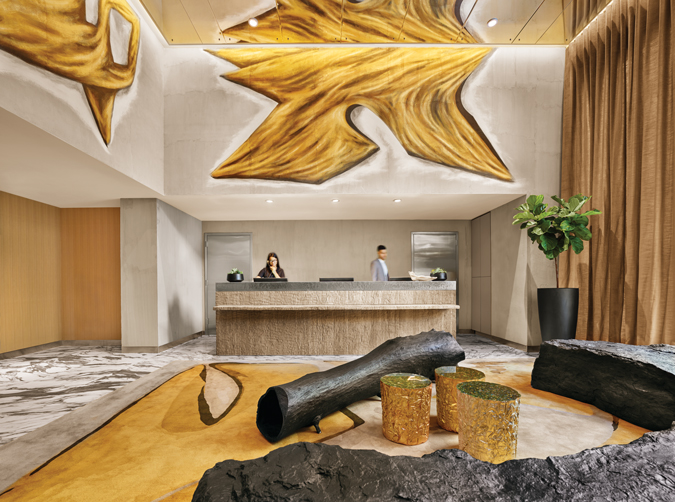 Images: Mondrian Park Avenue.
In 1940, the Dutch painter Piet Mondrian left Europe for America. His famed grid paintings had already established him as a master of minimalism, but New York City inspired a more maximalist vision. His work became bolder as he began translating the dizzying chaos and glamor of the city into paint. Mondrian's later paintings like "Broadway Boogie Woogie" (1942) balanced abandon and restraint—becoming crucial parts of the city's history.
It's about time, then, after launching everywhere from Los Angeles to Qatar, for SBE to bring a Mondrian hotel to NYC, a town that still rewards ambition. Building off early design inspiration from the legendary Philippe Starck, the international hotel group transformed a Gotham-era 1915 office building into the Mondrian Park Avenue, a 189-key, 20-story dazzler on a prime corner of NoMad, equidistant from the public art installations of Madison Square Park and the bustling east side of Midtown.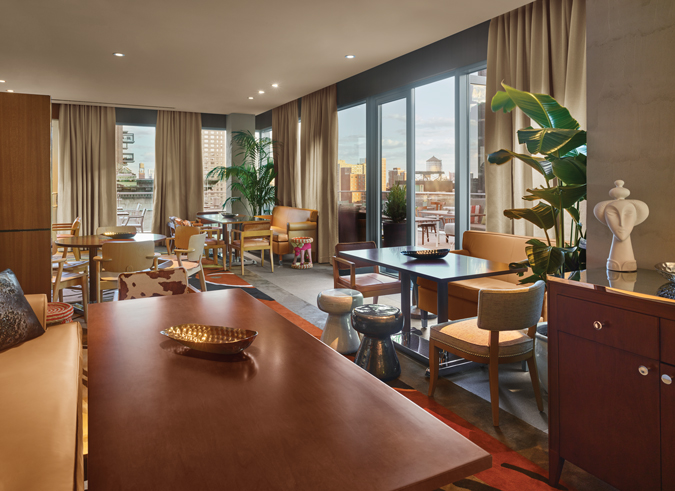 Guests might be forgiven for thinking they've entered a different world altogether as they move through the lobby, which Starck wrung with eerie murals from his daughter, artist Ara Starck, depicting abstracted landscapes. Coal-black benches reminiscent of campfire logs sit on a plush rug with a blown-out faux bois pattern. It's a welcome respite from the hubbub of Park Avenue South visible through the double height windows.
The ground-floor restaurant Cleo features canvases stacked gallery-style on railings above-head, and chef Danny Elmaleh's Mediterranean cuisine on the plates. Tucked around a corner (or, after dark, accessible via a discrete, separate entrance) is a subterranean boîte, Never Never, with a bar marked by upturned lamps. Chesterfield sofas gather around cocktail tables inspired by Art Deco drinks trolleys—all within walls covered in digital prints of the theatrical view from a stage. It's the perfect spot, after a drink or two, to put on a show, before retiring upstairs for a nightcap at Richie Akiva's rooftop lounge Fifteen Stories.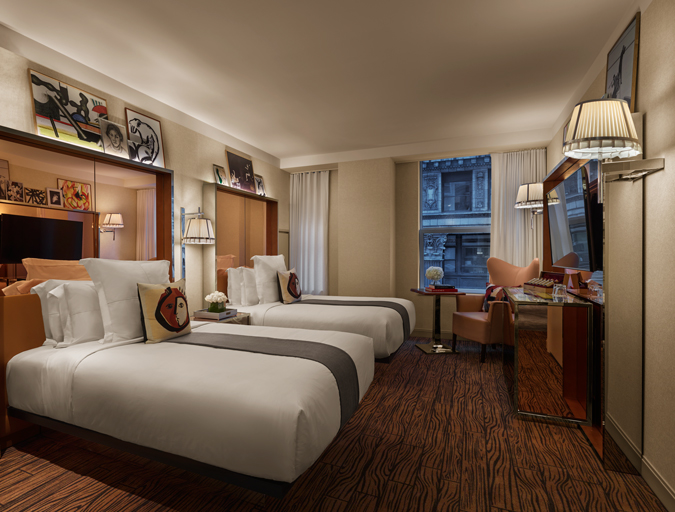 Rooms, as they should be, are quieter: faux-bois carpeting here is smaller-scale, like the plank flooring of a classic brownstone, and the palate is an elegant mix of greys, cool yellows, and copper. As ever in New York, though, the real prize is the penthouse, where the 1,300-square-foot Piet Suite beckons, with two beds and an enviable spread of modern classic furnishings—not to mention multiple private balconies, the perfect spot to gaze upon the artful spectacle of the city.
Book a room online now. This story is featured in the Spring 2018 issue of ESSENTIAL HOMME.