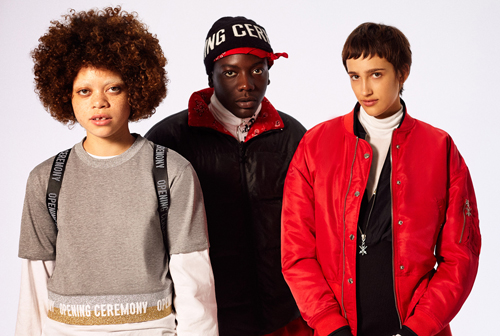 Opening Ceremony Expands With Sportswear-Inspired Torch 2 Collection
Images by: Opening Ceremony
Opening Ceremony is dropping their second collection of pieces for their ongoing TORCH series where it releases limited-edition sporty heritage items monthly. The word TORCH evokes the spirit of the Olympics, and the line does exude a strong and sharp Olympian look — the varsity jackets and red, white and blue details add a preppy All-American vibe. It wouldn't be the first time the brand dabbles with Olympic merch, since they installed a pop-up shop in the Brooklyn Museum last summer to celebrate the 2016 ceremonies. Now we really want OC to design the US Team's uniforms at the 2020 Tokyo Olympics. Fingers crossed.
New key items of the color-blocked minimal unisex collection include the Nylon Reversible Puffer Jacket, which includes a bandana-inspired print, and the Warm-Up Track Suit. For accessories, the line is rounded up with berets, totes and fanny packs. Along with the OC's collaboration with Columbia, TORCH is perfect for those looking to add more colorful and casual options to their usual winter wardrobe. Check out some highlights in the slideshow below.
The second collection will be available tomorrow at Opening Ceremony stores and online.
[slider_pro id="142″]