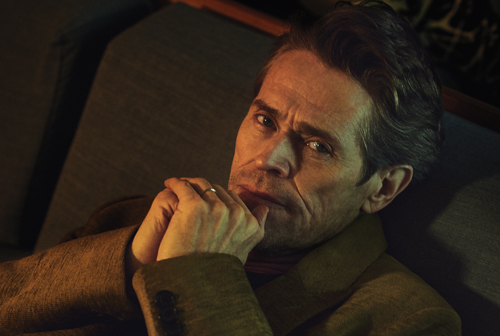 Film Savant Willem Dafoe Remains in Control
To celebrate the end of summer, this week we're publishing full cover stories from past issues of ESSENTIAL HOMME. Today, actor Willem Dafoe talks about his Academy Award-nominated performance in 'The Florida Project' and how every film — the good and the bad — changes him for the better. Interview by Jennifer Piejko.

Wearing a neatly pressed T-shirt and a weary expression, Bobby Hicks, the Magic Castle motel's manager played by a stern but warm Willem Dafoe, climbs a precarious ladder to begin repainting the massive building's exterior. His son Jack sulks at the scene of his father taking on yet another DIY home-improvement project, this time coating the sagging motel a flushed shade of orchid with a single paintbrush. He comments that Bobby is wasting $20,000 on the endeavor, before turning away and exiting the parking lot without a single look back. Steel-blue clouds hang heavy and skim the rooftops from the Orlando sky; waxy emerald palm fronds sway from the tops of flimsy, lanky trunks; the soft graphite of the sprawling pavement below looks like it might swallow up and absorb anyone or anything that might hit it. Pausing on the rung of the ladder for a single breath, Bobby takes the long view of the wall, exhales, and picks up his paintbrush again.
There are so many moments like this in The Florida Project, Sean Baker's newest film: a total change of atmosphere—one of emotion or climate—hinged completely upon any character's attitude and perspective on the prospects laid out before them at any particular fragmented moment. The film is centered on the small, enchanting adventures of 6-year-old Moonee (Brooklynn Prince), who lives in a small rented-by-the- week room in the Magic Castle with her young mother, Halley (Bria Vinaite), and a rotating cast of local unsupervised children and the adults that surround them. The mothers and caretakers, alternately grappling with addiction issues, unsteady work, or unreliable partners, turn to Bobby as both an administrator and a guardian. Bobby is the one who bounces the kids from the lobby as the first drip of a soft-serve vanilla cone passed between them hits the tiled floor; he's also the one who moves Moonee and Halley from room to room to hide from local housing authorities who would otherwise have put the young child in foster care.



The saturated, painterly scenes of Florida provide a luscious intensity to the characters' emotions and intimacies, much as the director's previous feature film, Tangerine, smoothed down the edges of its figures' relentless tensions and anxieties by setting them in front of setting suns in hues of apricot and mango flesh. Moonee and her partners in crime spend humid afternoons wandering from the fiery-colored tarp hemisphere of Orange World to the squat, sprinkle-cone shaped Tastee Treat stand, where they ask passersby for change to cure their asthma with a cone. Then, in a dollar store, a seafoam-maned Halley leads Moonee down the aisles, each brimming with paper and plastic trinkets; to the tract of abandoned pastel-colored homes, which the children admire from a distance before working up the courage to let themselves inside.

The Castle is a departure from the locales where we can usually expect to see Dafoe onscreen. Best known for his Oscar-nominated role of Sergeant Gordon Elias in the bloodied Vietnam War-driven Platoon, the actor is also known for portraying Jesus (The Last Temptation of Christ), a private detective (American Psycho), the Green Goblin (Spider- Man), a rat (Fantastic Mr. Fox), and the legendary director Pier Paolo Pasolini living out his final days (Pasolini). Dafoe grew up in Appleton, Wisconsin, and studied drama briefly at the University of Wisconsin in Milwaukee. He left school early to get involved in theater, joining the experimental company Theatre X while still in town, then making the move to New York in the mid-'70s to apprentice under Richard Schechner before branching out with a few cast members to form the influential and still-active Wooster Group. He's also participated in a number of artist-driven productions, including Robert Wilson's 'The Life & Death of Marina Abramovic,' and has a production directed by Romeo Castellucci in development in a Naples church, referencing Nathaniel Hawthorne's 'The Minister's Black Veil.' Up next is a remake of Sidney Lumet's classic 1974 Murder on the Orient Express, as well as a biopic on Vincent van Gogh in his final, difficult years (he died by his own hand, shooting himself with a rifle and dying over the course of 30 hours), directed by Julian Schnabel and filmed in rural France. All quite a long drive from Orlando.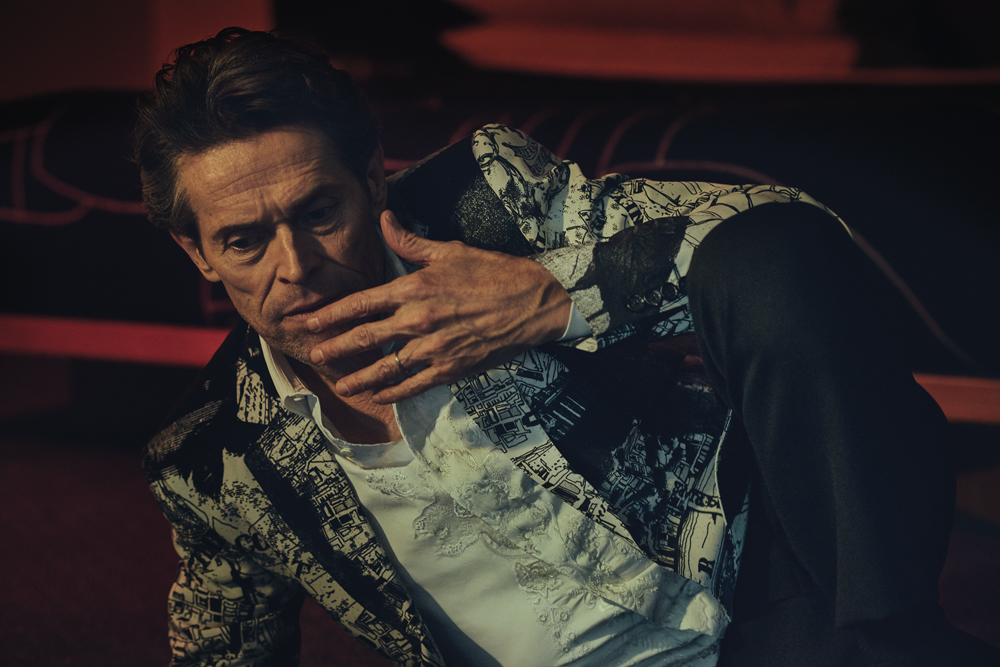 Additionally, he's had starring roles in experimental short films, such as Mind the Gap, an unequivocal approach to avant-garde: an homage to Samuel Beckett's Not I, the hyper-focused three-minute film allows Dafoe to enter another dimension simply by focusing on the near-infinite details of one's mouth while he coolly recites, "I have gaps in my teeth… As my father used to say, 'Son, your teeth are air-cooled."' Made over the course of a single afternoon with Grigoriy Dobrygin, who he met while filming the adaptation of John le Carré's A Most Wanted Man, the film used an isolating, uncanny style, annunciating and stretching a smile and exhibiting a blurring of unique characteristics while still rendering the actor instantly recognizable.

Bobby Hicks has designs on his own life as much as his neighbors'. Like many of Dafoe's other roles, he used a rigid demeanor to contain his eccentricities and internal discord, but he also slipped from hiding his empathy toward every figure housed in the Magic Castle. "With Bobby, I didn't try too hard to define him," Dafoe said over the phone. "I thought, 'Yes, I think I can play this motel manager,' but I didn't know who he is until I did it. [The film] is about people, and how they're dealing with their lives, and in a full way. I think there's joyousness about it, and there's also a sadness and darkness about it."

"I was a motel manager, and I was doing motel manager things; I really was. It gave me an ounce of imagination, some sort of idea, of what that life was like." He continues, "Every movie you make changes you, and the good ones change you a lot. Maybe the bad ones change you even more. But ultimately, particularly from my point of view of playing Bobby, it's about how people treat each other and how they take care of each other and how they solve their big problems, and how they got into their problems. It's about breaking cycles and finding a better life." Anything is possible under a Florida rainbow.

This interview was lifted from the Winter 2017 issue of ESSENTIAL HOMME, available now.