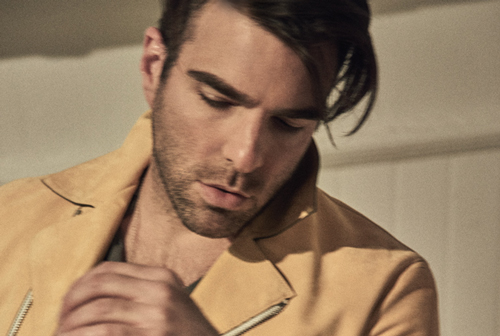 Zachary Quinto Becomes One of 'The Boys in the Band'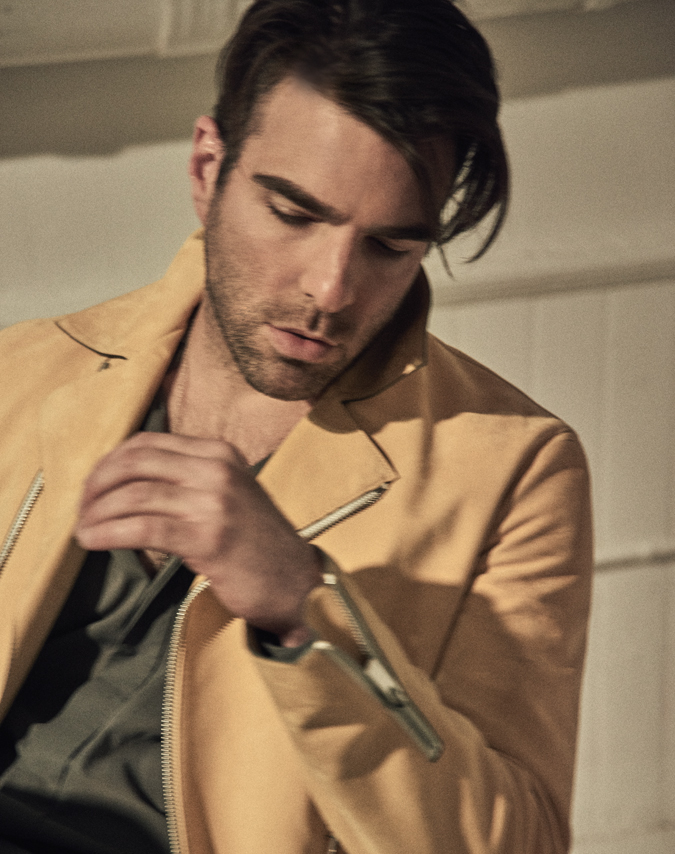 Images: Kevin Sinclair.
Styled by Joseph Episcopo.
When a gay actor in Hollywood embarks on press rounds to promote his latest project, there must be a pressure—not to mention, fatigue—he feels when faced with the inevitable subject of queer representation in the industry. Zachary Quinto, on the heels of a starring role in a Broadway revival of the classic and controversial 1968 play The Boys in the Band, is nonplussed.
That's not to say that he is indifferent to the conversation. On the contrary, Quinto speaks about his role as a queer actor and the role Hollywood assumes in telling stories about marginalized people, like someone who is never not thinking about this, like someone who is careful with his words but not in a rehearsed "my publicist coached me" way.
"Masculinity," Quinto begins. "It's so intertwined with male identity. I think the journey of gay men, of openly gay actors, and the heteronormative idea of what masculinity is, is still at odds in Hollywood. I think it's something that is changing, but hasn't changed entirely. It still has a ways to go."
His eloquence feels earned, particularly when you look at the characters he's played on stage and screen. Quinto isn't a stranger to legendary 20th century works by gay playwrights. He played Louis Ironson in a 2010 Off-Broadway production of Tony Kushner's Angels in America, Tom Wingfield in a 2013 Broadway revival of Tennessee Williams' The Glass Menagerie, and now Harold in Matt Crowley's The Boys in the Band (produced by Ryan Murphy, who he also worked with on FX's American Horror Story, and directed by Joe Mantello).
Given that Angels in America is currently running, The Boys in the Band feels like an odd choice to bring back (previews began on April 30 with the show opening on May 31), even though it boasts a cast that, in addition to Quinto, includes Matt Bomer, Andrew Rannells, and Jim Parsons—some of the most established out gay actors working today. Despite its historical importance, many consider it dated, a reaction that stems from a fierce protest of the work's relevance when it was adapted into a film in 1970. The gay men in the play can feel like stereotypes. They're loud, effeminate, shallow, and full of a powerful shame that didn't resonate with audiences and readers as years passed.
Quinto doesn't disagree, alluding to a time in college, at Carnegie Mellon, when he first read scenes from the play. But this time around, there was something that struck a chord. "Everybody is paranoid. Everybody is afraid. Everybody has internalized this hatred they've been pummeled with in the real world. How does that inform a character?" he explains before justifying the timeliness of Mantello's revival.
The Boys in the Band is a contained work, a short play that takes place in one setting over a dinner party between several gay friends. At the time of its pre-Stonewall release, this felt important. Here are a bunch of men who are unapologetically themselves, and the play follows them through a night of heavy drinking, which opens doors to subtle and not so subtle tensions in their dynamics. It feels astonishingly open for its time in the way it broaches gay men's relationships with themselves, and the ways in which they grapple with their own identities, which are things Quinto feels still matter.
"How far we've come socially, politically, legislatively in the last 50 years is one thing, but where are we in terms of self-acceptance? Self-love? I don't think we live in a culture or society today that's any more encouraging of loving ourselves than it was 50 years ago," he says.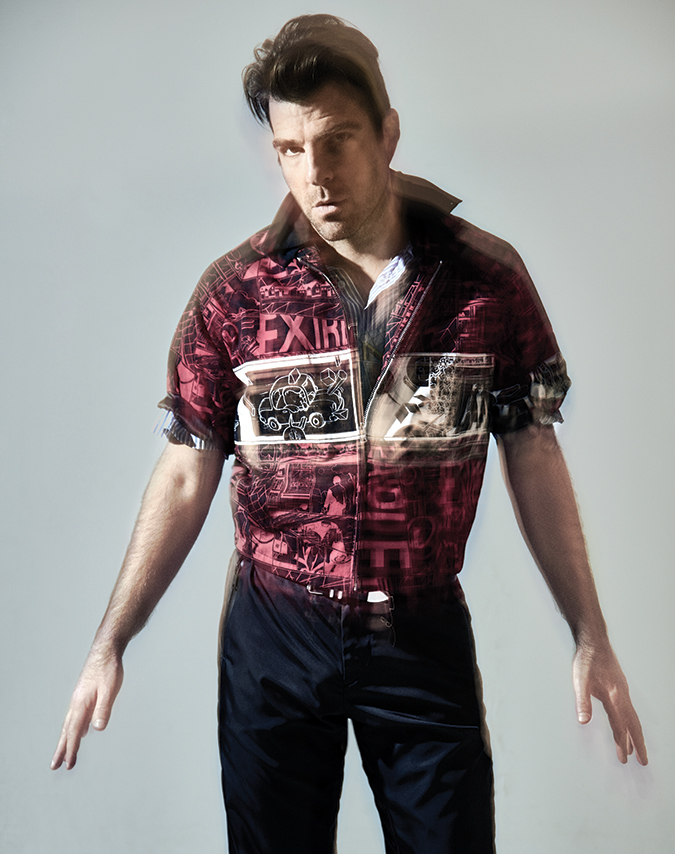 Although he appeared in FOX's 24 and had a leading role on the short-lived but acclaimed VH1 series So Notorious alongside Tori Spelling, Quinto's breakout was in the NBC sci-fi series Heroes, where he played villain Gabriel "Sylar" Grey. It was a standout role, one that led to his first film opportunity playing Spock in J.J. Abrams' 2009 Star Trek reboot.
Considering these roles alongside his stage career and other choices—Quinto has a production company called Before the Door Pictures and has produced award-winning films like Margin Call (2011)—his decisions are pretty scattered. "A lot of the things that I've done have been zeitgeisty—American Horror Story and Heroes. Star Trek is very iconic. I remember that moment when I was doing Heroes and people didn't know my name yet. It was a lot of, 'Oh, you're that character.' I remember when it switched and people started recognizing me for myself."
"[Heroes and Star Trek] was like hitting the lottery twice, as far as I'm concerned. Both of those projects were very sci-fi, comic book-y. That set a kind of expectation right away. Once you get known for something it becomes very difficult for people to know you for anything else."
Quinto, 40, may be articulate and considerate when speaking about his career, but he also holds aspirations outside of the more stoic—and often frightening—characters he's played.
He mentions that he wants to try funny again, referring to a small arc he had on HBO's Girls. He played Ace, a bro-y artist and ex-boyfriend to Gillian Jacobs' Mimi-Rose, the new girlfriend of Adam Driver's character. He'll get the chance to do so with Harold, a neurotic, quick-witted Jewish gay man who shows up late for his own birthday party in The Boys in the Band, but he seems eager to avoid stagnancy in his career.
This pervasive anxiety about being typecast, which feels inherent to any actor who takes on a larger than life role, extends beyond the sci-fi world for Quinto as well.
"I probably feel conflicted about the idea that one of the things that people feel is that it's all that gay actors can do, which I vehemently disagree with," he states, noting the hypocrisy in having straight actors play gay characters when gay actors aren't as likely to have the opportunity in reverse. "It's about working against the institutional homophobia that still relegates gay actors to playing gay characters, the idea that the only way as a gay actor to be viable in the broader industry is to stay in the closet or to deny your sexuality."
Quinto, who came out publicly in 2011, rejects this. "I was, personally, not capable of making that sacrifice. It wasn't worth it to me, and I wish it didn't have to be worth it for other people."
This story appears in our Summer 2018 issue, out now.