Favorite Five: Valentino Fall 2013 Menswear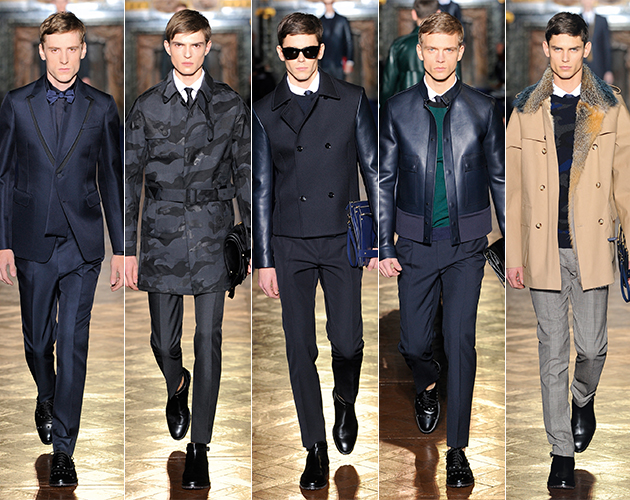 "In their atelier Maria Grazia Chiuri and Pierpaolo Piccioli subtly modify archetypes and stylistic themes from within to create the new menswear collection for Valentino. The work starts out with defining elements: stereotypical garments that are a part of the collective culture, distilled in our memories and use. The Creative Directors intervene upon these well-known bases with surgical precision and subtle sedition, making imperceptible changes that alter the perspective yet preserve the aplomb. The result is distinctive, and the balance is slightly skewed. Last but not least, a nonchalant Roman mood shuffles the cards on the table."
The suggestion of camo in the fur lining of the camel jacket. The camo sweater over the sharp white oxford. Duality with due diligence.

Like the forrest at night. Midnight blue is the new black. Also, the studded shoes.

Simplicity rules. Four simple buttons, leather leaves, this jacket is the definition of a job well edited.

The belted camo swims.

Perfection, adorned with a bow tie.