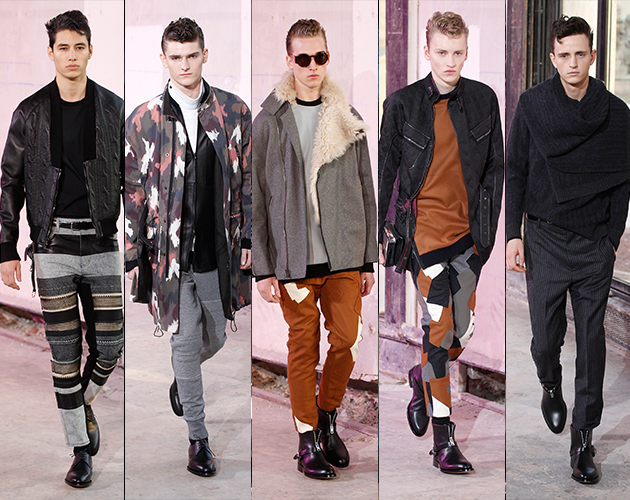 Favorite Five: 3.1 Phillip Lim Fall 2013 Menswear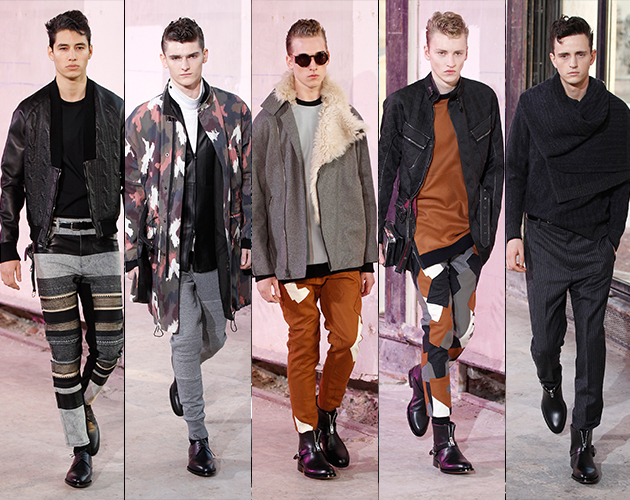 "Inspired by cafe racer culture, Fall 2013 pays homage to the nomadic spirit, one that has an innate curiosity and is in celebration of a journey. Narrative details and silhouettes reference travel and discovery. Each garment is the product of curated experiences and the desire to reshape boundaries. A blithe bohemian approach combines an insouciant ease with subtle luxe sensibilities. Carefully treated fabric and considered technique alludes to a familiar and elegantly lived-in manner. Precise cut and irreverent details reveal a youthful perspective of old world tailoring and unconventional elegance."
Photos courtesy of 3.1 Phillip Lim
The cable knit cardigan reads blouson and when zipped, will give interesting geometric form. The embroidered acid blue denim with a tapered and narrow hemline let it known that you can chill in unknown, dusty cafes, and, also patrician, high-end boutiques.

Lim hits camo spot on with a avian like print. Also with the kind of tailored lounge pants (mélange embroidered no less) that take it to the street.

Just enough of the puzzle to keep them guessing.  We'll say boho-mod, and kinda beat, especially when tucked into front zip boots. Also, the asymmetrical collar line—in mongolian fur—adds to your hard to peg "type."

The full on puzzle pant is a clean, geometric way to take on patchwork. Throw in some neoprene in the form of a racer jacket and you're set to roll like a sone in style.

Poetic.