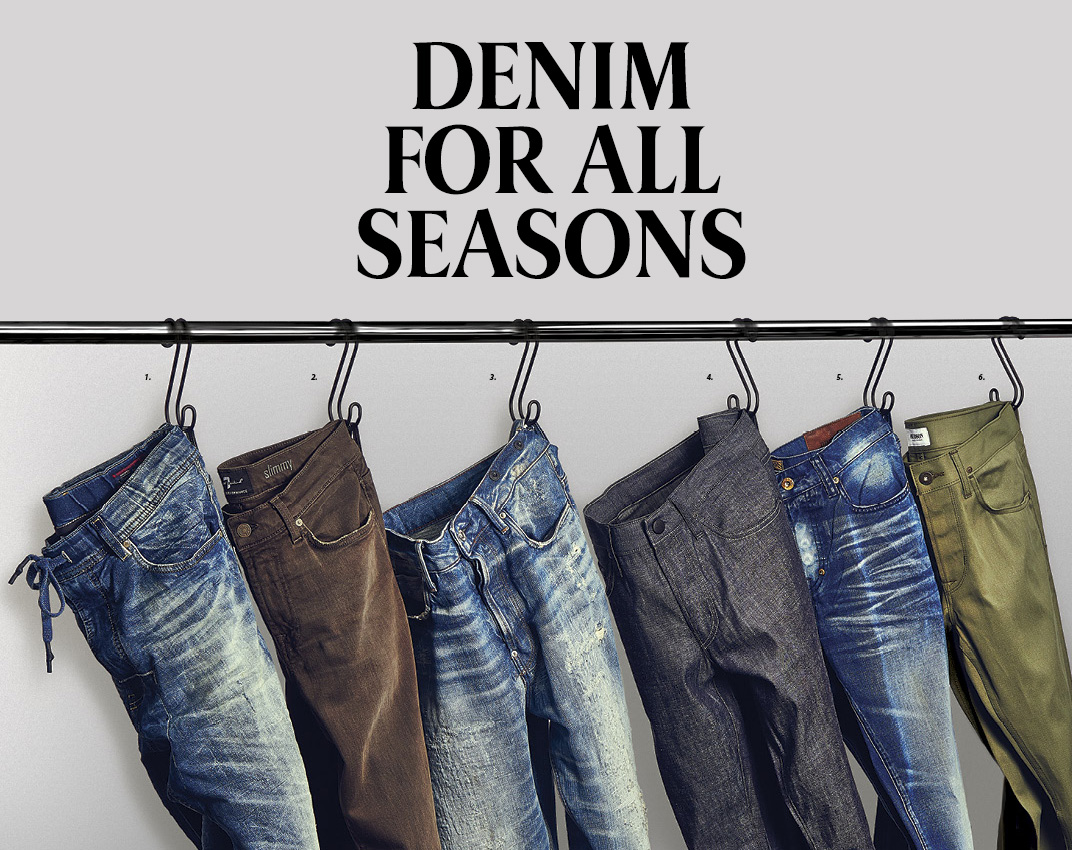 Denim for All Seasons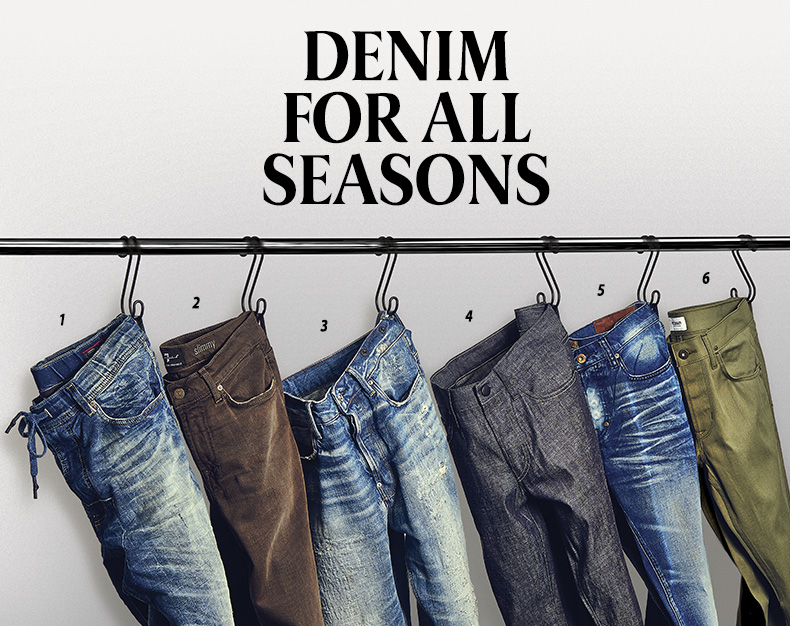 1. As Good As Sweats
Diesel's Narrot Jogg Jeans look like jeans but feel like sweatpants, proving that you don't have to sacrifice style for comfort. Lightweight denim makes these perfect for summer, and the draw-string at the waist means you can forgo wearing a belt and just throw them on and go. Of course, there are belt loops for those who insist. Distressed denim and a slim but loose fit make for a familiar—and flattering—Diesel silhouette.
Narrot Jogg Jeans, $328, DIESEL. Available at Diesel stores and Shop.Diesel.com.
2. Lose the Blues
It's not all blue when it comes to denim. Class up your weekend casual look with a pair of 7 for All Mankind's Dark Earth jeans, part of the brand's Luxe Performance line. The over-dyed and hand-sanded jeans vary subtly in shading for a one-of-a-kind look, and because they're brushed on the inside, they're as soft on your skin as they are for others to touch. The innovative fabrics used have a high recovery rate, a technical term meaning they won't stretch out much throughout the day. All you need to know is that your slim jeans will look as fresh and tight when you step out on the town as they did when you first stepped out of the house.
Luxe Performance Slimmy in Dark Earth, $198, 7 FOR ALL MANKIND. Available at Saks Fifth Avenue.
3. Aging Gracefully
To celebrate its 25th anniversary, G-Star RAW is re-releasing its Streaky Red Listing jeans, the original style that launched its premium denim empire. Available in raw and 25-year worn-in washes, the jeans have a dip-and-dry finish that gives them a feel softer than their tough whiskered look. The super faded worn-in wash is our favorite, like an old friend who's aged really well. Pair them with a plain white T-shirt to keep the emphasis on the jeans and you're good to go.
US Lumber 25 Straight, $450, G-STAR RAW. G-Star.com.
4. Easy Wear
Using Japanese denim, J Brand has made a pair of jeans as light as linen that are perfect for summer. A simple, uniform wash means they can even be paired with a blazer for an evening event, but we suggest leaving the socks at home: These pants are not intended for fussy or formal affairs.
Tyler Lightweight Japanese Denim Jean in Raw, $169, J BRAND. Available at select Saks Fifth Avenue locations.
5. Keeping It Real
Back in the day, denim's blue color came from the indigofera, a flowering plant. But then along came chemicals, and the dying process became cheaper, easier, and more uniform. This season PRPS Goods & Co. introduces three styles of jeans dyed in all-natural indigo, a truly premium process. The result is denim that is naturally rich and uneven for a subtle worn look that's further enhanced by hand brushing.
Indigo Denim, $220, PRPS GOODS & CO. PrpsJeans.com.
6. A New Look for Selvage
Selvage denim usually brings to mind hard, dark blue jeans, but this summer Hudson's Indigo selvage line flips those expectations upside down. New lightweight, chino-like styles include colors like green and black in addition to the usual denim wash, and offer some give for comfort without the addition of synthetic materials. The selvage is in the details: Reinforced pockets and out seams are constructed using techniques from the 1900s, and because they are made by hand, no two pairs are alike.
Byron Selvage Straight in Raw Olive, $289, HUDSON. HudsonJeans.com.
Images courtesy of their respective brands.