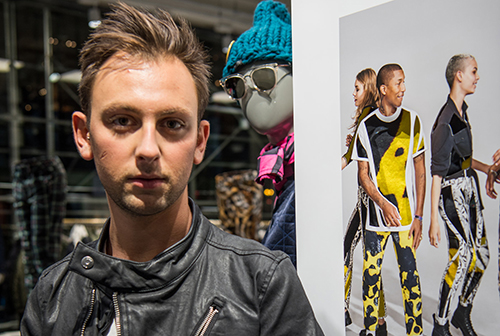 Collage Sensation Max Burnstein discusses His Live G-Star Raw Collaboration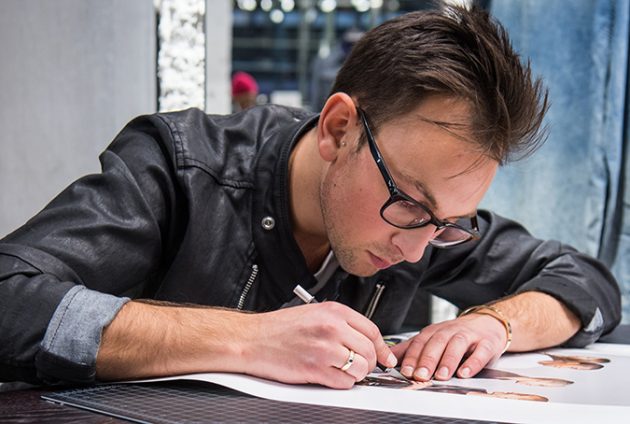 Images: Samantha Morales.
Canadian artist Maxwell Burnstein has amassed a significant following since introducing his collages to the world on Instagram, earning praise from the fashion world and audiences alike. We caught up with him before the launch of G-Star Raw's Elwood X25 denim line, where he created live collages on-site inspired by the dynamic prints of the collection.
EH: I love that you're able to make your collage process a live experience. Could you explain a little more about the project with G-Star?
G-Star invited me to their 5th Avenue Store in New York City to support the launch of the new G-Star Raw Elwood X25. The FW17 capsule collection from Pharrell Williams reinterpreted the brands classic Elwood jean in 25 prints, inspired by cultural symbolism like Kimono embroidery, animal prints to natural camouflages. The campaign photography will be cut up and collaged with the X25 product line live on-site. Installing the collages as they're made, patrons can engage in a live art performance and be part of a living exhibit.
EH: Is there anything in particular that drove you to work with G-Star?
I grew up on the G-Star brand, familiar with the innovative product lines and creative initiates. When I was approached with interest in working with them on the Elwood X25 launch, I felt my analog collages would be a natural extension of G-Star Raw's devotion to craftsmanship and construction.
EH: What is the most challenging part of your process? And the most rewarding?
Cutting photography in an analog process can be time consuming and tedious, limited by the amount I can adapt the paper fibers I use. There is no room for error as every slip is visible, and can often ruin a nearly finished work. The craftsmanship is visible in analog collage which can't be mimicked digitally. It extends to installations and live art performances, where the physical creation of artwork can still be valued in the age of digital collage.

EH: Are there any key themes or things you try to incorporate into each collage?
Every artwork is designed to evoke a new feeling, whether showcasing a single piece or collective body, they speak to a larger narrative. Outside of my work in Fashion, my exhibits tend to focus on historical events and figures. These works look to modernize traditional photography and concepts such as my show for the American inauguration Cross the Party Line, or focused on old Hollywood icons in Death of an Icon, which released this past October 2017 at Contra Galleries in New York City.

EH: Who are some designers or fashion figures that have influenced your work?
I draw a loft of influence from my contemporaries in the collage artist's movement, collectively promoting the value of our work. I have made an effort to build relations with those I see as pushing collage into the mainstream, always trying to promote their efforts alongside my own. This is an emerging industry, where analog and digital collage artists alike are working on a global scale from their respective countries. Supporting your community is part of my practice as an artist from Canada.

EH: What would be your dream collaboration?
I would like the opportunity to work with leading art galleries and events around the world, from Art Basel in Miami, White Cube Gallery in London, to the Art Gallery of Ontario in my hometown of Toronto. Everyday there is a new opportunity thanks to the countless support I have been receiving with each coming project, making my dreams ever closer.
G-Star Raw Elwood X25 is available in stores and online now.
[slider_pro id="133″]