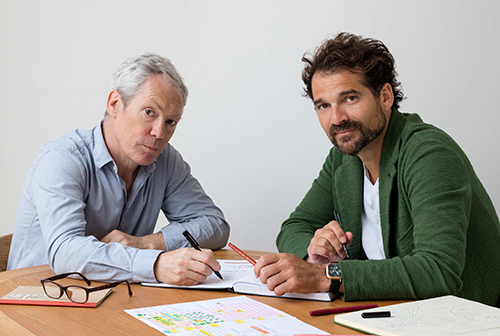 Interview: Jaime Hayon discusses new line at DSM NY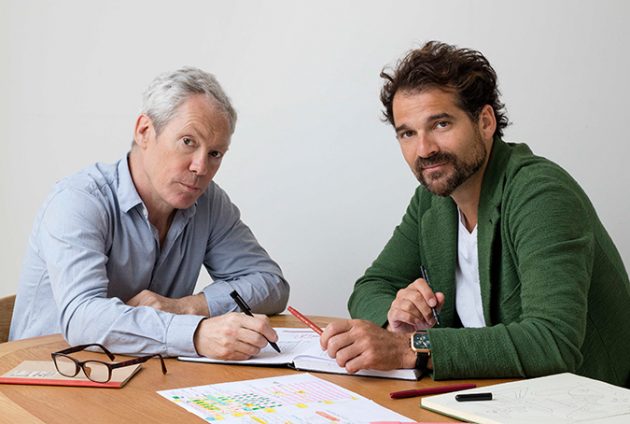 Image: Jijibaba.
"Jijibaba is a Japanese term for Grandma or Grandpa, but for me it's also a word that a child could say easily. So for me, it's like the beginning and the end of life. It's playful," declared Jaime Hayon, product designer and co-founder of menswear label Jijibaba, at the launch of his collection in Dover Street Market New York.
Since its global reveal at London Design Week, the brand has quickly become a surprise hit among industry insiders. Designed by European industrial designers Jaime Hayon and Jasper Morrison, the pair's debut collection has received enthusiastic response despite neither coming from a fashion background.
We spoke to Hayon to learn more about his first venture into menswear, challenging the traditional fashion cycle, and the future of the 'why-not?' brand.
To start, you and Jasper don't even consider Jijibaba to be a fashion line.
Mmhm. Some items might not be permanent, but some of them will — we don't have a specific seasonal idea. If you design a collection by the season, you already determine the life and death of the product. Sometimes you find something you love, then it's immediately unavailable — it's not because people are tired of it, but because the fashion cycle is a tool that makes people want to renew their clothing constantly. We don't work like that — we tell people we will introduce the clothing when it's ready. There's not a summer or winter collection, this is just how we do things.
Do you want to continue working with people who don't have a fashion background?
Yeah, that's the idea. For now, we want people that don't see fashion as fashion. For us, to have a completely virgin approach is what we want. When I designed the patterns on some of the shirts — I made some drawings with pencils — when I was in the factory the guy didn't know what to think. It was a novel approach to him. In my opinion, being unfamiliar with the matter makes you more creative on the matter.
Do you have any plans to expand into womenswear?
Absolutely! We just gotta get a woman on board who wants to make some nice clothes. We have some people in mind, people that are making amazing stuff like furniture and even graphic designers. I don't wanna keep only the industrial point of view, we eventually want a graphic designer or artist to come on board and do something great. The other day I was looking at an incredible glass-blower. I was looking at the color that he used and I asked 'what would you do for us?' and immediately he had an idea. So we're very open. And there's still shoes to do, glasses, accessories… there's a lot of possibilities.
And no pressure to rush it out anytime soon.
Yeah, we're seeing what people like from this collection. Obviously some people in the fashion business are surprised by what we do. Even our clothing rack system is quite interesting because we can mount it in different ways — it's completely modular. It's actually the first thing Jasper and I have designed together.
After debuting your collection at Dover Street Market London and now New York, are you interested in opening up a permanent space?
Why not? For sure — we will. We already have a design for it. We're gonna need space. The ability to make anything — clothing and products, etc — is like why not? We're a 'why-not' operation, which is interesting in terms of proposing something that people might not be used to in the fashion world. This is why we're here at Dover Street Market. For us to be here is an honor. But I talked to them for 5 minutes and they loved the idea – they said 'you guys are different, and we like that.'
Jijibaba is available at Dover Street Market in London and New York and online now.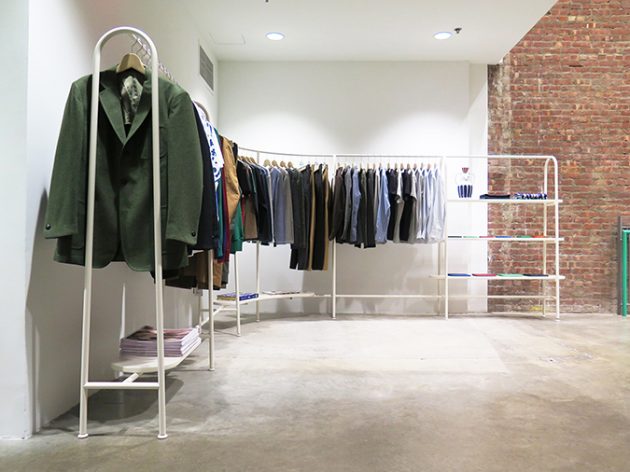 Image: Dover Street Market New York.