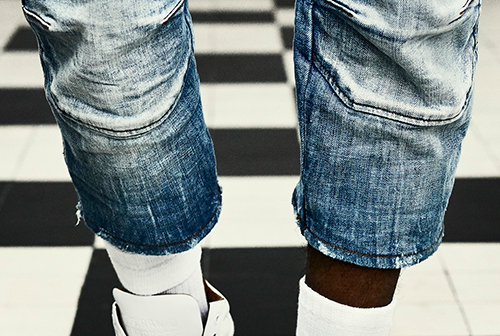 Before Basel: Listen to DJ Jasmine Solano's Mix for G-Star and WeTransfer's Miami Bash
Audio: Jasmine Solano, courtesy of G-Star RAW.
G-Star RAW continues to add fuel to its fire for emerging talent, partnering with WeTransfer for a special event at Art Basel Miami Beach this week with a lot of heat. While the first iteration of Tone To Transfer in NYC last spring showcased an array of Pitchfork-worthy musicians, the upcoming event plays off the art fair's ethos, spotlighting illustrator and graffiti artist Greg Lamarche and MTV host/DJ to Wiz Khalifa/hottie about town Jasmine Solano. Held at the Brisky Gallery in the Wynwood Art District of the city on 12/2 from 7 – 10 PM, the party also celebrates the 20th anniversary of G-Star's Elwood denim—a patched-knee, thigh-seemed jean that sits at the core of the brand's DNA.
As you pre-game for your South Beach shuffle, or—for those like us—sit handcuffed to a desk, we're bringing Basel to you a little early with an exclusive listen of Solano's mix. Check it above and then download the track via WeTransfer and enjoy it office or shine.

Note: Neither Essential Homme nor G-Star RAW claim ownership of any of these songs. If you have ownership of music in this playlist and wish to not be included, please contact us at INFO [at] essentialhommemag.com and we will remove immediately.