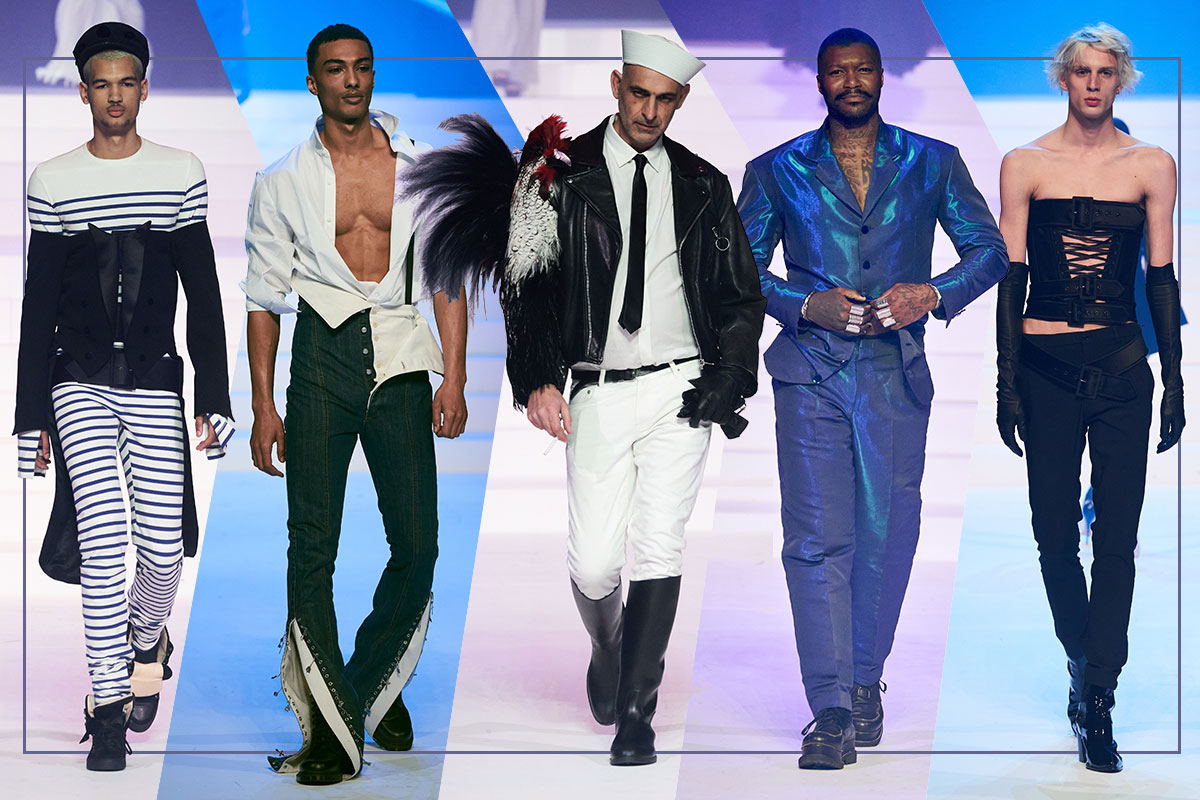 The Divine Spectacle of Jean Paul Gaultier's Last Show
Less than a week after announcing his retirement, fashion's favorite troublemaker Jean Paul Gaultier presented his final couture show. The designer, who originally launched his eponymous label in 1981, spent over four decades challenging convention and consistently expanding the limits within the industry through his over-the-top theatrical presentations. A spectacular celebration of his countless contributions, the Spring/Summer 2020 show was a glorious victory lap for a truly groundbreaking career.
In the awe-inspiring 174-look presentation, which featured supermodels of the moment like Karlie Kloss and the Hadid sisters alongside alternative icons like Dita von Teese and Boy George (who started the show with a rendition of Amy Winehouse's "Back to Black"), Gaultier masterfully referenced multiple eras of his career in a way that was both nostalgic yet fresh. The cheeky pinned clothes looks which opened the show were first seen in the Spring 2003 collection. A series of nautical ensembles in the middle of the presentation were redolent of the designer's own personal style — he frequently sported a striped shirt with a tartan kilt — and a nod to his vast fragrance empire. Who could forget the campy homoeroticism of the early JPG fragrance ads as well as those torso-shaped bottles? There was even an update to the timeless cone bra immortalized in pop culture by friend and muse Madonna. The designer clearly had an abundance of material to pull inspiration from, and yet rather than feeling limited by his own material, Gaultier was able to repurpose his work in a way that was familiar to his long-time fans while simultaneously introducing his legacy to a new generation. Just like he did with last year's Supreme collaboration.
The show felt like a greatest hits collection but also served as a reminder for how far the industry has come and the ways which Gaultier pioneered some of these changes. He always made an effort to cast a diverse range of models long before the idea of representation dominated the cultural conversation and Teen Vogue articles. He designed men's skirts and dresses before current genderfluid style vanguards like Ezra Miller and Jaden Smith were even born. And, due to the limited budgets younger couturiers are forced to deal with at the start of their careers, he was always resourceful in using discarded fabrics and unconventional materials and transforming them into sensational creations. Nowadays this would be considered a sustainability tactic. Jean Paul Gaultier's departure is a sad loss, but the impact he left in the industry is not likely to leave the collective consciousness anytime soon. That seemed to be the overarching theme of the show: maybe gone, but never forgotten.
Watch the Jean Paul Gaultier Spring 2020 Couture show below.