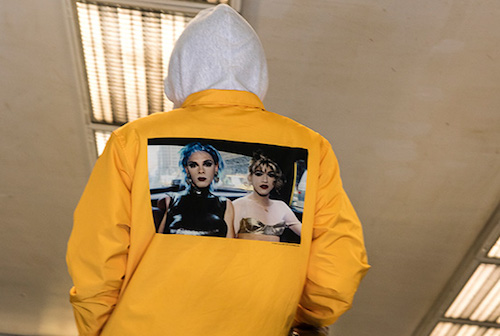 Supreme Launches Collection With Photographer Nan Goldin
Cult skate brand Supreme dropped a new collection inspired by legendary photographer Nan Goldin. The collection features an array of sweatshirts, coach jackets, T-shirts, and (unsurprisingly) a skate deck with Goldin's photographs.
Goldin is known for having captured the essence of NYC bohemia complete with all its rebellious spirit, including hedonistic parties, drag queens, drugs, and all the good stuff from the 80's. Her photographs frequently explore the nuances in humanity within the themes of love, life, and loss.
"I'm looking forward to seeing teenagers skating on my images and wearing them. To my mind, people have become so conservative, especially the millennials— it's like the 1960s never happened—so I like the idea of them being exposed to my real world," Goldin revealed. Here's to another photography throwback — remember the Helmut Lang x Peter Hujar collab?
Supreme x Nan Goldin is available in stores and online March 29.
[slider_pro id="193″]