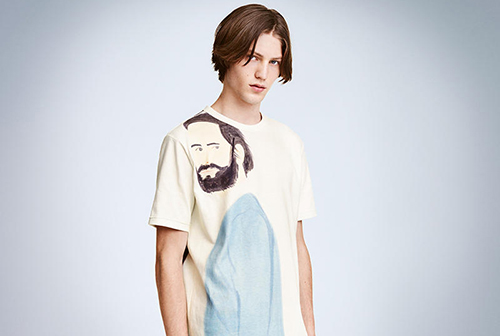 H&M Launches Latest Fashion Loves Art Collection
[slider_pro id="97″]
Images: H&M x Alex Katz.
Churning out collaboration after collaboration this season, Swedish clothier H&M announces the second installment of its Fashion Loves Art Collection, this time partnering with '80s New York artist Alex Katz for an inventively askew release. Featuring the Brooklyn painter's previous works of pastel, oversized proportions, the retail giant has rearranged and redisplayed the pieces on a variety of overtly confident hoodies, tees, pillowcases, and more. The line serves as an extension of the brand's fervent desire to bridge a quickly widening rift between the current pop culture climate and classic art, making Katz's reflective aesthetic a perfect pairing. Playing with a warped visual distortion that is off-kilter yet retains a winking charm, the products are crafted from sustainable materials, such as organic cotton and Tencel, and celebrate a man whose figurative works feed into the novelties of today's advertising and graphic design worlds. The Fashion Loves Art label, one that saw a previous collection with Jeff Koons, acts as the brand's love letter to fashion's use of art throughout a long and storied history, whereas H&M's recent line with Kenzo, a fierce runway of animalistic ferocity, further cements this fundamental creative understanding. 
The H&M x Alex Katz Fashion Loves Art Collection will be available online starting December 1, 2016.