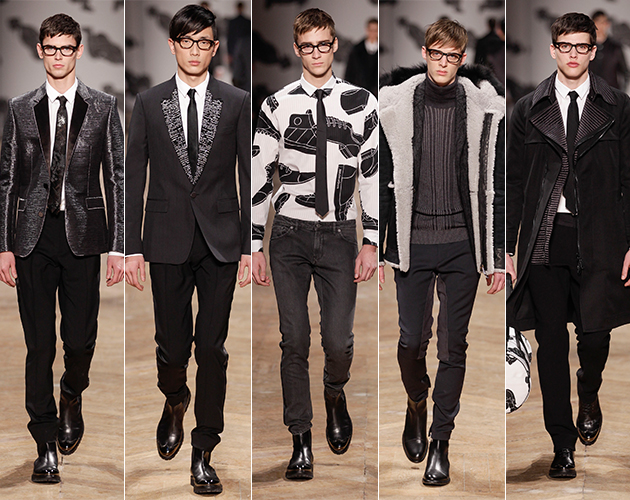 Favorite Five: Viktor & Rolf Fall 2013 Menswear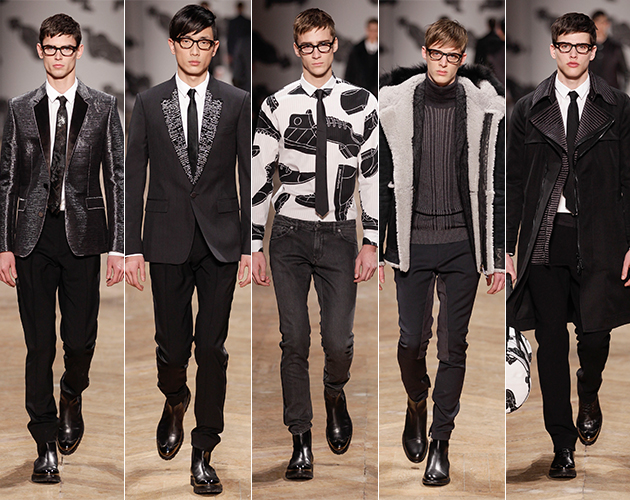 "Viktor & Rolf's Autumn/Winter 2013 Monsieur collection follows the house's eccentric gentleman on his style journey.  Originally inspired by Jules Verne's 'A Journey to the Center of the Earth', the collection traces a curious Monsieur whom is playful whilst serious; adventurous while cautious.  With a subtle nod to school-boy attire, the look is grown up elegance focused on slim-fit silhouettes in texture, layering and technical detail."
A classic look, but the double layering effect of satin on the wool trench adds some silky depth. Paired with a rounded, print duffle—it registers even more intriguingly.

Shades of slate grey, the inner leg panels, vertically striped turtleneck and exaggerated shearling hoodie for unearthly storms—Sci-fi chic.

Well, we do love shoes. And the shoes.

One button sports coats will always be staple pieces...the rigid fluting detail on the lapel gives this reason to also be a stand out.

It's as if they took the scintillating insides of a dark, subterranean, crystal-covered cave, turned in an iPhone and then hemmed a slimly tailored jacket out of the ensuing atmosphere.