Edoardo Tresoldi Talks About His Industrial Artwork
Edoardo Tresoldi is an Italian artist working with mesh and industrial materials to create intertwined sculptures based on empty space and considerate direction. His pieces are, to an extent, performances in of themselves revealing the physical limitations of the known world while also challenging them. This kind of disruption of space is the way Tresoldi prefers to display his contemporary art. His latest and biggest exhibition (as pictured below) is a multidisciplinary creative project called "Gharfa" in Riyadh, Saudi Arabia. We spoke to Tresoldi to get the behind-the-scenes story of his latest presentation.
EH: Could you tell me a bit about your artistic background and how you discovered the unique mesh medium? 
Edoardo Tresoldi: I discovered this unique medium back in the days during my seven years in Rome working as a scenographer for Cinema and TV. The set design structures were often made of wire mesh. Its narrative potential and its imaginative dimension fascinated me to the point of starting artistic research about it. More in general, it allowed me to explore the relationship between the human body and space. This artistic research gradually evolved into an independent career also thanks to the support of one of my closest friends and mentors, Spanish artist Gonzalo Borondo.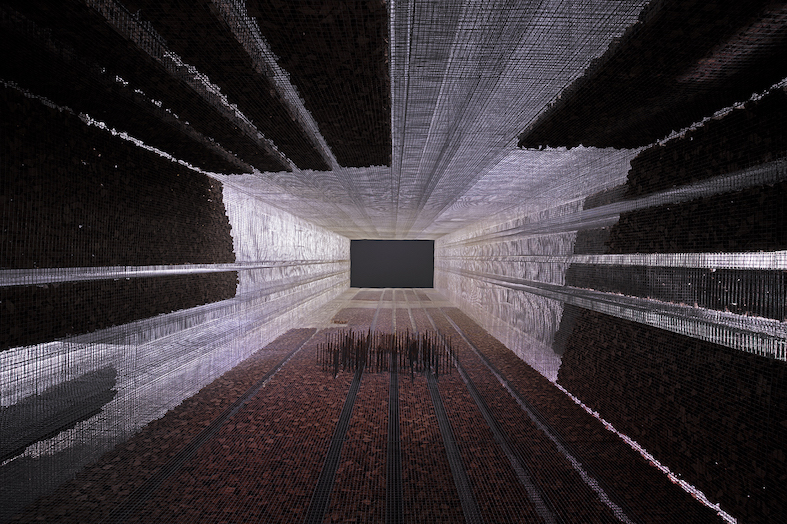 EH: What kind of research do you conduct before building and installing your artwork?
First I consider the physical, historical and social elements of the place. Then I look at its territorial and climatic characteristics. Additionally, I investigate the emotional bonds that exist between venue and person, building up an ongoing narrative. All projects are created in synergy with the people working in my Milan-based studio, in a very collaborative way.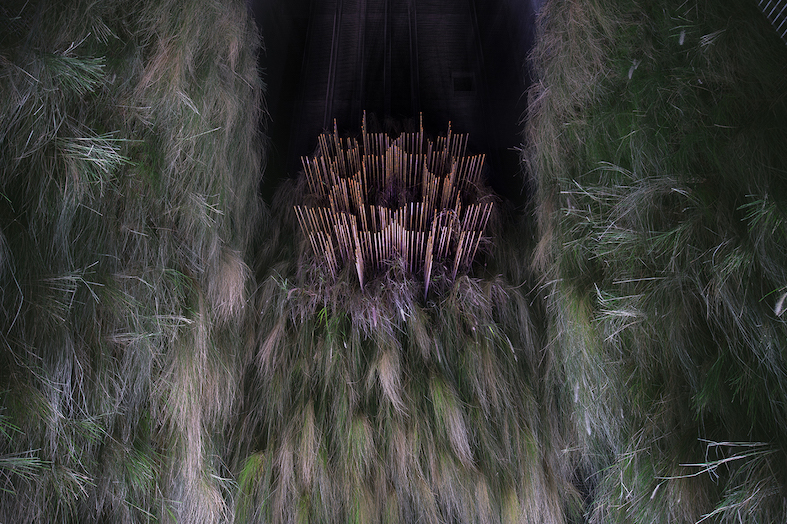 EH: You're taking quite a solid medium (mesh) and transforming it into abstract voids that reflect reality– what appeals to you in this concept and how did it come about? What is the concept of absent matter? Is it ultimately a tangible idea? 
Since the beginning wire mesh has defined the concept of Absent Matter. To me, it is the representation of a mental projection, a filter of the mind through which I narrate places, moments and beings. Through transparency, I'm able to create a new kind of immersive experience for the audience. The use of wire mesh activates infinite dialogues with space and its history and projects the object's substance into an undiscovered temporal dimension. What has disappeared, or never existed, lives again in a different time. In this sense, the language of transparency weaves in with the non-existent, transforms the absence of matter into a three-dimensional entity, and reveals a void. In this way, my artworks are able to generate personal and collective experiences, at the same time.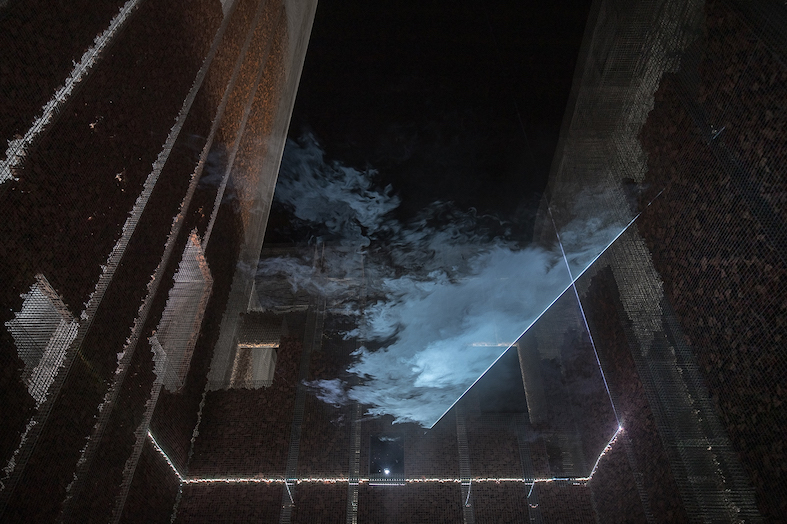 EH: Could you further develop your concept in a different medium of art? 
I strongly believe in the contamination between different creative forms and in the power of different mediums of art. Some of the experimentations I am developing are actually influenced by this idea. Besides wire mesh, I have utilized different industrial materials such as corrugated sheet metal (in Aura, the site-specific installation realized in Paris in 2017) and other elements such as stones (in Simbiosi, the site-specific installation realized this year for Arte Sella). In my very last work, Gharfa, I collaborated with other artists that work with different mediums. They created a counterpart to my sculptural narrative of the ephemeral. All together, we created a multi-disciplinary environment through the interplay of digital and analog, anthropic and natural, geometric and organic.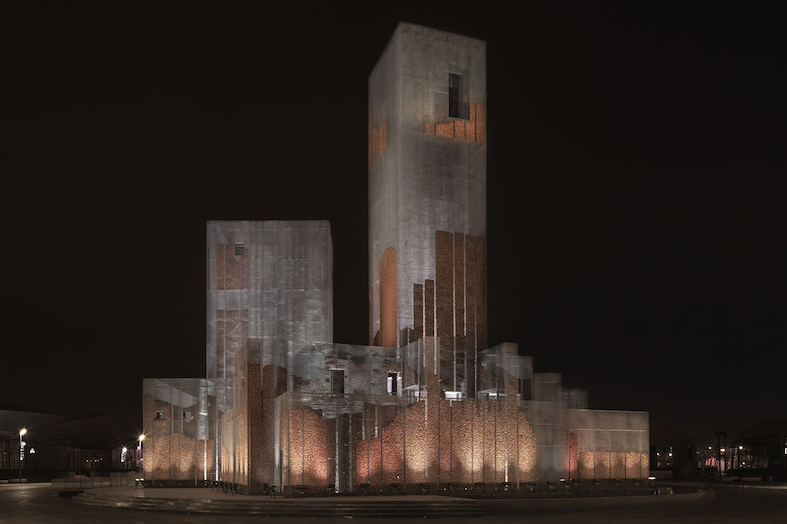 EH: Could you tell us the story behind Gharfa? 
The Dubai-based studio Designlab Experience, designer and curator of the temporary creative project "Diriyah Oasis" in Riyadh, called me. I've previously collaborated with DLE on the occasion of Archetipo in 2017, in UAE. Gharfa is an experiential pavilion installation presented by Studio Studio Studio, the new interdisciplinary lab I founded as artistic director. For Gharfa I collaborated with designer Alberonero, musician Max Magaldi, and garden designer Matteo Foschi, the founder of Odd Garden Studio. The installation takes inspirations by local ruins, presenting itself as an entangled sculpture in which Absent Matter is merged with cork and invites the visitors to discover it. In Gharfa visitors experience a theatrical world where technique, reality, and illusion are all connected to conceive a narrative made of different surfaces. In turn, they become a stage for personal perceptions.