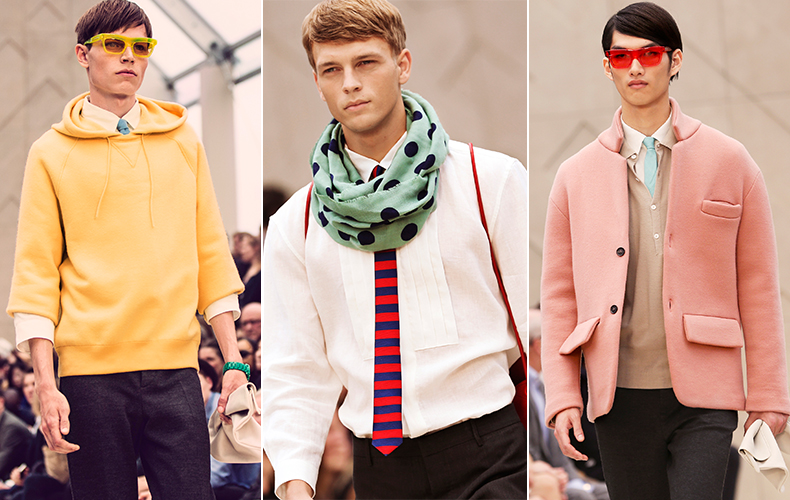 Burberry is Back in London with Writers and Painters Menswear Spring 2014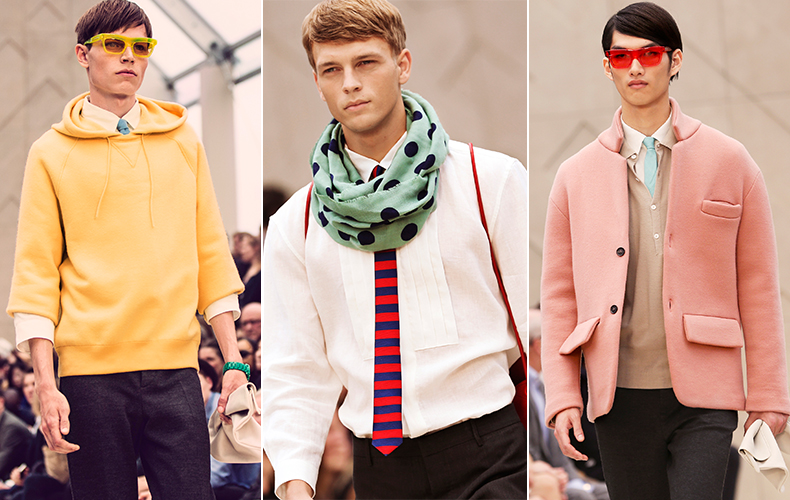 It feels strange to say that Burberry is invading London since, well, it's the brand's hometown. But that's exactly what Burberry has done with their first show in the UK capital after a ten year stint in Milan. A good sign for the budding London Collections: Men, the micro-men's fashion week that began in June of 2012 and a triumph for Burberry, which spared no expense to make their homecoming a splash. Guests arrived at London's Kensington Gardens and walked down a secluded 'country lane' to the sounds of Burberry Acoustic musician L.A. Salami, before entering the open-air show space. After the show, guests also listened to Luke Sital Singh, another Burberry Acoustic family member. So British. So Burberry. So lovely.
Then there was the introduction of a few firsts for the brand. We'll start with Burberry Wave Sunglasses for men—square framed sun styles with bold brow details influenced by the bright colors seen in the collection. Burberry Wave sunglasses are available to purchase and personalize on Burberry.com for one week following the Burberry Prorsum menswear spring/summer 2014 show, for delivery in eight weeks as part of the brand's Runway Made to Order initiative. Initials can be foil-stamped in nickel silver inside the temple. Do that…or wait until February 2014 when you can get them in stores or online.
We also saw the introduction of The Britain Bright Limited Edition watches. A first among watch brands, Burberry has created a full resin watch with tonal colored case, bracelet and glass, which is limited to just ten styles that are hand milled and assembled to order in Switzerland. The Britain Bright is available to purchase and personalize immediately after the Burberry Prorsum menswear Spring/Summer 2014 show, for delivery in October. You can choose to have your initials laser engraved onto the rotor, which can be viewed through the colored glass case back.
And some notes on the collection:
The Spring/Summer 2014 collection is a celebration of artistic and intellectual spirit, with a nod and a wink to Alan Bennett and David Hockney Fabrics: Cashmere, silk, linen, cotton.
Styles: Knitwear as outerwear, shirts as outerwear, unstructured silk cabans, coats and jackets, The New Tailoring (The Artist's Jacket and The Loose Tie), unstructured paperweight trench coats, a collection of relaxed knits, cagoules and sou'westers
Colours: All the blues, all the greys, camel, olive, terracotta, white, pink, dusty yellow, dusty green, bright red, bright green, bright yellow, bright blue Accessories: Introducing The Duffle bag, The Duffle Pouch, The Wave Sunglasses and The Britain Bright Limited Edition watch
Guests at the Burberry Prorsum Menswear Spring/Summer 2014 Show
[nggallery id=296]
---
Burberry Prorsum Menswear Spring/Summer 2014 Show
[nggallery id=297]
---
Burberry Prorsum Menswear Spring/Summer 2014 Collection
[nggallery id=298]
---