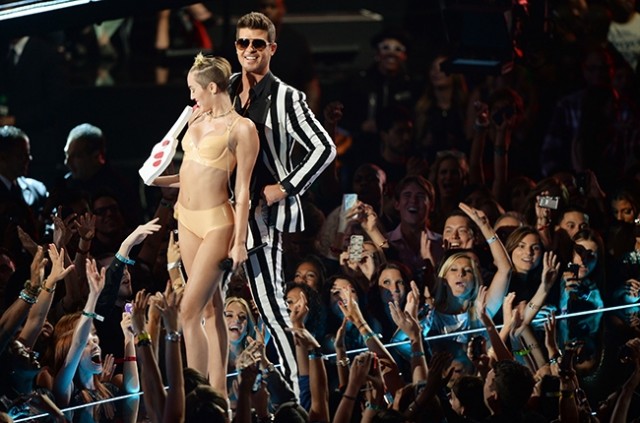 The VMA's: Gaga Makes Good. Rihanna Spills Popcorn. Plus: Miley, Eminem, & Beetlejuice?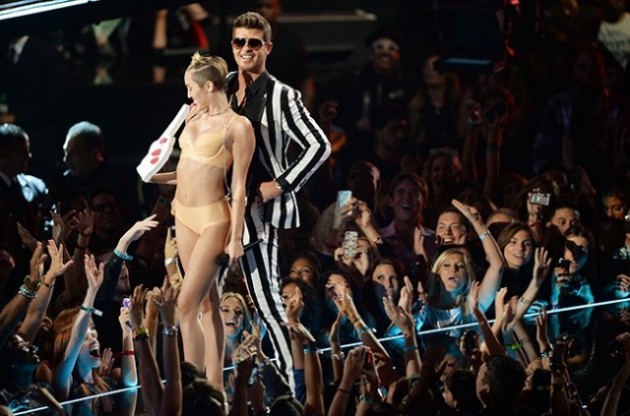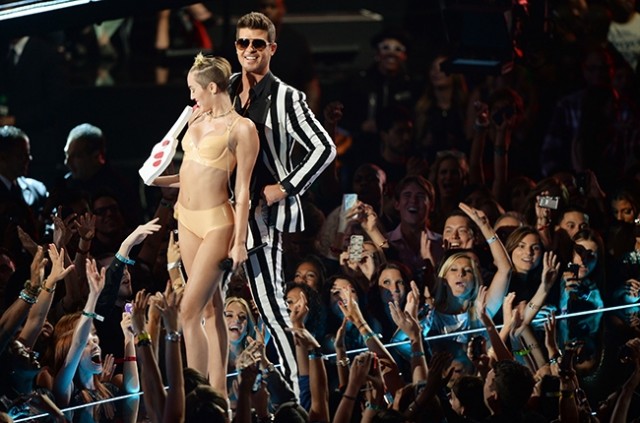 The VMA's landed in Brooklyn last night (first time) for an action-packed two-and-a-half hour ode to artists, musicianship, and some dude named Austin Mahone. Gaga opened the hostless show, successfully placing the kabosh on recent backlash (for the moment), with a powerful career-spanning performance/fantasia of her new single Applause. Jared Leto rocked long hair. Miley Cyrus danced (DANCED) with Beetlejuice. Daft Punk wore the helmets. Taylor Swift had the best night of her life ever. NSYNC reunited for thirty seconds. So did 4/5's of Danity Kane. Kim Kardashian's baby's father had the best performance of the night according to Kardashian. Rihanna (who skipped the red carpet altogether) pricelessly spilled popcorn on her friend's lap. Katy Perry performed her "biggest song ever," Bruno Mars sang his little face off, and Lil' Kim was there, too (seriously). The surviving members of TLC, T-Boz and Chilli, were on hand to introduce Drake.
The live tweeting was something of its own show. Case in point: This. This. & This.
And this:
Why is everyone acting like Brooklyn is, like, Narnia or some mythical place? There are a lot of people who are there every day, guys. #VMAs

— People magazine (@peoplemag) August 26, 2013
And this:
VMAs: Stop all this "what's up Brooklyn!!!" What's up is I'm 10 blocks away in my nightgown trying to keep my dog from drinking his own piss

— Lena Dunham (@lenadunham) August 26, 2013
What might have gone unnoticed was a Beats X Eminem commercial subtly announcing the title and release date of his upcoming album, MMLP2 (or The Marshall Mathers LP Pt. 2). The album will drop November 5th, but the lead single, Berzerk will drop tomorrow and was sampled briefly in the commercial seen here: