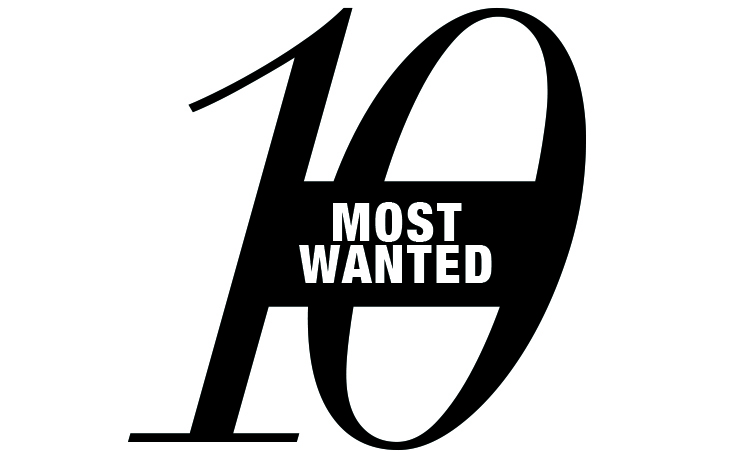 Ten Most Wanted: November / December 2013
Introducing the ten most-desired items that you must have this season:


High Tech Tops - CALVIN KLEIN COLLECTION
Black & white mesh high-top sneaker, $430, CALVIN KLEIN COLLECTION.
Available at 654 Madison Avenue, NYC, 212-292-9027.

 
Calvin Klein Collection's new sneaker takes material advancement to new heights, featuring only the most advanced materials in their high tops. And "high" in this case is literal, because the shoes stretch up past the ankles, providing the true ankle and arch a runner needs most. Covered in potent black and white mesh, it's another great example of Calvin Klein Collection's stark, modern aesthetic. You'll want to run and get them, then you'll want to run in them.


Mad for Plaid - ETRO
Tweed plaid bomber jacket, $2,116, cashmere v-neck sweater, $442, ETRO. Etro.com.
Loose fit pant with tapered cropped leg, $475, ALEXANDER WANG. Alexanderwang.com.

 
Fall is an ideal time for jackets. It's also an ideal time for plaids. And it's especially a good time for tweed. Fortunately, Etro's new plaid tweed bomber jacket combines all three into a powerful statement piece. The shape is loose and comfy—perfect for slipping on during a crisp, cool morning in October. But the mighty tweed in its burnt beige plaid will have you standing out more commandingly than any leather bomber would.


In the Bag - BRUNO MAGLI
Anselmo metallic Saffiano print Boston bag, price upon request, BRUNO MAGLI.
Available at Bruno Magli Special Services, 800-624-5430.

 
Remember Bruno Magli? That purveyor of banker's shoes in the 1980s? They've undergone a renaissance of late. Led by new creative director Max Kibardin, they've gone decidedly more fashion forward, using bold designs and rich materials to generate an entirely new, and totally great, luxury aesthetic. One of the first fruits of their new labors is this bag, made of brilliant midnight blue leather and structured to keep your stuff safe on a long weekend.


Space Race - DAVID YURMAN
Exotic stone cross, meteorite, $865, 8.5mm meteorite streamline band ring, sterling silver, $850, 7.5mm meteorite knife edge band ring, 18k gold, $2,800, faceted cushion meteorite ring, 18k gold, $6,800, DAVID YURMAN.
Available at 712 Madison Avenue, NYC, 212-752-4255.

If you wear jewelry, you've probably worn gold, silver, brass, maybe even platinum or rose gold. But have you ever worn a meteorite? If not, David Yurman aims to change that with his new and very aptly titled Meteorite Collection. As the name unsubtly suggests, the star of each piece is the sculpted meteorite fragment it contains, collected from Namibia's four billion-year-old Gibeon Meteorite. In a ring, in a cross, in a tag, its crystal-infused surface will give your look an out of this world enhancement.


Top Specs - PRADA
Eyewear, price upon request, kid mohair jacket, $1,645, shetland wool knit, $480, PRADA. Prada.com.

Remember when glasses were just for nerds? We don't, either; they've been cool and chic since the days of Buddy Holly. Take the next step in your eyewear style with Prada's powerful new frames. An exploded, outrageous take on the classic NHS style, these chunky glasses would be standouts even if they weren't colored that strong shade of amber. Consider them the crown jewels of your collection, and wear them accordingly, pairing them with the rich hues of the season.

Buckle Up - FRATELLI ROSSETTI
Fratelli Rossetti, $960, FRATELLI ROSSETTI. Available at 625 Madison Avenue NYC, 212-888-5107.

First there were single monkstraps. Then there were double monkstraps, and menswear rejoiced. And on the third day, Fratelli Rossetti said, "Let there be a monkstrap boot," and there was a monkstrap boot, and menswear saw that it was very good. With a rich, warm burgundy hue, accented sharply by the silver color of its brass buckles, Rossetti's new boot is sure to please even those who don't go mad for monkstraps. Think of them as shoes with built-in jewelry.


Riding Wild - TIM COPPENS
Twist jacket, price upon request, TIM COPPENS. Available at Barneys New York, NYC.

New menswear designer Tim Coppens is one of the hottest names in fashion, and with pieces like this jacket, it's not hard to see why. The traditional silhouette of a bomber has been updated in 100% nylon, creating a crinkled gray shock of color that's been stuffed into a classic shape. Another nod toward tradition can be found in the jacket's black fur collar, and modernity beckons with the heavy use of zippers on the body and sleeves.


Speed Style - CARRERA
From the top: Carrera 16/S, $145, Carrera Speedway, $120, Carrera 80/S, $179. Available at Solstice Sunglasses and SolsticeSunglasses.com.

Perhaps you've heard of the movie Rush? Ron Howard's true-life tale about Formula 1 racing in the 1970s is a story of fast cars and a brutal rivalry between legendary racers Niki Lauda and James Hunt. For the film, Carrera supplied CA 80/S style worn by Daniel Brühl, who plays Lauda, and Speedway/S worn by Chris Hemsworth, who plays Hunt, along with CA16/S worn by Alexandra Maria Lara, who plays Lauda's wife Marlene. Each pair will conjure the swagger and bravado of F1's golden era.


Warm and Rich - RAG & BONE
Bonded cable knit sweater, $595 , RAG & BONE. Rag-Bone.com.
 

Leather, as always, is good for fall. It's most commonly used in jackets, but there's no reason those should be its exclusive provenance. Take this sweater from Rag & Bone: much of it is Merino wool, true, but the body—the part that will keep your torso warm—is rich, buttery soft cowhide cast to mirror the cable knit of a more traditional sweater. And of course it will look as good as it feels, packing all the statement of a leather jacket into the freedom and ease of a sweater.


A Rosy Complexion - NIXON
The 51-30 Chrono in Rose Gold, $500, NIXON. Nixon.com

The cool cats at Nixon make some pretty nice watches, don't they? And their Chronograph line is the best of the best, featuring Japanese-made movements, a second sub-dial, and rock-solid construction. The 51-30 Chrono is great to look at on top of its quality, with its bold etched numbers and its heavy, masculine shape. So what could make a watch of this caliber even better? How about rose gold? The gentleman's gold is now an option for this mighty timepiece, lending it that much more elegance.
Images photographed by A.P. Kim; styled by Terry Lu; Andre Bona at Request models; grooming by Konstanze Zeller at ArtMix Beauty using Oribe; photo assisted by Fabio Enes; fashion assisted by Adelaide Caillet.