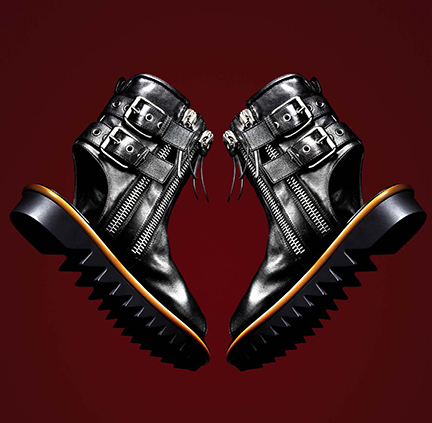 Ten Most Wanted: June / July 2014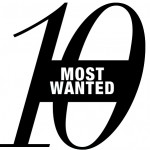 The ten most-desired men's fashion and accessories you must have this season.
---
BAD TO THE BONE - GIUSEPPE ZANOTTI DESIGN

Black leather sandal with buckle details, $1,180, GIUSEPPE ZANOTTI DESIGN. Available at Giuseppe Zanotti Design boutiques.

Giuseppe Zanotti's new sandals are as punk rock as they come. This mean looking hybrid of a combat boot and sandal is sure to turn some heads this summer with its menacing black leather and hardcore details. Pairing an open toe—and heel—with metal zippers and buckles makes for an interesting and unexpected juxtaposition. If there was ever a sandal built for the rebellious rocker within you, it's this one! 

TWILIGHT ZONE - CALVIN KLEIN COLLECTION

Sky print tee, $550, CALVIN KLEIN COLLECTION. Available at 654 Madison Avenue, NYC, 212-292-9027.

There are numerous designer t-shirts that sell for three figures, but rarely do you find one as striking as this one from Calvin Klein Collection. Inspired by the twilight landscapes of California and New York's Fire Island as well as the geometric photography of James Terrell, the crewneck shirt features a beautifully rendered background of dusk creeping over a gray landscape, and in the middle, a black rectangle, like a door into the abyss. It's made of lightweight bonded nylon, of course, but to wear such artwork on your body is more than worth the price.  

MOONSTRUCK - MONTBLANC 

Star Twin Moonphase, $5,300, MONTBLANC. Available at 800-995-4810 and Montblanc.com.

The lunar phase dial is a classic element of fine wristwatches, but Montblanc wants you to know that when you've looked at it on other watches, you've only gotten half the story. The new Montblanc Star Twin Moonphase watch has a special dial that depicts the moon as it appears both in the Northern and the Southern Hemisphere, where the moon's waxing and waning move in opposite directions. This novel feature is part of a superb watch in its own right: alligator leather strap, stainless steel buckle. It's a timepiece that will put you over the moon.

SUNNY DISPOSITION - DRIES VAN NOTEN BY LINDA FARROW GALLERY

Dark tortoise shell acetate frames with solid green lens, $369, amber horn acetate frames with solid brown lens, $369, DRIES VAN NOTEN BY LINDA FARROW GALLERY. LindaFarrow.com.

Linda Farrow is known for sunglasses that truly exemplify what the avant garde customer looks for. It seems only natural, then, that the brand would team up with fashion house Dries Van Noten to produce a set of inestimable shades just in time for summer. The transparent finish of the acetate is classic and modern all at once, while the shape should flatter any face. Your summer shades are here. 

JUNGLE FEVER - RALPH LAUREN

Camouflage coated canvas media case, $195, RALPH LAUREN. Available at select Ralph Lauren stores and RalphLauren.com.  

Camouflage has been having a moment in menswear for some time now, showing up everywhere from shoes to neckties to sport coats. However, it has not always been applied to bags, a thing Ralph Lauren wants to change with their new media case. It features all the conveniences of such bags: pockets, slots, and holders for all your gadgetry and paraphernalia. To set it apart, its camouflage print is rendered in coated canvas. How ironic that a pattern meant to hide things ensures you'll always be seen.

RARE SKIN - BOTTEGA VENETA

Pearl soft crocodile briefcase, $24,500, BOTTEGA VENETA. Available at Bottega Veneta boutiques, 800-845-6790, and BottegaVeneta.com.

Crocodile is among the most precious hides in the world: hard to get, hard to work with, and extremely hard to afford. When a new piece appears in this king of leathers, we're always interested, and especially so when it comes from a renowned brand like Bottega Veneta. Their new briefcase is rendered in crocodile leather, but the exclusivity is enhanced by the ghostly white coloring, a sure sign that it will not be ignored.

PATENT PENDING - JIMMY CHOO

Cromer lace up in black/gold polka dot patent leather, $1,025, JIMMY CHOO. Available at select Jimmy Choo stores, 866-524-6687, and JimmyChoo.com.

"I love the Cromer shoe," says Jimmy Choo creative director Sandra Choi. "It plays to the fun and daring swide of the Jimmy Choo man." The new shoe features an exaggerated—almost platform-like—sole, creating an intriguing silhouette and situating the shoe somewhere between casual and formal footwear. This fascinating combination of shapes is even further enhanced by the unique patent leather process that creates the shoe's signature gold dot surface. The leather is treated with a metallic gold finish over which a black print screen is layered. Then a transparent lacquer finishes the job. The result is a shoe that is not to be missed.

RUNNERS UP - GIORGIO ARMANI

Sneakers, $525, GIORGIO ARMANI. Available at Giorgio Armani boutiques nationwide.  

When Giorgio Armani launches a shoe line, it's expected that they'll pull out all the stops. Their new line of sneakers, dubbed the RUN Project, is no exception. The shoes are true runners' footwear, with a rubber midsole, shock absorber in the heel, and an advanced tread pattern in the toe. Up top, luxury is evident, with combinations of patent leather, crocodile, suede, and even pony skin.

TROPICAL BREEZE - AZZARO

Eau de toilette, $68 / 3.4 oz.; AZZARO. Available at Macy's and other fine department stores.

As the World Cup begins, all eyes naturally turn towards Brazil. To celebrate the Giant of the South, Azzaro has released a limited edition update of its popular Chrome. This rare linear fragrance—featuring scents that are the same all the way through, as opposed to top and mid notes—has been updated with a mix of pink berries, vetiver, and mandarin. The new limited edition bottle is also hand painted with scenes from Rio de Janeiro. With the tropical scent and a bottle to match it, you'll be in the mood for a samba. 

 

LETTER CARRIERS OF MERIT - MULBERRY

Envelope document folio, $1,200, MULBERRY. Bright blue version available at Mulberry Madison Avenue, NYC.

Mulberry's new document folio deserves an applause. Pay particular attention to the lock, which the brand calls a "postman's lock" and adds some satisfying complication to the leather accessory's sleek design. Of course, only the highest quality leather is used in the construction, with both soft tan and grainy calf offered in blue and green respectively.
Image photographed by Nori Inoguchi.