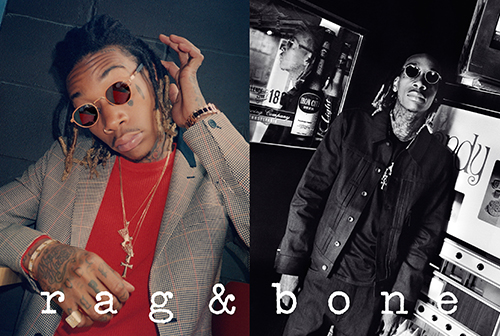 Wiz Khalifa joins rag & bone Men's Campaign

Video: rag & bone.
Redefining how artists of all disciplines can represent fashion, New York label rag & bone launches its latest Men's Project film installment with rapper Wiz Khalifa, best known for his chart-topping single "Black and Yellow." The video features the rapper inside a dimly-lit bar, surrounded by flickering signs and old television screens. The arcade-like videography is coupled with the sounds of a pinball machine as Khalifa models the rag & bone collection, pairing a tartan jacket with a red sweater and accessorizing with dark shades and heavy gold chains. In the photography collection the rapper poses with carefree coolness inside the bar and behind chain-link fences. The installment comes as the eighth in the Men's Project series, which most recently featured actor Mark Hamill, and continues its tradition of reflecting the artist portrayed; Khalifa is outfitted in a style mirroring his own taste, even choosing the film's unique location. "Our goal with the Project was to capture each artist's personality and sense of style," says rag & bone co-CEO Marcus Wainwright. "These are guys we genuinely admire – for their talent, their attitude, their style."
The rag & bone Men's Project campaign is available online now.