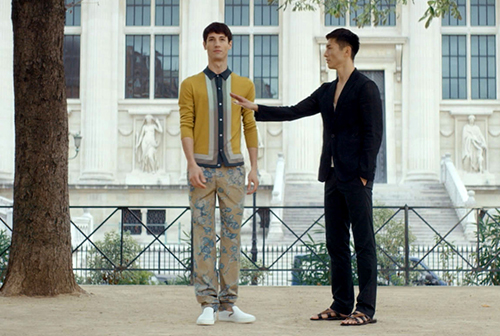 Paris, the City of Flâneurie: Hermès Releases Four Short Films
Video: Hermès.
Each year luxurious French fashion house Hermès selects a theme that inspires the artistic direction for its seasonal collections. The first official motif introduced in 1987 by Jean-Louis Dumas was titled The Year of the Fireworks to celebrate the house's 150th anniversary then. Flash forward 28 years later, Jean-Louis's son and current Hermès Artistic Director Pierre-Alexis Dumas brings his own unique spin to the tradition with a contemporary narrative including a witty sense of humor.
Following last fall's Man on the Move theme, this year's inspiration for the men's ready-to-wear Spring/Summer 2015 collection is Flâneurie; the French word for a head-in-the-clouds state of being. The theme is presented in a whimsical series of four short films named "A flâneur is as a Flâneur does." Wandering through the enchanting city of Paris, Hermès' stylish flâneur "avoids the straight and narrow" and "sees what others don't" wearing the latest men's collection designed by Véronique Nichanian.
Kick your feet back and embrace your inner flâneur by watching Hermès' short films.