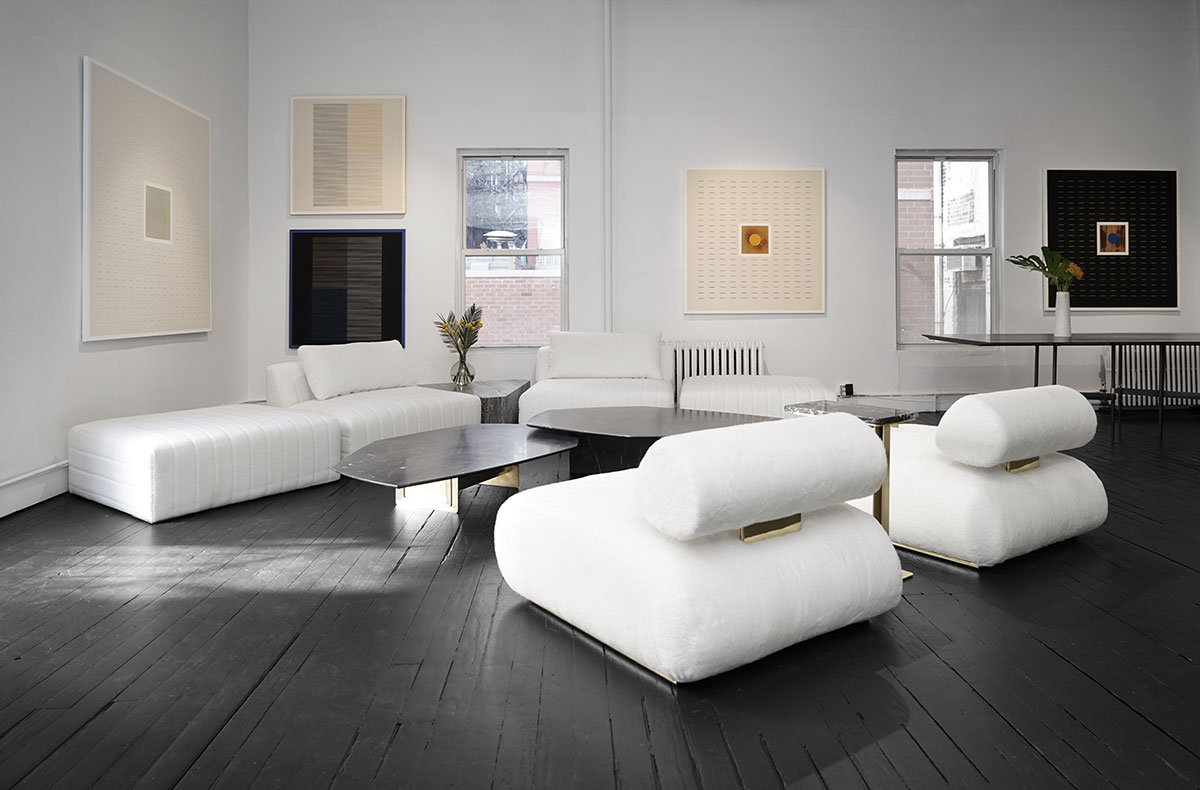 Mexican Design Studio ATRA Ventures Into New York
Making art in Mexico City: all it amounts to is an individual with heritage driven ideas, a troupe of supportive friends, a bit of space, and sticking to one idea no matter how unlikely. ATRA, a design studio started by brothers Alexander and Andrez Diaz Andersson in the city's Santa María la Ribera neighborhood, has decided to tackle and perfect the hardest structural object: the chair.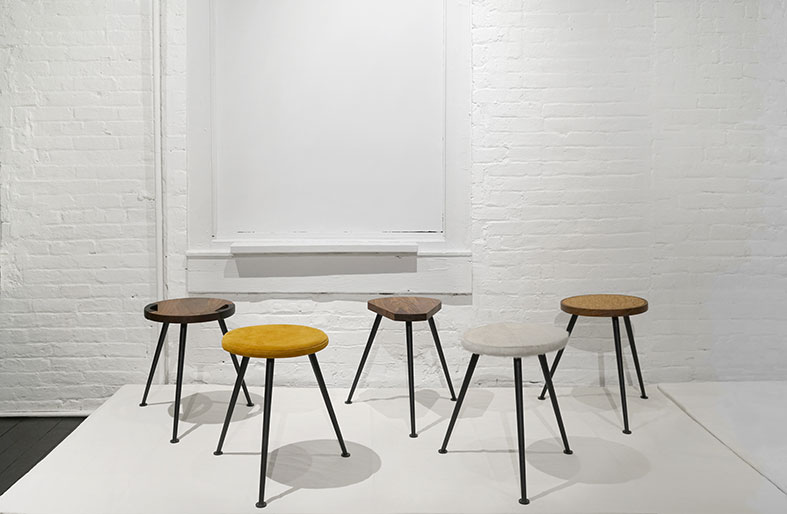 Some of the stools by Alexander Diaz Andersson and C.S. Valentin.
"Chairs are the most difficult industrial project," says Alexander Diaz Andersson on a chilly New York morning. "If you can do a chair you can do anything. It's like a building that somebody sits on all the time." He has obsessed over the object with at least 40-to-50 prototypes developed in the studio and mountains more that didn't work. He started with the Scandinavian milking-cow chairs and developed them into a piece d'art. "Our philosophy is always that there are no backs in our furniture. There is no backside no matter how you flip it — it is to be beautiful." Bold, loud, and minimal, these pieces embody the new Mexico. 
Alexander and his brother grew up in Sweden and before ending up back in their mother's homeland. Unknowingly, they are actually third-generation furniture makers with a grandmother making pieces and their mother who brought Ikea to Mexico. In parallel, Alexander was studying industrial design and jumped into developing an assortment of endless seating options. The mixing bowl of ideas and traditions was to be expected, and so the techniques are a bit more Scandinavian, inspirations that could be French, and aesthetic maybe even Japanese. Contemporary Mexico City is just that — a city of chairs (quite literally, as there is an exhibition of public chairs designed by artists all throughout the city).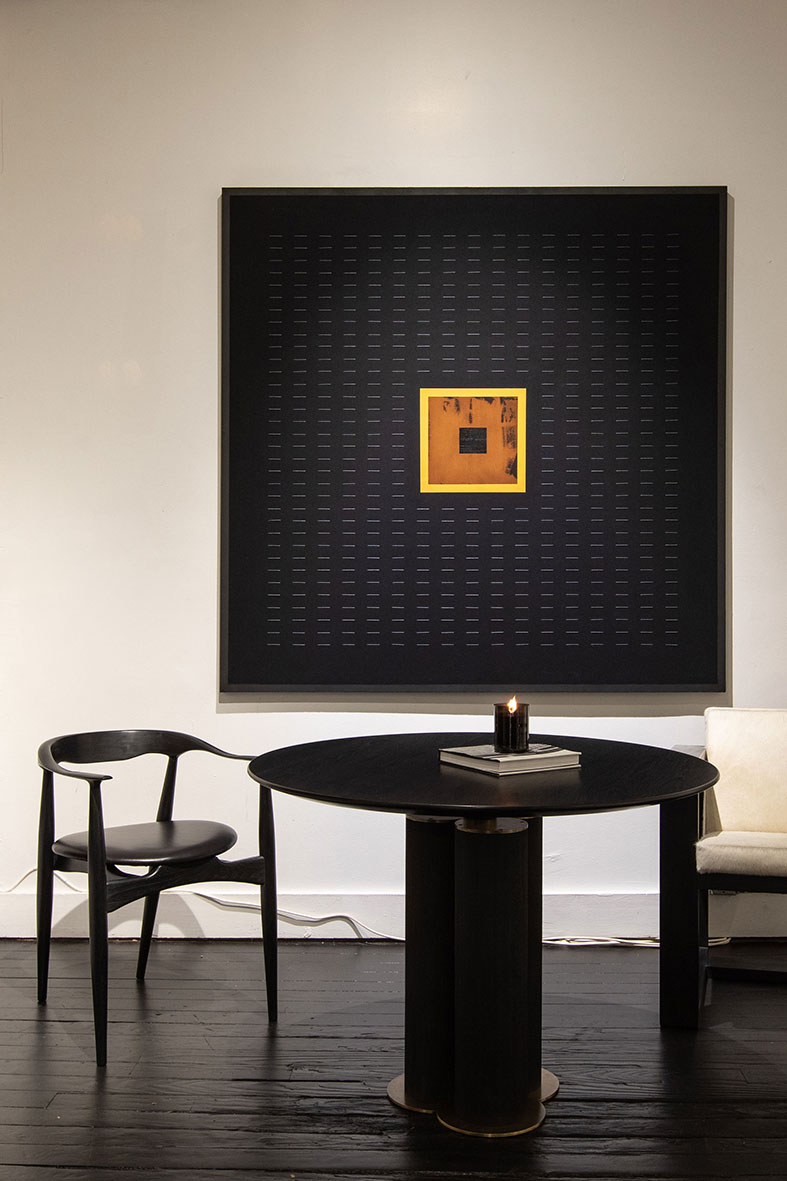 ATRA is also a perfectionist studio, where craftsmen work without gloves to give the pieced an extra smoothness. In fact, each piece goes through 14 levels of sanding that can take up to a week — per chair! "I think the biggest compliment a designer can get is when people start touching your stuff," explains Alexander. "If it's good enough to make a connection of touch then you have succeeded." Each piece is not molded by a sketch or a plan, but rather starting with the carpenter to see how many lines can be pushed on a certain project.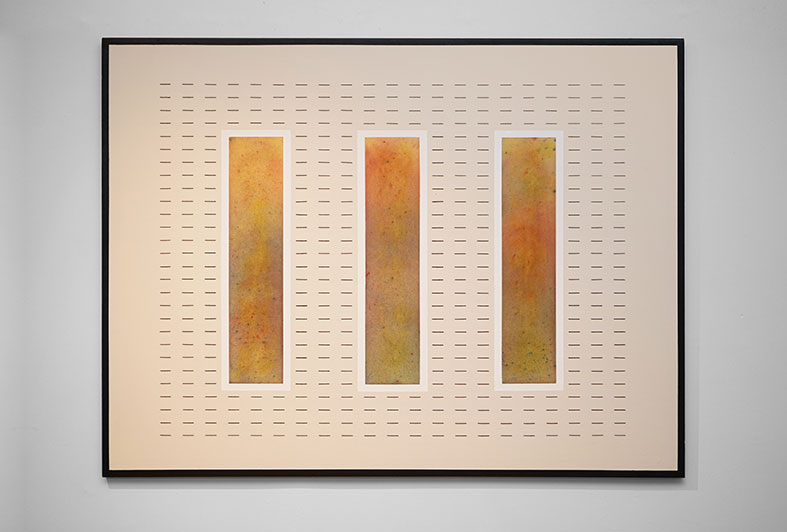 Artwork by Andreas Diaz Andersson
In the past, ATRA has worked with artists and designers that prefer color-blocking. Now they are headed in a more monochrome direction with rare, subtle elements of color. The studio has handled artists like Lanza Atelier and some of Mexico City's frontmost designers. But apart from chairs, the designers also craft couches, tables, and smaller pieces to take away to come. Their Condesa-space will soon turn into a shoppable location with Swedish coffee, a Japanese restaurant, and pieces that one can carry away as a token.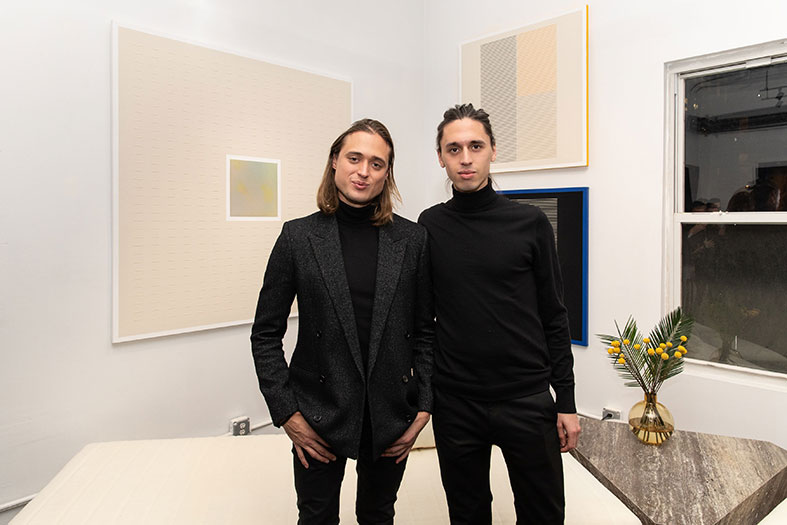 Alexander and Andreas Diaz Andersson
Beyond those, the backdrop of ATRA is Adreas Diaz Andersson's artwork. Structural and meticulous, his new pieces feature tints of different colors at the center. "You have this chaotic element inside the frame," explains Alexander in regards to his brother's work — this burst of color at the center represents their city's sunrises affected by the heightened issue of air pollution. In tandem with time, heritage, and freedom of creativity, ATRA is taking a leap out of their incubator-like hometown into New York with a temporary showroom so that a new city can embrace their fetching and functional design.
ATRA studio in New York is open through January 2020 at 191 7th Ave. by appointment only.