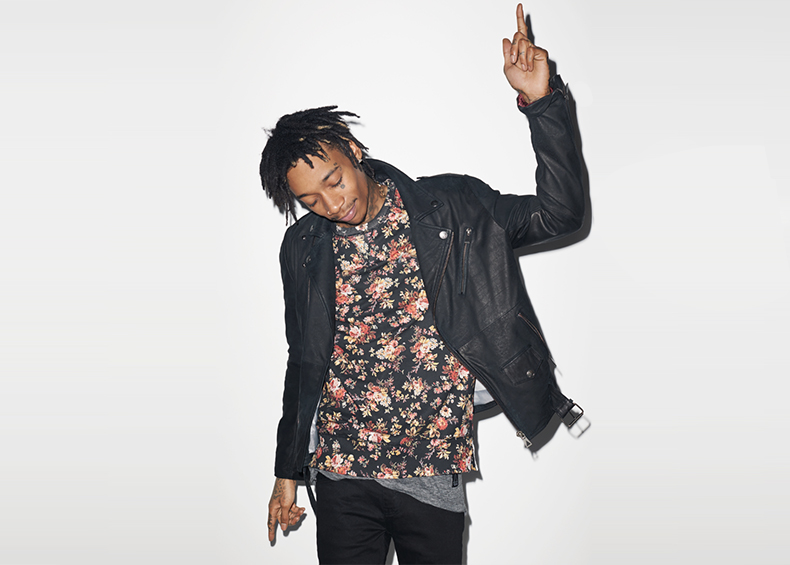 Keeping up with Khalifa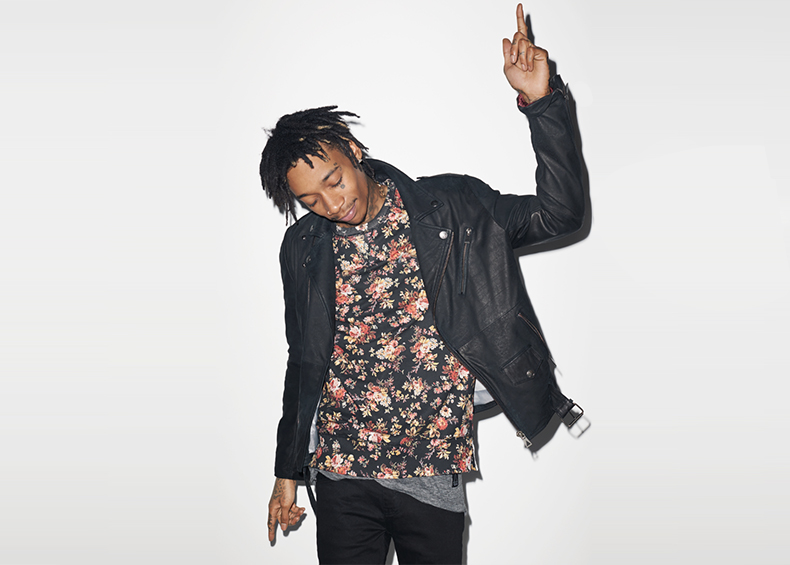 Photo: Eleven Paris. 
Wiz Khalifa appears to be having the best summer ever. The heavily-tatted Atlantic Records rapper is bringing in record numbers as the headliner in the third installment of his 'Under the Influence of Music' tour, his name continues to be mentioned in conversations of personal style and hip-hop, and each week seems to bring on a new leaked track from the five-time Grammy nominee's highly-anticipated album Blacc Hollywood—which officially drops today. "I wouldn't say that the album is different [from previous releases] because I always like to make consistent music," Khalifa explains over the phone from his tour's kick-off city of Scranton, Pennsylvania. "It's just this time I expanded my mind and  capabilities by working with different writers such as Rico Love and Detail."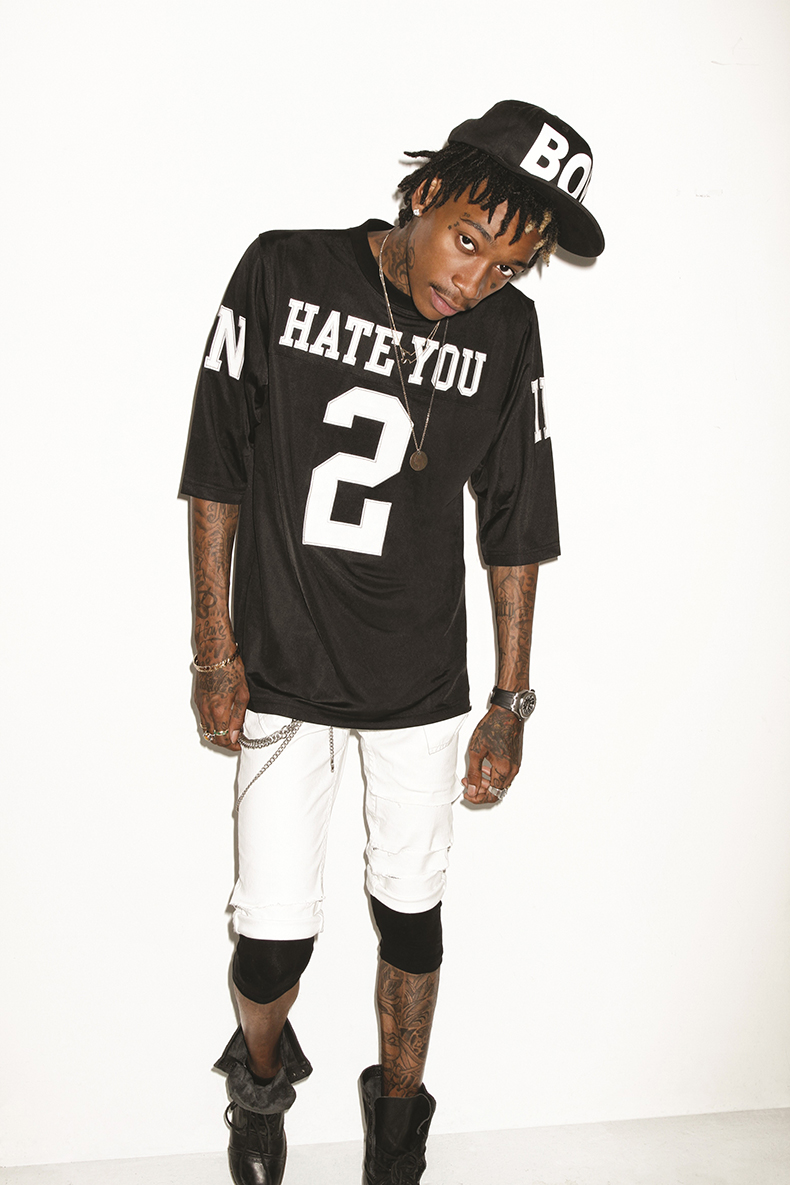 Photo: Miko Lim. 
And the musician is no stranger to having to expand his mind, having grown up only miles away in the rough inner-city neighborhoods of Pittsburg. "[It] was a rough place. There weren't too many opportunities," he says. "We didn't have many celebrities that we could look up to… all my inspiration musically and creatively came from outside the city." It was across-the-country influencers like West coast rapper Snoop Dogg, as well as Ohio-based hip-hop group Bone Thugs-n-Harmony that Khalifa credits for helping to shape his childhood and desire to rap. Now with his fifth studio album finally available today, Khalifa is not only conquering the music world and leading the ever-expanding Pittsburgh rap movement, but he has also become quite a key-player in fashion. Collaborations ranging from a capsule collection from his own entertainment label, Taylor Gang, with the lifestyle clothing brand Neff, a customized footwear collection for Converse, and—most recently—a venture with edgy-French-label Eleven Paris have successfully married the worlds of hip-hop and couture.
"

I'm inspired by people who are free, who have fun and do new things.

"
"The Eleven Paris collaboration was a really cool thing to be a part of because of how cool the brand is," Khalifa explains. "They have done collabs with Lil Wayne and Obama, and said mine was the most popular. So when it came to the new line, they got me and Kate Moss and shot it with Terry Richardson in Paris and it came out to be dope," the rapper continues. "I see people wearing the clothes all the time and it's really a good look for me." Perhaps it's Khalifa's trend-setting style and gravitation towards fashion forward labels like KTZ and Brian Lichtenberg that has caused the fashion world to come knocking. "I'm inspired by people who are free, who have fun and do new things," Khalifa says. "Whether it's someone from the past—like Marvin Gaye or rock and roll icons like Kurt Cobain—I take little pieces of personalities that are similar to me and express them through my clothes, movements, and visuals."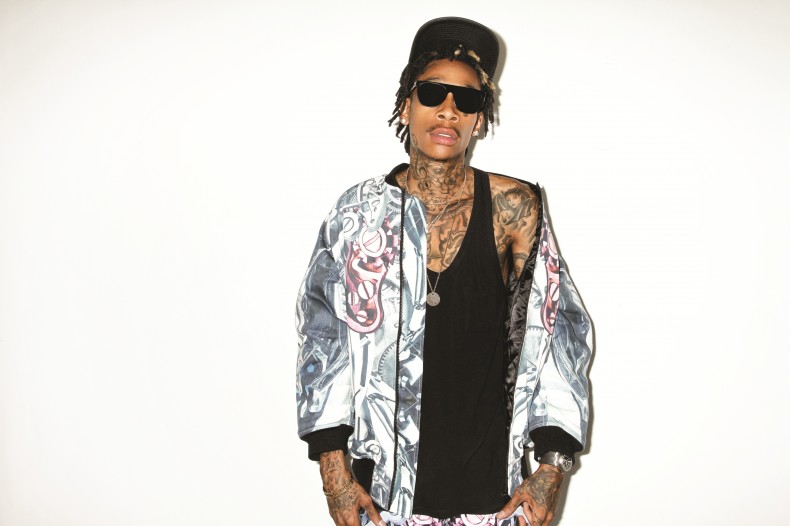 Photo: Miko Lim. 
It's Khalifa's gritty and electrifying form of self-expression—undoubtedly fueled by his love for a particular mood altering substance—that keeps his fans jamming out to his stoner-life infused music. Although the rapper has gained popularity for being candid about his marijuana use (he has his own strain and sponsorship), more importantly, it is his ability to make music you can't help but nod your head to that will surely keep Khalifa in constant playlist rotation.