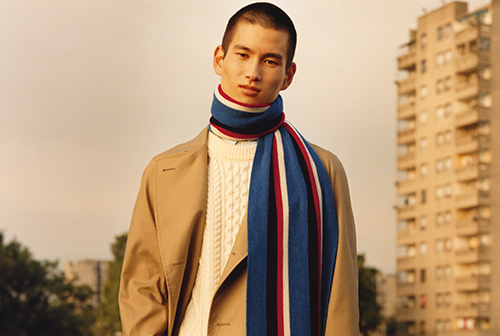 J.W.Anderson x Uniqlo Autumn/Winter 2017 Collaboration First Look
[slider_pro id="119″]
Image: J.W.Anderson x Uniqlo.
Picking up where previous high-fashion collaborations left off—think Christophe Lemaire's minimalist venture, Alexander Wang's color-block line, or Alexandre Plokhov's sweat wear—Uniqlo debuts its next designer-meets-fast fashion partnership, a much anticipated collection with London-based label J.W.Anderson. Launching late September 2017, the 33-piece collection features the thought-provoking, quirky stylings of the 2015 BFA Menswear and Womenswear Designer of the Year and arrives with the quality and precision best known to the retail giant. Meant to provide daily options for men and women alike, the line is a rare blend of British flair—double-breasted trench coats, tartan prints—and Japanese style—short-cropped denim, koi graphics—to tailor an individualized fashion experience that can be interchanged to express and define. With bold stripes popping against accessories to match, the contemporary-chic aesthetic is bolstered by all natural, extra-fine textiles that drape boxy silhouettes and extend elongated proportions. Not one to shy away from change, the collection spearheads a dramatic shift in the fashion landscape, J.W.Anderson pioneering a fast fashion partnership to bring luxury to the masses in one fluid sweep.
The J.W.Anderson x Uniqlo collection will be available online starting September 21, 2017.