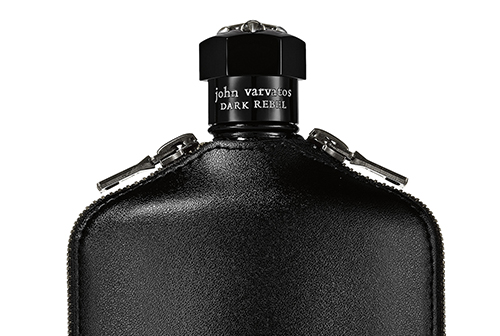 John Varvatos Releases New Scent Dark Rebel Rider
Image: John Varvatos.
John Varvatos' newest scent is an olfactory interpretation of the brand's rock 'n' roll attitude. Dark Rebel Rider is inspired by a black leather jacket, a muse which manifests in both the scent itself and the packaging. The fragrance is built on a base of luxurious Russian leather, accented with notes of citrus, saffron, black violet, and vanilla to create a deep, woodsy experience with the perfect touches of sweetness for balance. The cologne is held in a flask-shaped bottle which wears a jacket of its own, with two zippers and a mock-leather casing covering the exterior of the black bottle. Topped with the brand's signature fleur-de-lis emblem, Dark Rebel Rider is John Varvatos through and through.
The 4.2 fl. oz. eau de toilette is now available exclusively at Bloomingdales and will expand to other fine retailers in August 2016.