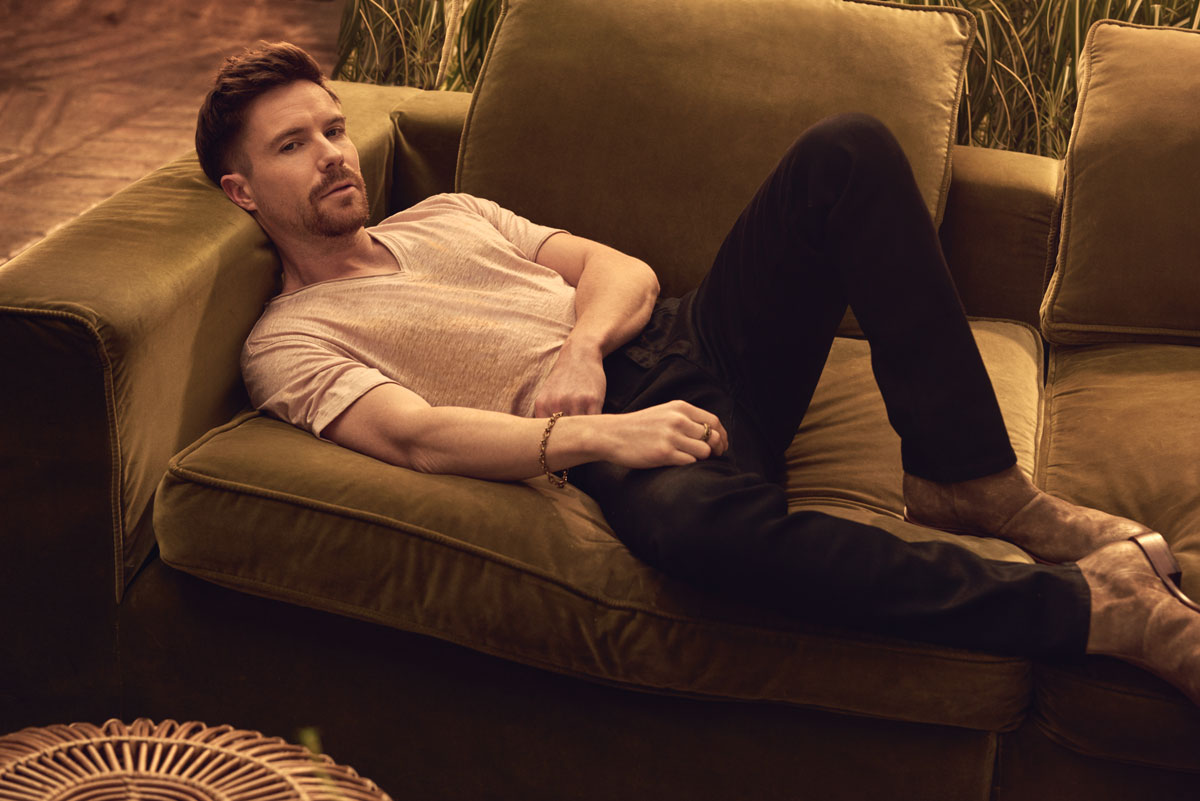 Joe Dempsie: A Song of Modesty and Virtue
In this story, Joe Dempsie wears the John Varvatos Spring/Summer 2019 collection. The American designer's latest tribute to rebellion, the range displays the label's effortless cool and dedication to timeless luxury with an assortment of expertly crafted smooth leather jackets and tailored trousers, perfect for both the rock star about to take the stage and the free spirit just hitting the road and grabbing life by the horns. The SS19 collection is available in stores and online now.
It's easy to forget when talking to Joe Dempsie that he's not only an actor, but the star of HBO's blockbuster TV phenomenon Game of Thrones, as well as lead on EPIX show Deep State. The 31-year-old British star is down to earth, remarkably humble, and in a good mood because the sun is finally out in London, and his team has just defeated their biggest rival last night.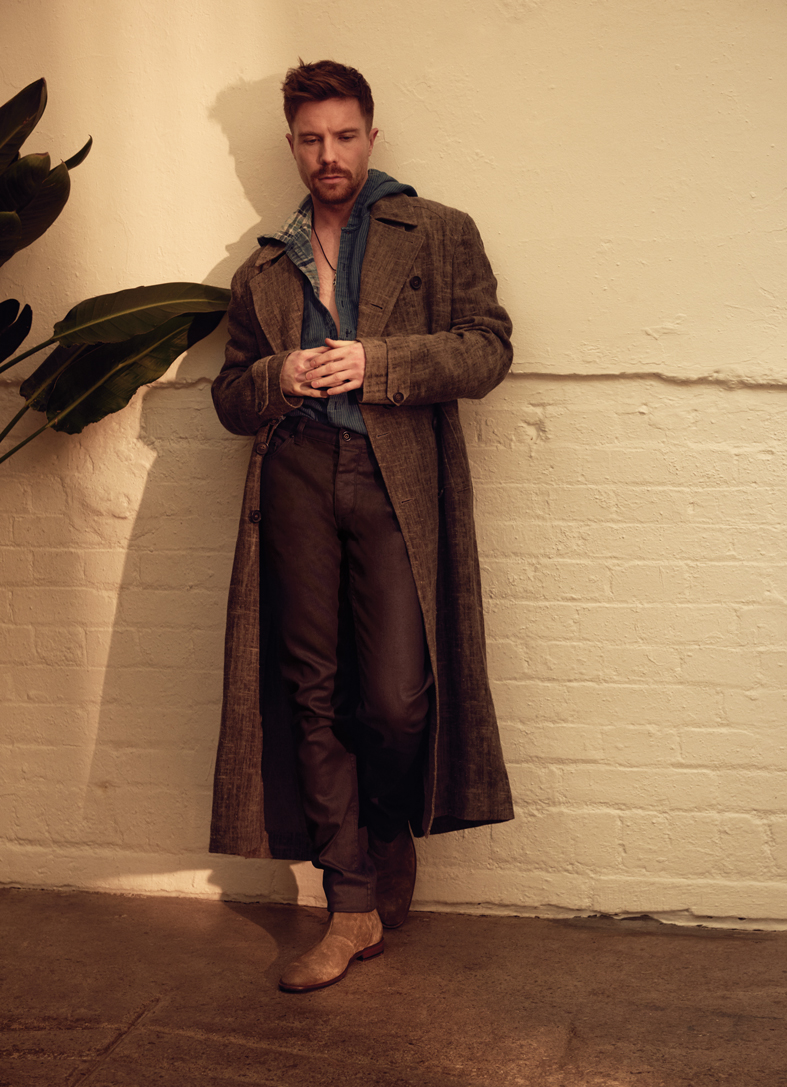 Although Dempsie's face is more recognizable now than ever before, there was a time when people used to know him as Chris Miles from Skins. But when he was recognized at a clothing store in New York, that's when it really hit him.
"When Skins came out in the UK, it was bonkers," he recalls. "It was everywhere, and it was much bigger than everyone thought it was going to be. [But even today], I get 16, 17, 18-year-old's coming over and saying, 'Mate, were you on Skins?' And I'm thinking, 'What? You would have been… 8 when it came out!'," he laughs. And given Netflix's acquisition of the show, Dempsie's first big acting role has been granted an "almost indefinite lifestyle." But his approach to acting has vastly evolved over the years.
He approaches each role separately; one thing at a time. He often finds himself cringing when watching acting footage of his younger self. "[I] think, 'oh god, I wish I had the confidence then to be different,' or to say to the director, 'You know, I wouldn't mind maybe playing with this line, or just changing it up a bit'," he admits. Although sometimes, he finds himself overthinking his roles, so "bringing it back to basics" helps. "[I use] my instincts, rather than trying to perform in a certain way, or trying to be a certain kind of actor."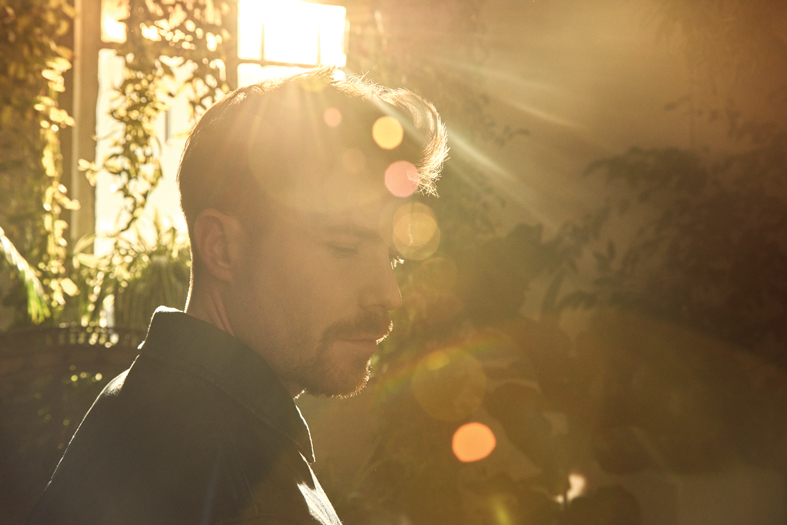 When it comes to instincts, however, Game of Thrones is not known for its predictability. What makes the show so compelling is its medieval epic fantasy setting of Westeros, its complexity of countless intertwining narratives, its major cliffhangers, and fickle lifelines of even the most nuclear characters. So playing the role of Gendry from an instinctive standpoint is something that Dempsie admittedly found difficult, initially. On a show of such caliber, "you're confronted with the reality that you're a cog in a huge, huge machine, all of a sudden. And because of that, when you're playing a character that's not one of the core few, you get maybe a scene per episode, if you're lucky, to explore your character. And you're getting the information often at the same time as your character is. So, you don't really have much scope to change things," he explains.
Dempsie's character on the show was initially a peripheral one, who went through a three-season-long hiatus, after which he resurfaced in a much more central role, leaving fans infinitely more curious about Gendry's plotline, and his anticipated crucial role in the final season. But when he initially auditioned for the show, Gendry wasn't even in the picture yet. The actor first auditioned for the parts of Jon Snow, Pip, and Grenn. "And with every [part] I didn't get," he shares, "I sort of convinced myself that they must think I'm terrible." Then, when auditioning for Gendry, Dempsie thought "they're probably just sick of the sight of me now." Although he's modest ("somewhere, somehow I managed to snag [the part]," he says) he still talks about how wrong for the part he thought he was at first. Neither his hair color nor his height or weight matched Gendry's description. Moreover, during Gendry's three-season-break, despite the writers reassuring Dempsie of his character's return, the actor couldn't help but worry.
"I just sat around watching reruns of seasons 1 and 2, crying," he jokes. "[But], I am kind of realistic about all these things, and I feel like I've been in this business long enough now to understand how it works. I know that it's a massive undertaking for David [Benioff] and Dan [Weiss] to try and weave all these various narrative strands together to be coherent, compelling, and satisfying." And had Gendry not come back, "I would have been disappointed, but I would have totally understood," he says, humbly. He partially credits the slightly "obsessive" nature of Game of Thrones fans, who by default, ensure that "every line, every scene, every frame is picked apart and analyzed," verifying that no conspicuous loose ends are left untied.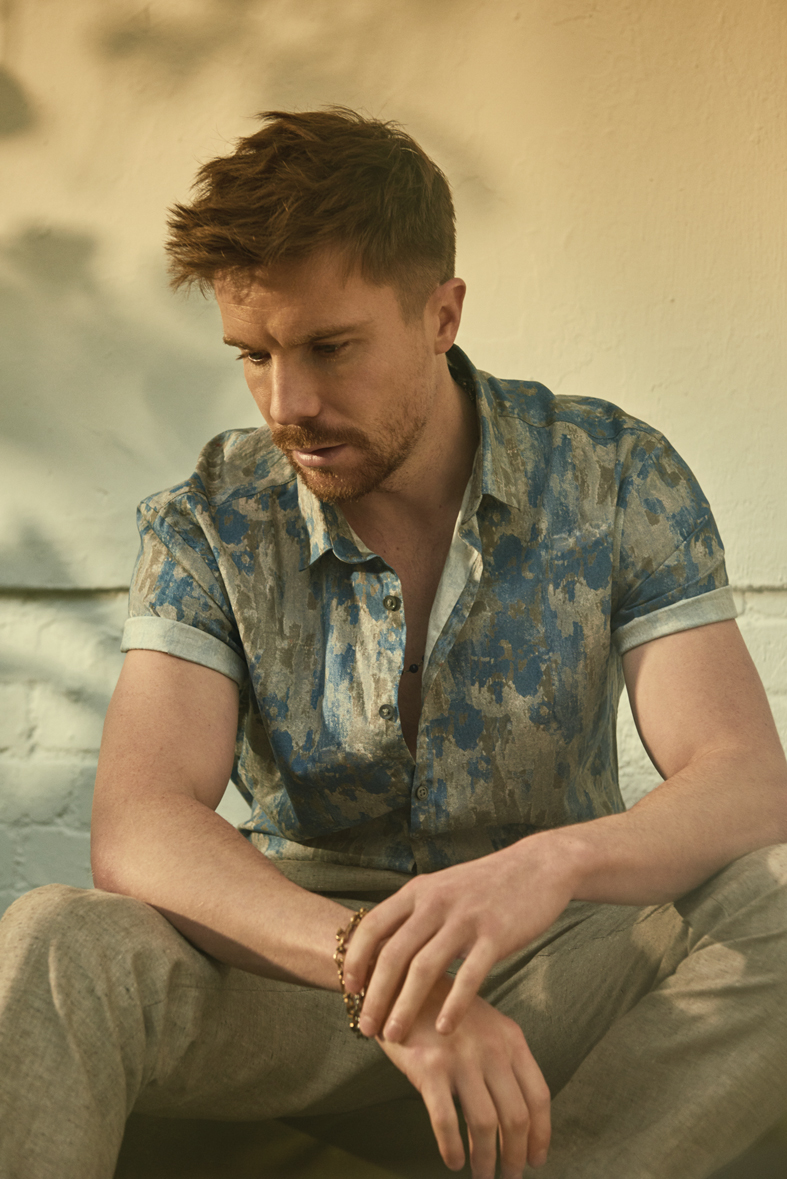 Of course, the tying up of loose ends will occur in the upcoming eighth and final season of the show. Though much fan speculation has occurred regarding Gendry's plotline (specifically about his relationship with Arya, the identity of his mother, and most importantly, his claim to the Iron Throne), the show will indubitably hijack and refute any conceivable guesses of fans. "There are many different groups of people on a collision course now. And we'll find out if they band together to fight this common enemy, or tear each other apart," Dempsie discloses.
As for what awaits Gendry in the final season, it's evident that this is going to be his biggest season yet. "When Sir Davos came and found him [at the end of season 7], he signed up for that ill-advised expedition beyond the wall, without asking any questions whatsoever," explains Dempsie. "I think he felt like his world had been opened up by his experiences with Arya, and the information that Melisandre gave him. And then, he had to go back to keeping his head down and living an incredibly low-key existence. He had a taste of how exciting the world could be, and he was just looking for meaning, [with] this innate feeling that he was maybe destined to be part of something bigger, more important. [After being] confronted with the reality of what's making its way down from beyond the wall, I think he's got a lot of soul-searching to do. There's no way out, and there's not going to be any escape. But rather than being comfortable with what he has to face now, he's probably more terrified. And that's where we find him."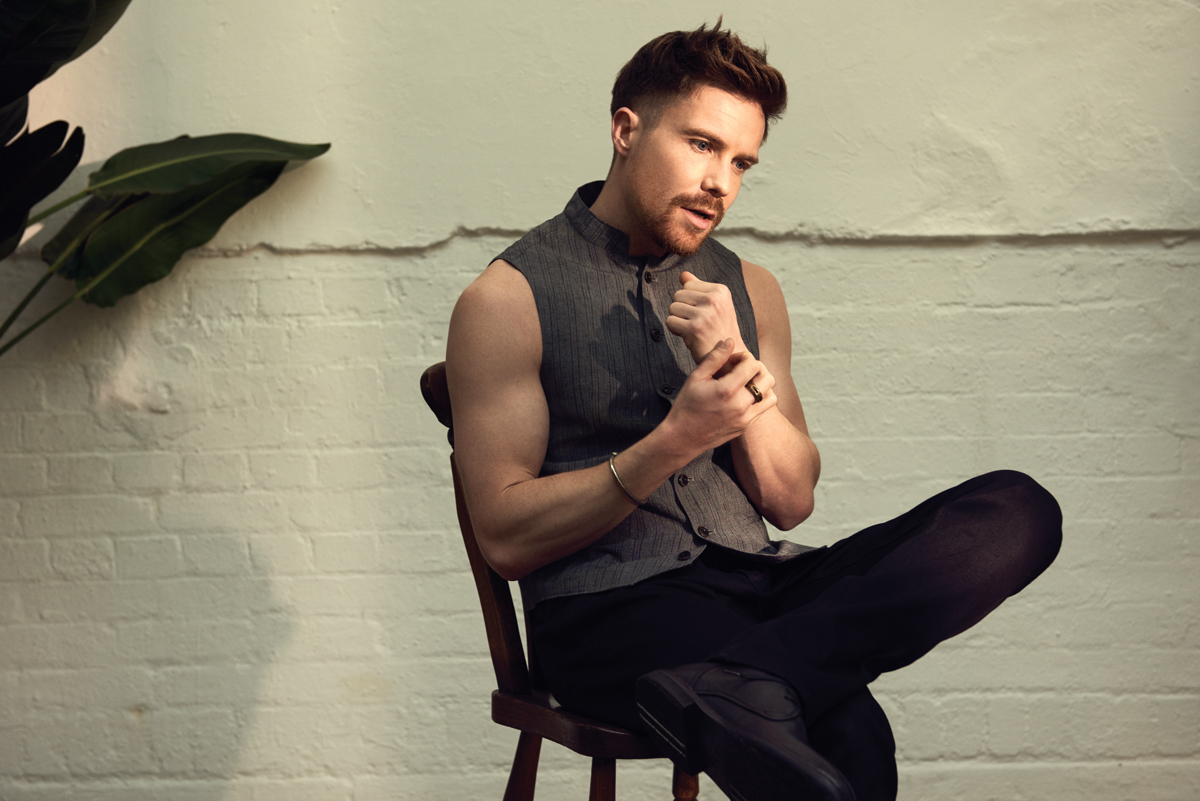 When asked about whether he resembled Gendry in any way himself, besides an inherent difference in blacksmith abilities (as Dempsie learned from having to take several lessons: "They tried to get me to make a leaf out of a squared-off rod of steel, and it looked awful. You wouldn't give it to your worst enemy," he laughs), the actor admires Gendry's strong moral compass, compassion, and kindness. "I'd like to think that I am like that."
The end of the Game of Thrones era is going to be a notable time for both fans and actors. But for Dempsie, April is also a big month for his other TV show, Deep State. "[It's] good for me that I get to talk about these two things at the same time, and they're two very different projects." But outside of that, for the first time in a long time, his next acting endeavors are undetermined, which is something he's very excited about. "Who knows what's around the corner?"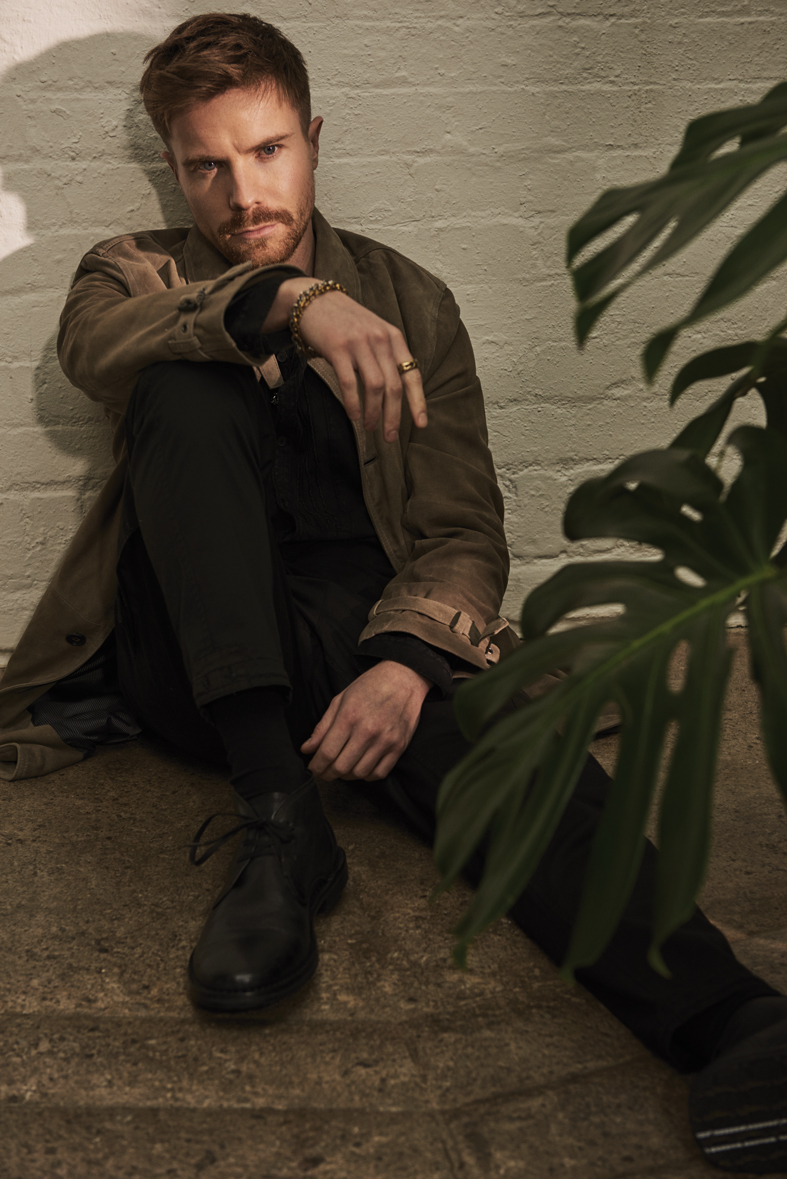 Deep State season 2 airs 28th April EPIX. The eighth and final season of the Emmy-winning HBO Original series GAME OF THRONES airs Sunday 14th April on HBO.
Check out some key looks from the John Varvatos Spring/Summer '19 collection above.