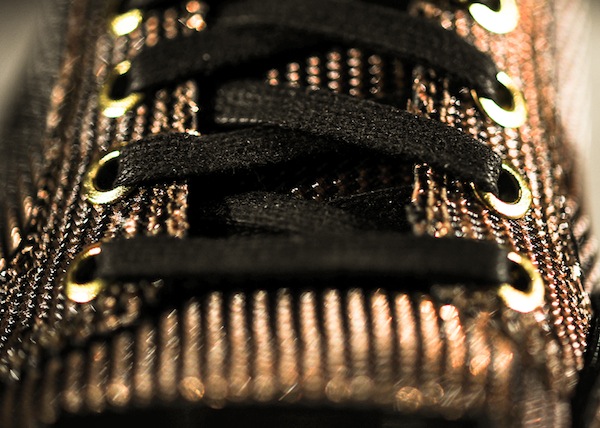 Interview: Alejandro Ingelmo Tells Us of Color, Michael Bastian and Kanye West
There's something about Alejandro Ingelmo's signature footwear that puts an added dose of "oomf" in every step.  In the world of Ingelmo, The "Josh," "Dean," and & "Toby" are not people, they're things you put on people. They're also just three in a line of many from the Miami born designer, who launched his first men's collection in 2007, and premiered his SS2013 collection in The High Line Room of The Standard Hotel during Fashion Week. At the core of Ingelmo's often architectural designs is his unique palette of materials: foam, rubber, velvet, leather, even beaver fur—if that seems unexpected to you, to the designer it's simply obvious.  Ingelmo says the genesis of the men's collection (which added men's bags last year and will soon encompass a collaboration with Michael Bastian) came from things he wanted for himself. When he couldn't find a cool, functional bag with a masculine accent, he decided to create one himself.  So what's on Ingelmo's want list for his SS2013 collection?  Color.  And not just color—Pastels!  Make room for bright pinks, yellows, and oranges in your wardrobe, but first, check out our brief chat with the man himself (after the jump).
Essential Homme: Color, color, color! Talk to us about the SS2013 collection, what inspired it, and what you're most proud of.
Alejandro Ingelmo: As a designer, I think whatever anybody does, it's always about learning more. I'm always trying to evolve and use new techniques.  Some seasons it's about simplicity, some it's about material, some it's about pattern-work. I recently traveled to Cuba for the first time to retrace my roots, and that influenced me a lot; I loved the vibrant and colorful lifestyle. I am really happy about the response I have been receiving towards the [SS2013] collection and I think people can really see an evolution in my designs, which is something I am proud of.
EH: You've become known for using a wide variety of materials in your shoes? What's the flavor of the moment?
AI: A lot of reflective material. I used the material two seasons ago, but this season I decided to bring it back but with bright colors. I love working with textures and materials that have two faces, two lives. So it's all about looking at something but then, at closer glance, realizing it can be something else as well.
EH: Can anyone rock the pink "Trons?" Be honest!
AI: YES! With a basic look, the pink is the pop. They make the whole outfit.
EH: Speaking of Trons, and our personal favorite, "The Josh," where do you come up with the names of the shoes?
AI: Usually the names are based on the influence; so either a movie, or a city, street, or sometimes my friends.
EH: You have a number of exciting collaborations in the works, including one with Michael Bastian. Can you tell us more about that?
AI: I always like to do things that are outside of the box, obviously. I thought it would be fun to collaborate with someone that was very American preppy.  We're two kind-of opposites.
EH: When can we expect to see the this?
AI: December.
EH: Your Soho shop has been noted for its superb feng shui; long double-sided leather couches and piled shoe boxes creating a three-dimensional wallpaper illusion. How important is the overall customer experience in presenting your shoes to the public?
AI: The customer experience is so important. It's my way to show the customer more about the company, the direction, and the overall feel of the brand as a whole.
EH: Give a bit of style advice: We've got our Ingelmo's on the feet, what should we be wearing up top?
AI: I have been feeling a bit more formal lately. I like a really sharp suit with simple lines paired with some amazing sneakers or a patent loafer maybe.  Just keep it simple, and let the shoes speak for themselves.
EH: Most original question alert: Our iPod is a little dry at the moment, what are you listening to lately?
AI: Let me actually look at my phone.  Kanye West, The Weekend, Avicii, Tiesto. That, and lots of podcasts.
To learn more about Alejandro, and to check out his F/W2012 collection, visit: http://www.alejandroingelmo.com/.
[nggallery id=110]