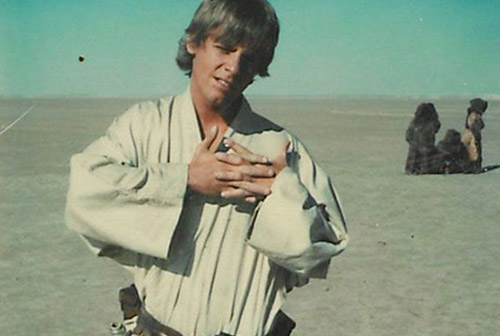 Weekly Instagram Roundup: Met Gala, Dior Homme, and More
This week's complete social snapshot, distilled for your pleasure.
From the hottest celebrity parties to the regretful morning-after shots, ESSENTIAL HOMME's Weekly Instagram Roundup brings all of the hottest designer, model, and trendsetting pics from the week directly to you. After all, no one has time to scroll through anything but the best.
Dior Homme
Actor Rami Malek turned heads at this year's Comme des Garçons-themed Met Gala wearing a piece from Kris Van Assche's Dior Homme. The startlingly dyed suit matches the same macabre setting as similar releases from the French house—including its Paris Fashion Week runway and the recent Dark Light collection—whereas the rockstar vibe pairs perfectly with Malek's upcoming Freddie Mercury portrayal in the just-announced Queen biopic.
Rag & Bone
To highlight this year's "May the 4th be with you" day of makeshift "Star Wars" celebrations, Rag & Bone shared a throwback pic of actor Mark Hamill filming on set of the original film. As an active participant in the New York clothier's Men's Project campaign, Hamill is no stranger to the British heritage meets modern design collections of the brand, previously divulging his insight and filmic savvy in a dizzyingly visual homage to its daring style.
Fendi
The iconic Italian brand brought Mediterranean magic to the Guangzhou region of China with a Sun & Fun & Fendi pop-up. Located in the Taikoo Hui complex, the brand showcased its breezy Spring/Summer 2017 collection amongst electric lights, LED screens, and classic Italian vehicles for a #FendiRoma extravaganza. Be sure not to miss the multi-colored cotton jacket, a scene-stealer in the brand's recent Spring/Summer 2017 eyewear campaign, starring ESSENTIAL HOMME August/September 2016 cover star Hopper Penn.
Brioni
Brioni got its start in 1945 as a men's fashion boutique to the stars. Continuing in its heritage ideals, the brand dressed actor Michael Fassbender for the recent "Alien: Covenant" premiere in London. The bespoke three-piece suit and silk tie branches off the brand's Spring/Summer 2017 collection with its deep-dyed color and smoky detailing.
Tom Brady
New England Patriot's quarterback Tom Brady flexed his fashion muscles at this year's Met Gala as an honorary co-chair alongside his wife, model Gisele Bundchen. Posing here with fellow co-host Anna Wintour,  the footballer arrived to the celebrity fête in a silver velvet dinner jacket from Tom Ford, very much on trend with the brand's Autumn/Winter 2017 lookbook.
Follow ESSENTIAL HOMME on Instagram at @EssentialHomme.