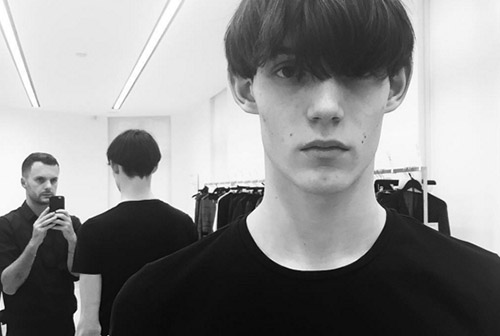 Weekly Instagram Roundup: BVLGARI, Neil Barrett, and More
This week's complete social snapshot, distilled for your pleasure.
From the hottest celebrity parties to the regretful morning-after shots, ESSENTIAL HOMME's Weekly Instagram Roundup brings all of the hottest designer, model, and trendsetting pics from the week directly to you. After all, no one has time to scroll through anything but the best.
BVLGARI
Italy's own Giulio Berruti, the rising actor, posed alongside the fashion elite at BVLGARI's Fall/Winter 2017 Fashion Week event. Gracing the hallowed halls of BVLGARI Hotel Milan, the event kept it all in the family, with those in attendance witnessing Bella Hadid's crowning moment as the new face of the brand's accessory line.
Neil Barrett
The British-born designer embraced his brand's Italian roots for Neil Barrett's Spring/Summer 2017 campaign. Shot in Venice by Scott Trindle, starring Keiron Haynes and Swann, the prints feature the geometric identity seen in the brand's previous runway, the images a breezy look at the architectural triumph, the Nordic Pavilion.
The Academy of Motion Picture Arts and Sciences
Shine your shoes and get your themed cocktails ready, the cumulation of Oscar season is finally here. In the LA heat, outside the Dolby Theatre, the red carpet has officially been rolled out—the flashy holy ground for everyone from "Nocturnal Animal"'s and ESSENTIAL HOMME August/September 2015′s Michael Shannon to "Arrival"-snub Amy Adams. If there's any hope against a complete "La La Land" shutout at the Jimmy Kimmel-hosted event only time will tell.
Kris Van Assche
Dior Homme Artistic Director Kris Van Assche took us behind the runway for a look at the French brand's new season. After a macabre Autumn/Winter 2017 runway at Paris Fashion Week, as well as the New Wave Spring/Summer 2017 campaign, it would appear that Van Assche is looking at a more demure taste, shown here on model Dylan Roques.
Lucky Blue Smith
Insta-model and runway pro Lucky Blue Smith jumps from one ad campaign, Tommy Hilfiger Denim, to the next with the recently announced H&M Loves Coachella collection. Debuting in March, the California-drenched pieces are modeled by Smith's family band, The Atomics—the sun-streaked image a predecessor to an upcoming video in conjunction with both the line and Coachella's rocker vibe.
Follow ESSENTIAL HOMME on Instagram at @EssentialHomme.