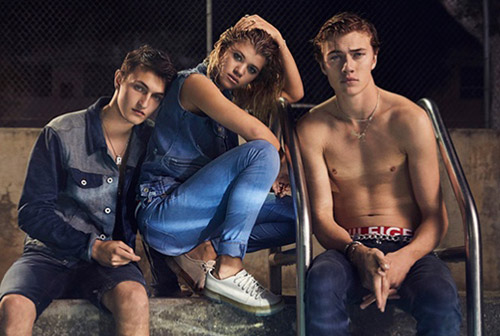 Tommy Hilfiger Denim Spring/Summer 2017 Campaign Video
Video: Tommy Hilfiger Denim.
Tommy Hilfiger Denim nods to '70s motifs and preppy classics in its Spring/Summer 2017 campaign, a video and photography series that reflects the energy of the label and the versatility of the collection's namesake material. Starring Anwar Hadid, Sofia Richie, and Lucky Blue Smith—the brand-favorite model who most recently appeared in Hilfiger Denim's Autumn/Winter 2016 campaign—the new range plays with linear patterns and patchwork, all featured in the line's signature white, blue, and red color scheme. The sun-drenched and youthful Downtown Los Angeles aesthetic provides a snapshot of the changing face of the brand, evident in its recent Tommyland installation in Venice Beach, featuring Anwar's sister Gigi Hadid. Through these ventures, the commonalities between youth, California, and culture can be seen as the new heart of the classic label, a sentiment honored in the campaign's closing statement: "Live Love LA."
Hilfiger Denim is available online now.