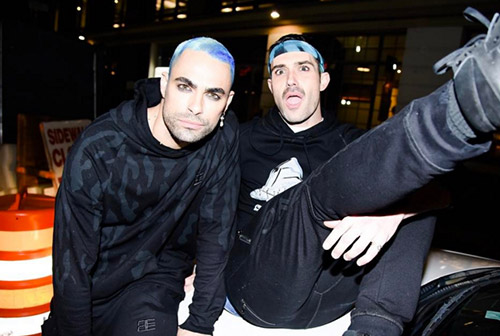 Weekly Instagram Roundup: Tommy Hilfiger, Baja East, and More
This week's complete social snapshot, distilled for your pleasure.
From the hottest celebrity parties to the regretful morning-after shots, ESSENTIAL HOMME's Weekly Instagram Roundup brings all of the hottest designer, model, and trendsetting pics from the week directly to you. After all, no one has time to scroll through anything but the best.
Tommy Hilfiger
Couldn't make it to Tommy Hilfiger's all out Californian bash for the second Tommy x Gigi installment? The brand's Instagram has you covered with a glossy highlight reel that shows every slow-motion celebrity (Lady Gaga on the sidelines, Fergie performing live), Coachella-esque drum circle, and, on-site screen-printed tee. The party to end all parties, it would most definitely seem.
John Targon
John Targon and Scott Studenberg put a major dent in the fashion world this NYFW with a rock-glam, off-the-cuff metallic line. The Baja East creative masterminds celebrated the occasion by partying hard at NYC's Kola House, high-kicking alongside fellow club rats Maria Borges and Winnie Harlow for a night of memorable, if not slightly destructive, fun.
Versace
Bruce Weber stepped into the ring once again to shoot the latest rustic, wildlife-infused campaign for Italian fashion house Versace. After overtaking the Kentucky countryside for Spring/Summer 2017, the iconic photographer turned his lens to the brand's masculine counterparts, branching off the previous campaign with this behind the scenes look at the upcoming men's Spring/Summer 2017 visuals.
Diesel
Jump for joy with Diesel's new Spring/Summer 2017 campaign. Make Love Not Walls embraces Artistic Director Nicola Formichetti's preferred explosion of energetic marketing, similar to his eponymous brand's more eccentric aesthetic. The images, a cut-and-paste collage of mood board, flower-power hope, profess an "all love, no hate" mantra, a youthful display that bites at the heels of the current political state and the brand's own "louder and prouder than ever" proclamation.
Prada
Star of "The Young Pope," Jude Law took some time away from the Vatican to pose for Prada Spring/Summer 2017. Photographed by Willy Vanderperre, the images are a byproduct of the brand and Law's Prada 365 film, a re-imagining of the classic campaign through five different visual identities, including Pathways, Terrain, and Exits.
Follow ESSENTIAL HOMME on Instagram at @EssentialHomme.