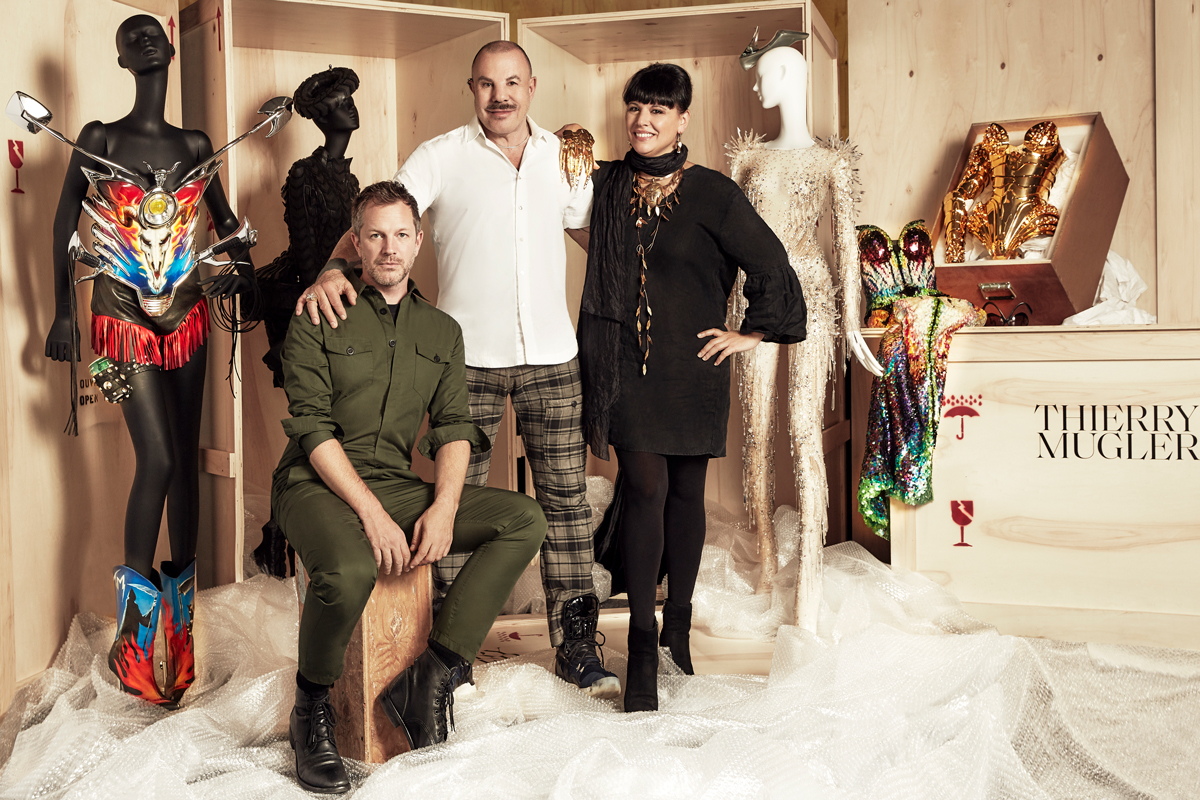 Inside Mugler's Dark Twisted Fantasy
Landing on the scene with a hyper-surreal perspective, Thierry Mugler dominated the fashion world in the late 20th century with his high-production showmanship and futuristic garments. By fusing science fiction and film noir visuals into razor-sharp silhouettes that celebrated femininity, the French label was able to simultaneously capture the zeitgeist and propel it to new heights, turning runway shows into opulent spectacles and models into superwomen.
The reclusive designer, who stepped down from his eponymous brand in 2002 before it shuttered completely shortly after, remains an instrumental figure in contemporary fashion. Renowned for sculpting entire worlds that extended far beyond the runway and amassing a vast body of work that fortified his singular vision, Mugler's influence remains as idiosyncratic as ever and continues to rouse the public. Almost two decades after exiting the limelight, the designer is being honored with the first exhibition dedicated to his work, Thierry Mugler: Couturissime, which opens at the Montreal Museum of Fine Arts this weekend.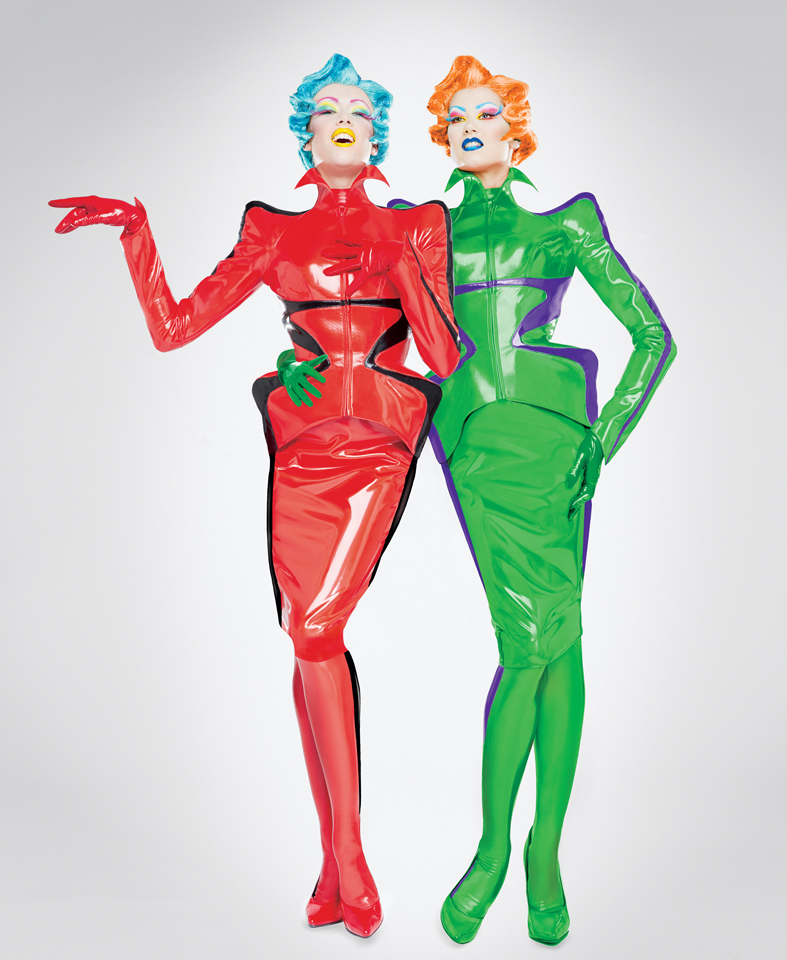 Thierry Mugler, Mugler Follies costumes. Photo: Christian Gautier / © Thierry Mugler.
When presented with the idea to commission an exhibition, Mugler himself chose curator Thierry-Maxime Loriot to make it a reality. Loriot has emerged as a young, yet seasoned veteran in sartorial show curation—his first exhibition was the widely successful Jean-Paul Gaultier retrospective that toured the world from 2011 to 2016.
"I was quite surprised and flattered when he [Mugler] asked because I know that many museums approached him for the chance to do an exhibition about his work," Loriot says. "I guess it was a match with the museum director here [Nathalie Bondil] because we do more installations, rather than general retrospectives."
The two worked closely together to design an immersive experience poised to re-introduce the genius of Mugler's mind to the masses. (After all, the designer was the first to host a show that was open to the public—the Fall/Winter 1984 show in Paris featured over 350 looks and drew in an audience of over 6,000.) "We make installations that are very alive," Loriot assures. "We are storytellers. That's what the exhibition will be about—it's going to be about fashion and the obsession with Mugler through the years with a thematic approach."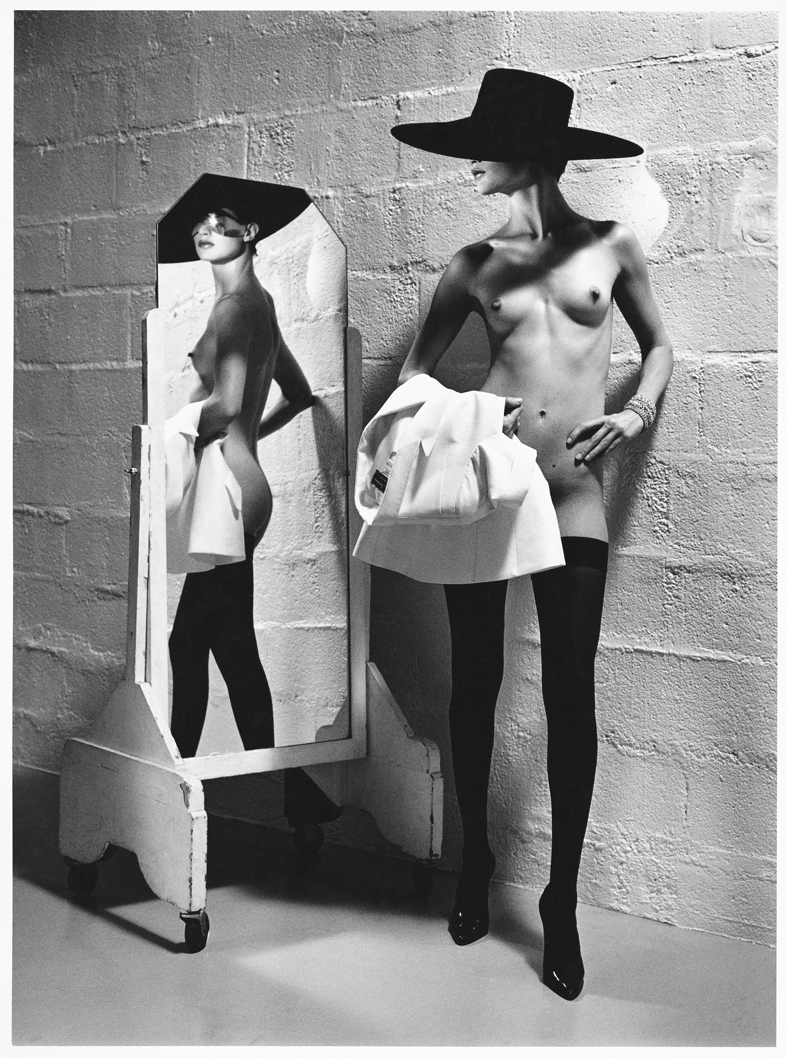 Helmut Newton for Thierry Mugler, Vêtue/Dévêtue Vogue (Paris), 1996. Outfit: Thierry Mugler. Short-sleeved cotton piqué jacket. Patent calfskin pumps. Hat, sunglasses. © The Helmut Newton Estate.
Comprised of over 150 full couture looks (many on display for the first time), the exhibition encompasses Mugler's multidisciplinary work as a full auteur, including photographs, original illustrations, and rare video footage from his extensive archives, which remain hidden and carefully preserved in secret warehouses throughout France.
"It's quite impressive to see the level of perfection that was achieved in these pieces, and also the amount of work and number of hours he spent on every piece," Loriot says, regarding his time spent combing through the archives and what viewers should expect. "Many people see the pieces in the magazines and on TV, but to see them up close is really impressive." There's also some irony that Mugler, whose work was frequently acclaimed for its futuristic appeal, had not preserved any of his archives digitally. "[Mugler] stopped doing fashion in 2002, when pretty much all the photographers went digital, so none of the images were digitized from the archives."
Despite a seemingly never-ending public demand for all things nostalgic, Loriot is adamant that the exhibition is very much a reflection of today. "I don't think this is something nostalgic, to be honest. I think this is more like a new work altogether," he says. Additionally, a section of the exhibit includes new looks crafted exclusively for the museum.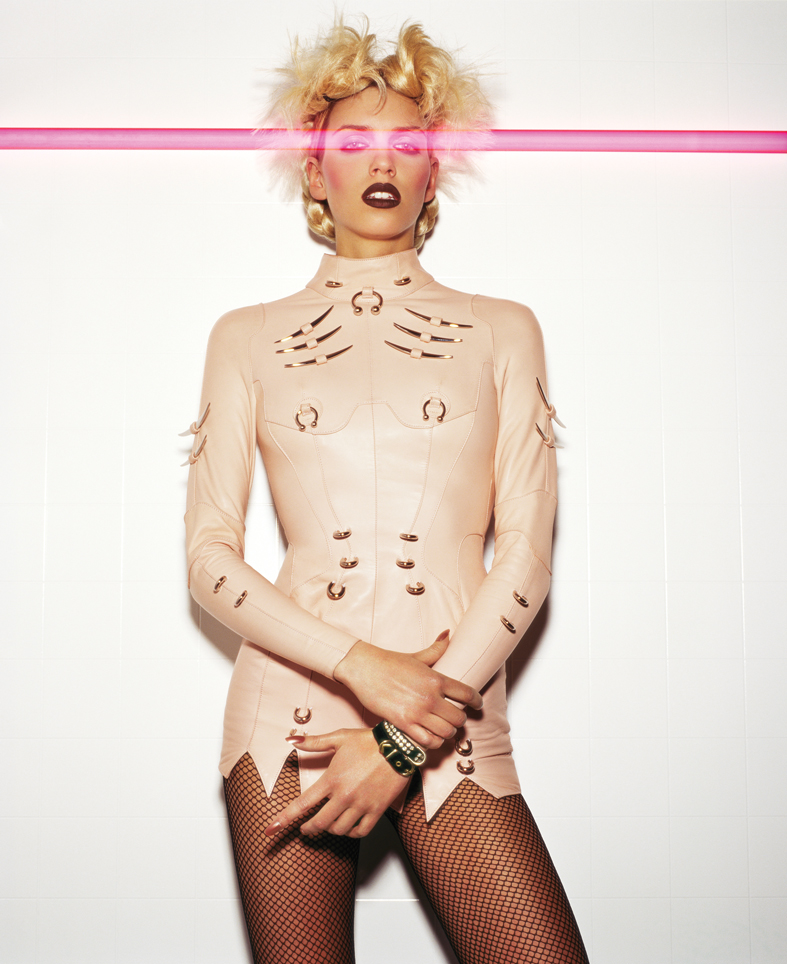 Inez and Vinoodh, No Couture No Future (Kym); BLVD, 1994. Outfit: Thierry Mugler, Longchamps collection, prêt-à-porter spring/summer 1994. Metal-trimmed leather minidress. "Tattoo"-print latex tights, Photo: © Inez and Vinoodh.
He also mentions the importance of re-contextualizing Mugler's work for modern consumption. Even at his career peak, his pieces were not without scrutiny—critics frequently deemed his clothes sexist and harmful for their exaggerated shapes and hypersexual tone.
"I think it's always interesting to put things in context. We live in a #MeToo era," he says, showing how hindsight has affected interpretation to carry Mugler's work in higher regard. In his universe, women were autonomous supervixens who existed unburdened by systemic oppression. And it's likely this interpretation that has continued to attract some of the biggest stars—like Lady Gaga, Beyoncé, and Cardi B—today.

Since parting ways with his label, Mugler (who's reverted to using his birth name, Manfred) has turned his focus to extreme bodybuilding, yet his larger-than-life presence still resonates within the industry. His brand remains a fragrance juggernaut, consistently ranking among best-selling in the world since the first perfume launched in 1992. And the label remains a Paris Fashion Week fixture since its resurrection in 2010 under the direction of stylist and art director Nicola Formichetti. (It's currently overseen by Casey Cadwallader.) But it's this exhibition that promises to remind the public why a designer like Mugler is so necessary—harnessing a distinct utopian vision, he shattered sartorial convention and expanded the notion of what fashion could be.
"He was really using fashion as a medium; as an artist, and for me that's what's important," Loriot says. "He revolutionized the system."
This article is featured in the Spring 2019 issue of Essential Homme.
Cover Image: From Left to Right: Thierry-Maxime Loriot, Curator; Nathalie Bondil, Director General and Chief Curator, Montreal Museum of Fine Arts; and Manfred Thierry Mugler, creator. Photo: © Max Abadian.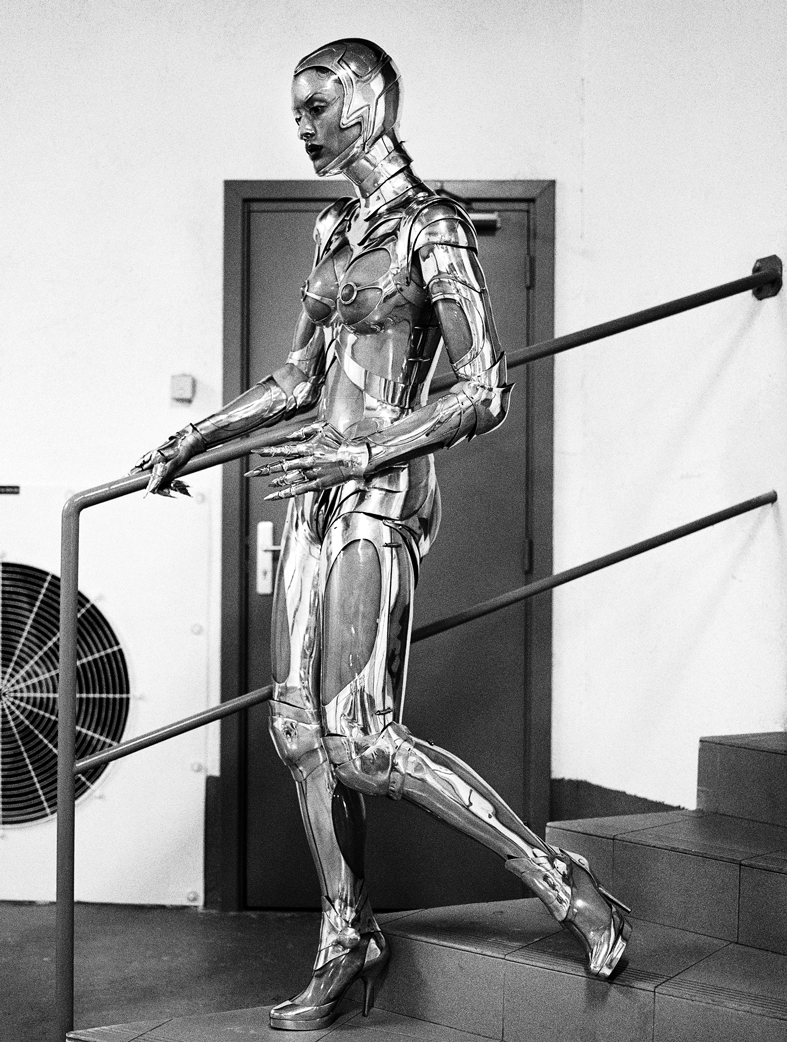 Helmut Newton, Johanna; Vogue (US), November 1995. Outfit: Thierry Mugler, Anniversaire des 20 ans collection, prêt-à-porter fall/winter 1995–1996. "Cyborg" bodysuit in silver metal and Plexiglas (Jean-Jacques Urcun). © The Helmut Newton Estate.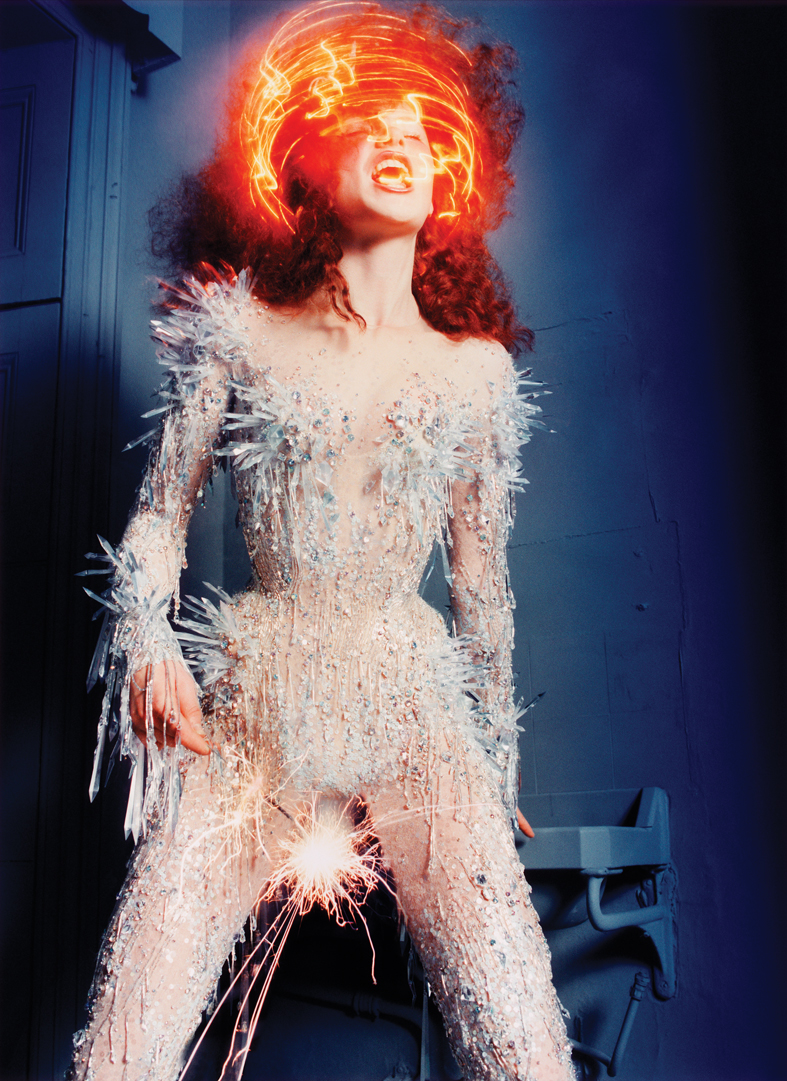 David LaChapelle, London Sunday Times, May 1998. Outfit: Thierry Mugler, Jeu de Paume collection, haute couture spring/summer 1998. Sequined fishnet "Angel" catsuit embroidered with Swarovski crystals. Model: Danie Alexander. Photo: © David LaChapelle.